Talent spotlight: Getting to know DJ Mario
Categories
Talent spotlight.
17 Sep, 2020
We're lucky to work with some amazing talent at One More Song. We spoke to one of our star DJs and avid collector of vinyl records, Mario, about how he got into DJ-ing, the ingredients for making a great function DJ, his picks for the latest music trends and some of his go-to tracks for different types of events.
Tell us about your DJ career to date
Around the mid 1990s, house and dance music was exploding on our airwaves and wanting the latest songs sometimes meant having to buy it on vinyl (especially club tracks). As my collection grew, it became a natural progression to begin to buy DJ equipment and begin DJ-ing at friends' parties and aspire to be a club DJ. I've since played on every format (vinyl, CD, digital) at bars, clubs and events, as well as most types functions that DJs may be booked for, such as weddings. I'm still actively involved as a DJ in all formats and still chasing down sought-after vinyl.
What makes a great function DJ?
Be prepared! Be punctual! … And professional! (Boring, but must be done!)
Have some flair and individuality. Play music that people love, in a way that they can feel you're loving it with them.
Each function is unique and it's easy to see the DJs who invest time and energy into their music and playlists. Music selections based around "best fit" for the event and crowd is always a winner. Always aim for maximum crowd appeal and involvement.
"Notice the crowd and their reactions. You're onto something when you start to see people smiling, nodding and foot tapping to the beat."
Become familiar with the client briefing
Get an accurate feel for the client's musical tastes, the scheduling – and possible involvement – in any formalities and make suggestions early in the process if you think you can add to the overall experience. Experienced function DJs are attentive to the event details (eg inductions/clearances, noise limitations, bump in/bump out processes, etc). Most of all, keep it fun and engaging!

What have you learnt from your bar and club experience that can be applied to private events?
Be engaging with music! And keep the vibe upbeat and event-relevant.
You quickly learn from DJ-ing in bars and clubs that the music sets the mood, vibe and energy for the night. It seems obvious, but play to and for the crowd. Everyone is genuinely up for a good time so play to the crowd and leave your ego at the door.
Notice the crowd and their reactions. You're onto something when you start to see people smiling, nodding and foot tapping to the beat. You're constantly building that rapport with the crowd which gets us closer to seeing everyone with their hands in the air as the night starts pumping!
In bars and clubs, DJs usually build to a crescendo, both in volume and tempo. The same is partly true for functions. A good function DJ understands when and how to "wind down" the energy or "rotate the dance floor". There are a lot more factors and variables that function DJs need to consider in private events compared to bars/clubs. This is why musical genre changes in private events can add a lot of excitement and a fresh energy kickstart throughout the night.
How do you balance a client's brief with the need to keep the dance floor fresh?
In bars and clubs, the patrons enjoy music in how the DJ sees the music ought to be, with a constant build of dance floor participation from start to end. But in private events, music selections are provided by the client and there are also formalities to work with. Experienced function DJs will know how to structure their sets to raise and lower the energy levels through music selections and genres throughout the night. I personally cover 6 or more music genres for some weddings (potentially less for corporate events) in line with age groups, crowd tastes and with what is working on the night. There is no set formula, so keep it interesting and fun.
What music trends do you expect for 2020/2021 events?
I expect the continuing of disco-inspired sounds. Top 40 pop artists heavily borrow from disco/funk/soul classics such as highly recognisable samples or vocals. These have instant dance floor appeal for both young and old.
We've also seen a resurgence in both 90s pop and club anthems recently and I think there will be more 90s hits on our dance floors.

"For weddings, I like to have a wider selection of musical genres, all that "feel good" music that everyone can relate to, no matter how old or recent."
What are your go-to dance floor tracks for a wedding?
For weddings, I like to have a wider selection of musical genres, all that "feel good" music that everyone can relate to, no matter how old or recent.
Early in the night, I'll play disco sounds from Bee Gees, KC Sunshine Band and Abba,"Single Ladies": Beyonce, Jagged Edge, "Jump Around" always keep the dance floor heaving.
With the younger crowd fired up, Daft Punk, Calvin Harris, Avicii, Kylie, Rihanna get a lot of plays and sing-alongs. Love a good sing-along at weddings!
There's always a sprinkling of vocal bliss from Donna Summer, Aretha Franklin, Whitney and Sister Sledge too.
Ramping up the energy again, I like to play Kiss, Bon Jovi and Mr Brightside.
And before it's all done and dusted, I like to save a few from ABBA, Queen or Elton John at the end of the night for anyone who's still standing!
…and a corporate party?
For corporate parties, usually the vibe is more contemporary musically, with a narrower range of musical genres and a heavier weighting to dance/EDM sounds.
Justin Timberlake, Bruno Mars, Rihanna, Avicii are heavy on rotation and usually I'd play dance edits of popular 70s and 80s to keep the tempo more consistently higher in the the "dance music feel" range. Corporate parties are always up for a bit of "Fisher" or "Pump it Up" or "Sandstorm" just before hitting those last few drinks.
And finally, what do you love about DJ-ing at private functions?
What's there not to love! Music has profoundly influenced me over my life and it brings both joy and satisfaction to bring out new and old sounds for people to genuinely enjoy themselves in, for whatever the occasion might be.
If Mario sounds like the kind of DJ you'd like to see behind the decks at your wedding or event, get in touch for his availability.
View all posts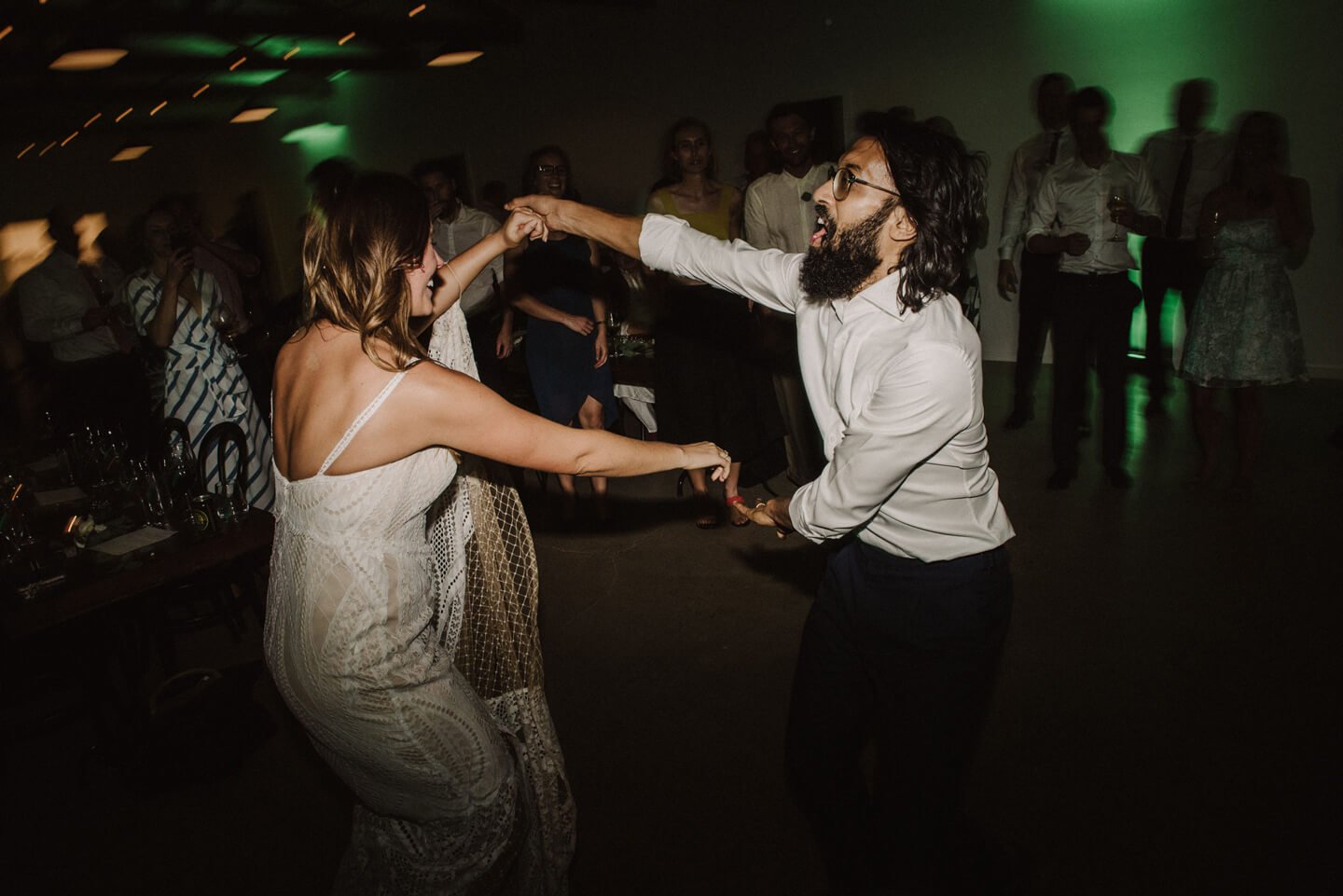 Book
a DJ
Like what you see? Get in touch to book one of our DJs for a banging dance floor.