Talent Spotlight: DJ Tom
Categories
Talent spotlight.
19 Mar, 2021
In our latest Talent Spotlight blog, we chat to DJ Tom. Tom is a fun-loving, party-starting DJ with a strong musical background. He absolutely loves playing at weddings!
He can also play the saxophone or trumpet, meaning he can be added to your One More Song DJ for some extra dance floor oomph. Read on to learn more about Tom.
Tell us about your musical background.
I moved to Melbourne in 2013 to study a Bachelor of Music at Monash University (Jazz Trumpet) which I graduated from in 2016. Since moving to this wonderful city I have been involved in many various musical projects playing Funk and Soul, Jazz, Hip Hop and Electronica Dance music that have performed all over Melbourne.
I have recorded and released multiple albums that have been successful enough to allow me to tour around Australia performing in major cities and Music Festivals such as Strawberry Fields in 2018.
2018 also saw me picking up DJing as a new skill and I have absolutely fallen in love with this style of performance, especially at large events such as weddings and birthdays.
I can also play alto sax and trumpet, which can be added to your One More Song DJ. I love the added excitement of live horn playing as it allows me to dance around with the crowd and elevate the energy on the dance floor.
What do you love about playing weddings?
Weddings are always such a unique experience. Even after playing at weddings since 2018 every single one is always such a different vibe  and it's always exciting to arrive on the day and discover what the night has in store.
The one constant that keeps me coming back for more is that weddings are full of lovely people gathered together to celebrate love and to have a great night full of laughter and joy. It's impossible to not get swept up in the atmosphere at wedding celebrations and to be given the responsibility of entertainment at these events is a true honour and a privilege.
What process do you go through on the night to select tunes for the crowd?
Song selection is such an important part of the night as it really does affect the overall mood of the event.  In the lead up to the day, I'll carefully review the clients' brief to get a feel for the type of music they want to hear.
Following our chat discussing the brief, I'll build a few playlists with songs that fit this brief that I can draw from on the night.
Once I get going on the night I always make sure to keep an eye on the crowd and see what they are responding to.  This means that I am always sure to be playing the music that keeps everyone dancing and having the best night of their lives!
"It's impossible to not get swept up in the atmosphere at wedding celebrations and to be given the responsibility of entertainment at these events is a true honour and a privilege."
What are your 10 favourite dance-floor filler wedding tracks?
Mr Brightside – The Killers
Don't Start Now – Dua Lipa
Head & Heart feat MNEK – Joel Corry
September – Earth Wind and Fire
I Wanna Dance With Somebody – Whitney Houston
Destination Unknown – Alex Caudino feat. Crystal Waters
Good as Hell – Lizzo
Came Here for Love – Sigala
Moves Like Jagger – Maroon 5
Uptown Funk – Mark Ronson.
What does the sax add to a dance floor?
Sax is an instant vibe bringer and always creates some truly memorable moments that guests will be talking about for the rest of their lives.
Every time I head to the dance floor with my sax I am instantly surrounded by people with huge smiles on their faces. They're ready to turn the party up a notch and the camera bulbs start flashing like crazy.  The added element of a live instrument is such a novelty. It makes everyone instantly excited when they see it coming.
I love dancing around with wedding guests. It lets me interact with the people on the dance floor and also entice those on the edges to join the celebration!
What advice would you give couples who want an epic party for their wedding?
Keep the entertainment element of your wedding in the forefront of your mind in the early stages of planning. If you leave it to the last minute you run the risk of being stuck with something sub-par.
Think back to the best parties you've had in your life. Remember the elements that made that memory magical and stick with you. That's what you want to create for your guests – amazing and magical experiences.
If you want your night to be a talking point, book entertainment that will wow you and your guests!
If you like Tom's vibe and want to see if he's free for your special event, get in touch with us via our Book a DJ page!
View all posts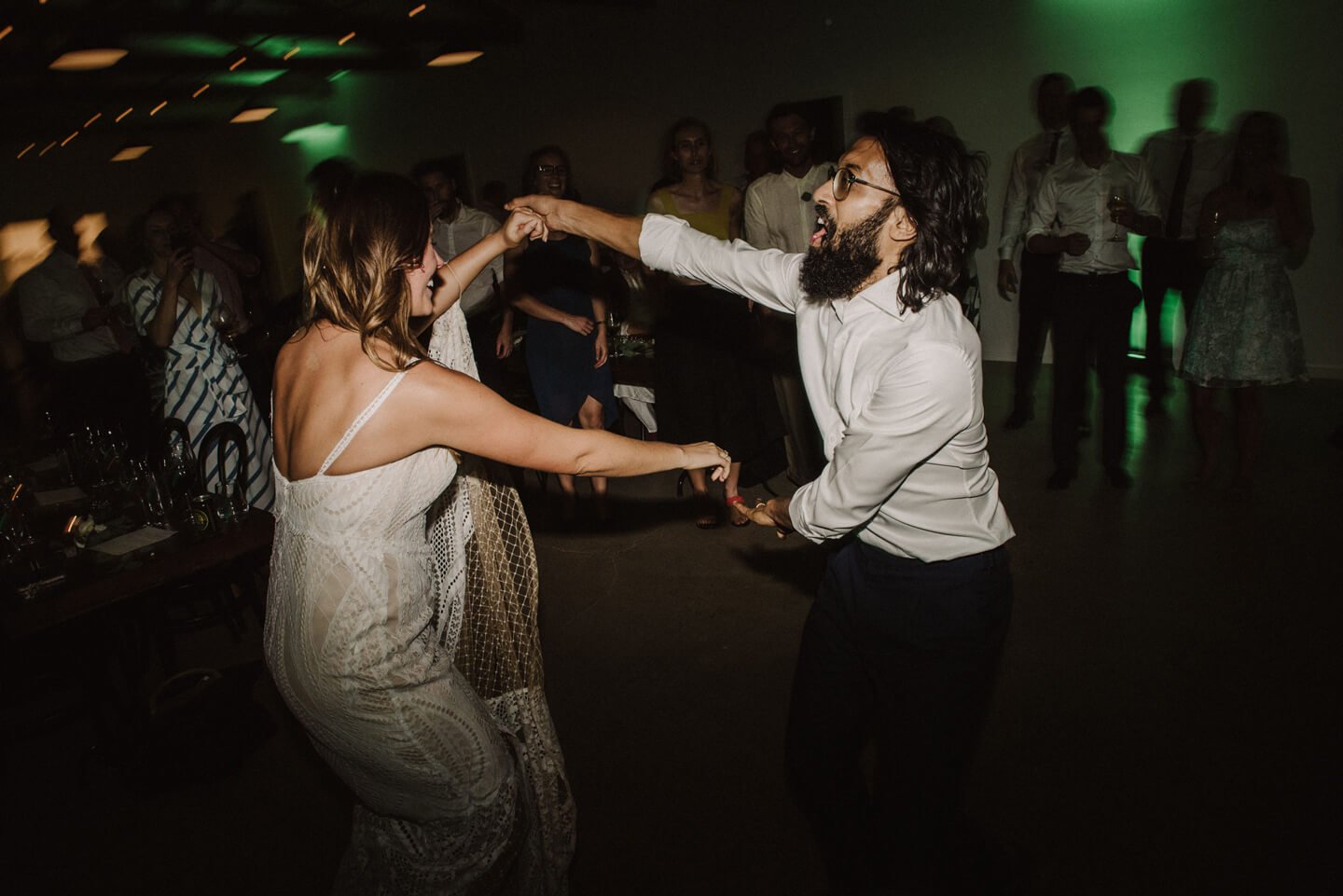 Book
a DJ
Like what you see? Get in touch to book one of our DJs for a banging dance floor.