Talent spotlight: Wedding talk with DJ Emma
Categories
Talent spotlight.
01 Oct, 2020
Emma is one of the most in-demand function DJs in Melbourne. If she's not spinning tunes at the Aus Open or in the Birdcage for Spring Carnival, she's rocking dance floors at private events and weddings.
We had the pleasure of speaking to Emma about her love for weddings, being a female DJ in the industry, her planning tips for wedding couples looking for a great party and some of her favourite feel good d-floor jams.
What do you love about playing weddings?
There is so much to love!
As a wedding DJ, you get to be part of one of the most important days in a couple's life!
From setting the mood at the ceremony/start of reception, to rocking the dance floor – you get to spread love and joy through music.
So much goes into planning a wedding, so it's an honour to be there to help to make the day unforgettable.
Being an experienced open format DJ means I get to play different genres to all age groups, which comes in super handy at weddings and gives me flexibility to curate the entire set specifically for that couple.
I have a lot of experience performing at weddings (hundreds!) and each are unique and special – that's what I love about them!
It's not that common to see a female rocking the decks at a wedding. How has this played out in the work that you've done?
Becoming a DJ has been quite a natural transition for me being a professional dancer and performer from a young age, so it just felt right.
When I started 10 years ago though, there definitely were not as many female DJs around, at least in the wedding space, but now it is not unusual to see a female DJ rocking behind the decks, which is amazing!
I know very well that a wedding is such a big day, because I have had one myself, so experientially I understand their importance. Nothing beats seeing the couple and guests enjoying themselves to your music!
"So much goes into planning a wedding, so it's an honour to be there to help to make the day unforgettable."
You've played some high profile events like the Australian Open and Victoria Spring Racing Carnival. How do you apply these experiences to weddings?
Any professional event DJ requires attention to detail so that things run smoothly. From experience, they also have to be flexible and able to quickly adapt to any impromptu situations. At any event, a good DJ will keep the vibe upbeat, energetic and engaging by always being in contact with their audience. These skills are completely transferable to weddings.
I would say more preparation is required for a wedding. There is so much that goes into it. It's not just about the performance on the night. After all, it is the couple's special day, one you hope they will treasure for years to come. You really need to be prepared and know the run sheet and brief well in order to nail your set and help make their day one they will cherish.

Photo credit: Brett Goldsmith
What are your top 5 favourite wedding dance floor tunes?
It's always so tough to narrow songs down to just five, as it does depend on the couple's specific genre and taste. So I have listed 10 'feel good' / most requested tunes.
They are in no particular order:
Uptown Funk – Bruno Mars
One More Time – Daft Punk
Crazy In Love – Beyonce
Don't Stop Me Now – QUEEN
I Wanna Dance with Somebody – Whitney Houston
Gimme! Gimme! Gimme! (A Man After Midnight) – ABBA
It's Raining Men – The Weather Girls
Levels – Avicii
Jubel – Klingande (Great with Live Sax!)
The Horses – Daryl Braithwaite (very popular final song).
What tips do you have for couples who want their wedding to be a great party?
Here are a few tips I would suggest:
Firstly, having a great MC is a big one. I think people underestimate this role. It's like the glue that ties the evening together. If the MC is good at working with the venue managers and bridal party, the formalities run more smoothly (speeches, etc), which means more time for the important dancing at the end – yay!
Also, it's super important to check sound restrictions at a venue because when it comes time to party, you want that volume to be up!!!
Some venues only have in-house systems, which may only be good for background level music. Some venues also have sound cut off times. These can have a huge impact on the atmosphere when it's dance floor time.
And lastly, the most important thing to me is that the couple are happy. I am going to play whatever they want, but it also helps if they have confidence in my ability too. A great DJ is able to improvise and be fluid, but at the same time (from my experience), too many requests can kill the vibe. On the day, you don't want to have to worry too much about the DJ, you want to be free to celebrate and enjoy the event because it goes by so fast!
DJ Emma's 10 feel good d-floor tunes
You can listen to all of these tracks in our Spotify playlist.
If Emma sounds like the kind of DJ you'd like to see behind the decks at your wedding or event, get in touch for her availability.
Main photo credit: Alison J Gurry
View all posts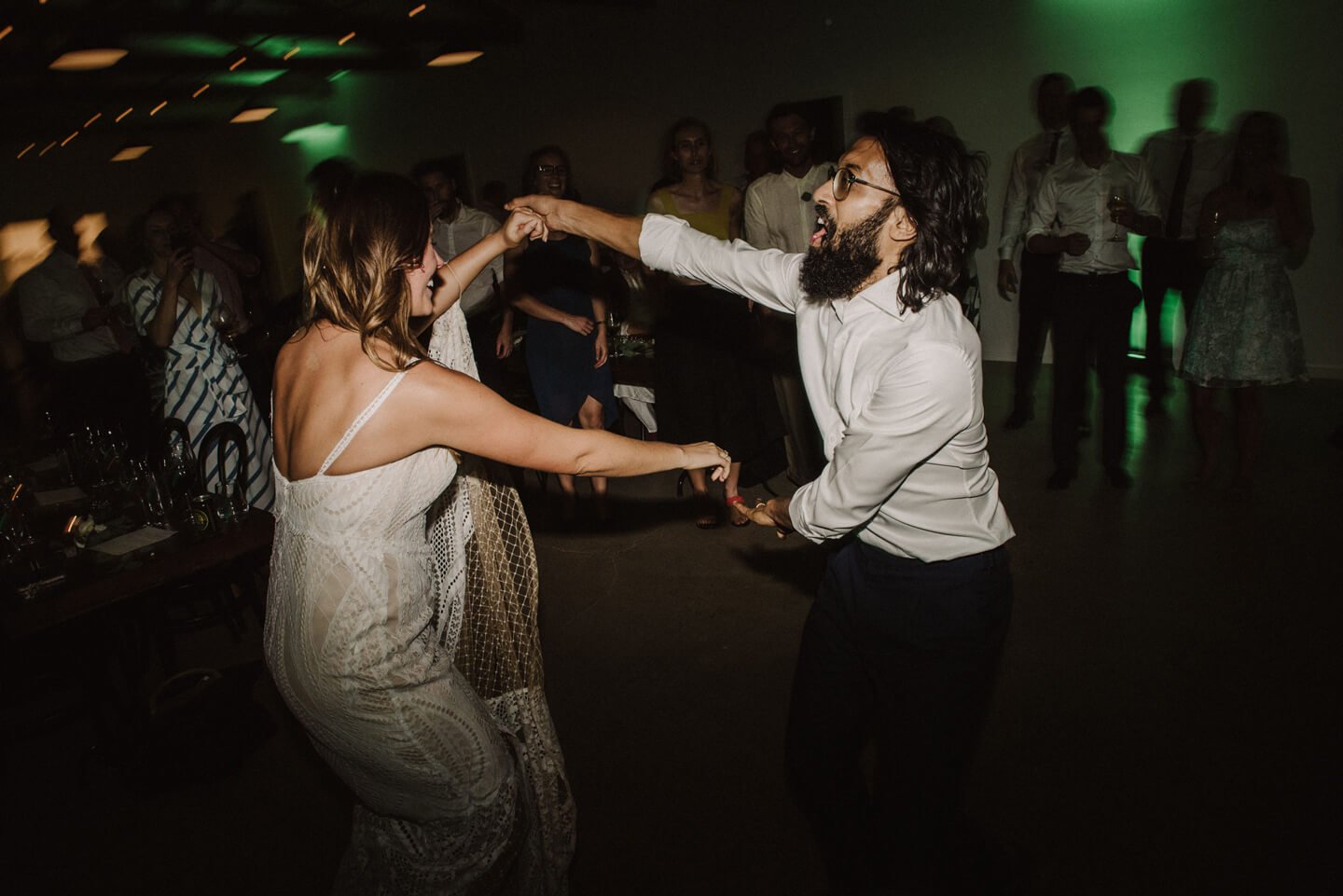 Book
a DJ
Like what you see? Get in touch to book one of our DJs for a banging dance floor.