Epic d-floor moments captured
Categories
Real weddings.
08 Oct, 2020
We love when clients share pics with us from their special events – especially when the dance floor is captured! We're totally biased, but photos from this part of the night are the most fun! Brides/grooms/event organisers and guests are relaxed after formalities and can let their hair down!
In this blog, DJ Aleks Mac shares the stories behind some of her fave dance floor photos from recent events she's played at.
Jelena and Tim's wedding – Euroa Butter Factory, 23 November 2019
This pic for me really sums up what was such a fun and gorgeous night for couple, Jelena and Tim. The whole reception was held outside under festoon lights and with perfect weather. It felt like we were enjoying summer in Europe! The party got loose and we really got stuck into the sing-alongs in the last hour.
Jelena also had some Bosnian tunes for her family – and they went off! The best bit was seeing the couple rocking the dance floor and enjoying the night with their loved ones.

Captured by Beck Rocchi
No B/S conference – The Forum Melbourne, 12 March 2020
This photo has so much more meaning for me personally! It was about a week before COVID-19 meant severe restrictions on all travel and events. It was during the wrap party of the No B/S conference – a digital marketing event attracting speakers and attendees from overseas.
The global spread of the coronavirus meant that some of the high profile speakers from the US made their presentations virtually. Needless to say, conference attendees were ready to party at the end of it.
I was on the decks alongside sax player Kat, who was an absolute hit. Kat got on the dance floor to party with guests and you can tell by their smiling faces, they absolutely loved it!

Captured by Mads Colvin.
Sophie + Brad's wedding – Glasshaus Inside, 8 February 2020
I will never forget Sophie and Brad's first dance. They did the cutest choreographed routine to Roy Orison's 'You Got It'. Such a fun, uplifting tune! And they topped it off with the perfect bridal dip! 😍  I can't hear this song now without thinking about these two dancing amongst the lush green foliage at one of my favourite venues, Glasshaus Inside.
It was a perfect night and you could really feel the love from both Sophie and Brad's close knit families. Read more about their real wedding in our blog.

Captured by Katie Harmsworth
Ali + Roy's wedding – The Burrow, 12 January 2019
Ali and Roy's wedding holds a very special place in my heart. The night was incredibly fun and the music was awesome – Ali and Roy had a very tight music brief with disco dominating the night. I had a sax player and even a singer join a packed d-floor! This photo shows groom Roy really letting loose (love this!).

Captured by Lucy from She Takes Pictures He Makes Films
If you like this kind of dance floor action, get in touch with us to see if we're available for your wedding or event!
View all posts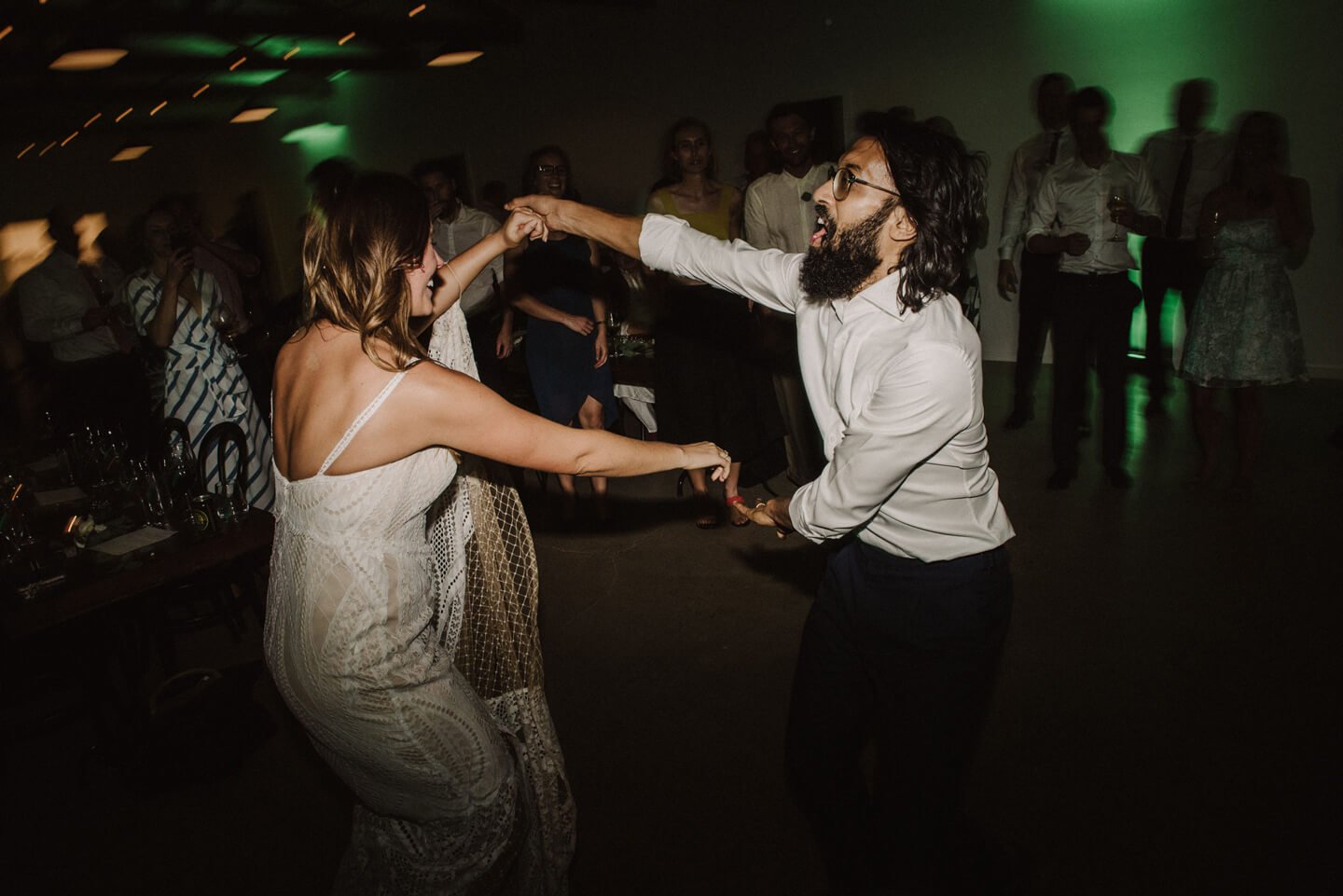 Book
a DJ
Like what you see? Get in touch to book DJ Eddy or Aleks for a banging dance floor!