Real wedding: An unexpected traditional affair
Categories
Real weddings.
30 Sep, 2019
Linda and Xen from Melbourne booked One More Song DJ Eddy Mac for their wedding reception at the impressive CBD venue Mural Hall – a far cry from their original idea of eloping, but not a regret in sight!
With large Greek and Croatian families, the couple decided to plan a more traditional wedding instead, focused on a classic autumn aesthetic with quality, hand-picked wedding vendors including The Big Group Hospitality Group and super talented photographer Tanya Voltchanskaya.
We sat down with bride Linda to ask her about how the couple planned their larger-than-expected wedding!
Tell us about the proposal!
We were fairly non-traditional and had discussed getting married and designing a ring together, which we then went on to do early in the year. On the day of picking it up from our jeweller we got a call from my brother saying that he had just proposed to his long-term girlfriend! Not wanting to steal his thunder, we decided to keep our engagement a secret until we got back from our overseas trip the next month.
Whilst away on safari in Africa, Xen brought along the ring and surprised me with a proper proposal in Laikipia, Kenya. We had just spent the night in a star bed (clear canopy above, out in the open) and woke up to the sunrise and giraffes, elephants and hippos in the valley below us. Xen gave me the ring whilst lying in bed and asked me to be his dik-dik, a small animal that we had seen everywhere on safari and one that mates for life. The response was a mixture of laughing and crying and I'm glad that we waited! He tells me that he had planned to ask the night before but we ended up eating and drinking too much and were both stuffed (typical us!).

How did you and Xen come to decide that a larger wedding was right for you?
We soon realised that our respective mothers would have killed us if we didn't have one! Coming from Greek and Croatian backgrounds, it was always going to be difficult to have the small, intimate wedding that we had both dreamed of. We were pretty set on May (i.e. six months post-proposal) and so knew it wasn't enough time to do a destination wedding, which would usually bring numbers down. We initially looked at around 100 people but that barely covered our immediate families and friends and then it just exploded! In the end we just invited everyone who we wanted just to save the stress of culling. It steadily climbed from 180 to 236 people but I think once you're over 200 people, it's all the same. Having said that, it's not for the fainthearted – our wedding was definitely not 'low-key intimate'. But everyone there was so overjoyed for us and so in the end there was a lot of love and celebrating, which meant it ended up being so much fun (albeit a little overwhelming at the beginning!).

What process did you go through in selecting your suppliers?
It was simple – Instagram and availability. We are both working and studying so time was limited. I used my morning train-ride to/from work to find suppliers on Instagram/wedding blogs, then email them, then lock them in ASAP. We locked in the venue within two weeks of coming back from our trip and chose it because it was central and close to the church we were getting married in and was available on a Saturday in May. After that, everything flowed on. Although we got a few quotes for different suppliers, we ended up going with the suppliers that were either recommendations from friends or just had amazing energy and excitement when hearing about what we wanted on our day (i.e. Eddy from One More Song). We found there wasn't a huge price difference between most companies so went with people who we connected with the most when it came down to it.

How did you put together your music brief?
This was totally Xen's domain. He likes to think of himself as a music aficionado and dabbled in DJing in his uni days. Once we locked in Eddy from One More Song, Xen just went to town with his disco dreams and Eddy helped steer us in the right direction. We also had to throw in a few traditional Greek and Croatian songs and Eddy slotted these in seamlessly!

Which tunes went off the most on the night?
Oddly, it was probably the Zorba! Everyone who wasn't Greek has seen "My big fat Greek wedding" and so jumped up on the dance floor when it came on. This was followed by the Croatian version, the Kolo, and so by the end of both, everyone was stuffed! This really opened up the dance floor and most people stayed on after this. We purposefully made the decision to cut speeches and open the dance floor early. We also had a spirit station/bar next to the dance floor so even if people weren't dancing, it was always full of people which made it more appealing to jump up.

What tips would you have for others who may be faced with the task of organising a large wedding?
Become spreadsheet proficient, make a list of everything you need and then just do it. Don't agonise over super small details if time isn't on your side. It also helps to have a vision of what you're after in terms of décor. We didn't use a stylist but were lucky that our florist (Meghan from Good Grace and Humour) stepped in as a pseudo-stylist and helped confirm that I was on the right track with colours of napkins, linen, signage etc. She also hired lots of props for our long banquet tables and sourced lots of fresh fruit to sit alongside the flowers so in the end, it looked like a stylist had been involved. Finally, we poured a big part of our budget into the stuff that people remember – food, booze and music. Feedback from everyone was that all three aspects were sensational.

In hindsight, is there anything you would have done differently?
Eloped, haha!! No, I think once we committed to having a big wedding, we fully committed and basically did whatever we wanted. Our mantra was "we will save for the renovation later". Although it hurt seeing a huge chunk of our savings disappear, we forgot about that completely after the night was done. Having friends and family who normally hate weddings partying on and having the best night was worth all of it.

If you're planning the wedding of your dreams and would like to speak with us about your entertainment, get in contact with us!
View all posts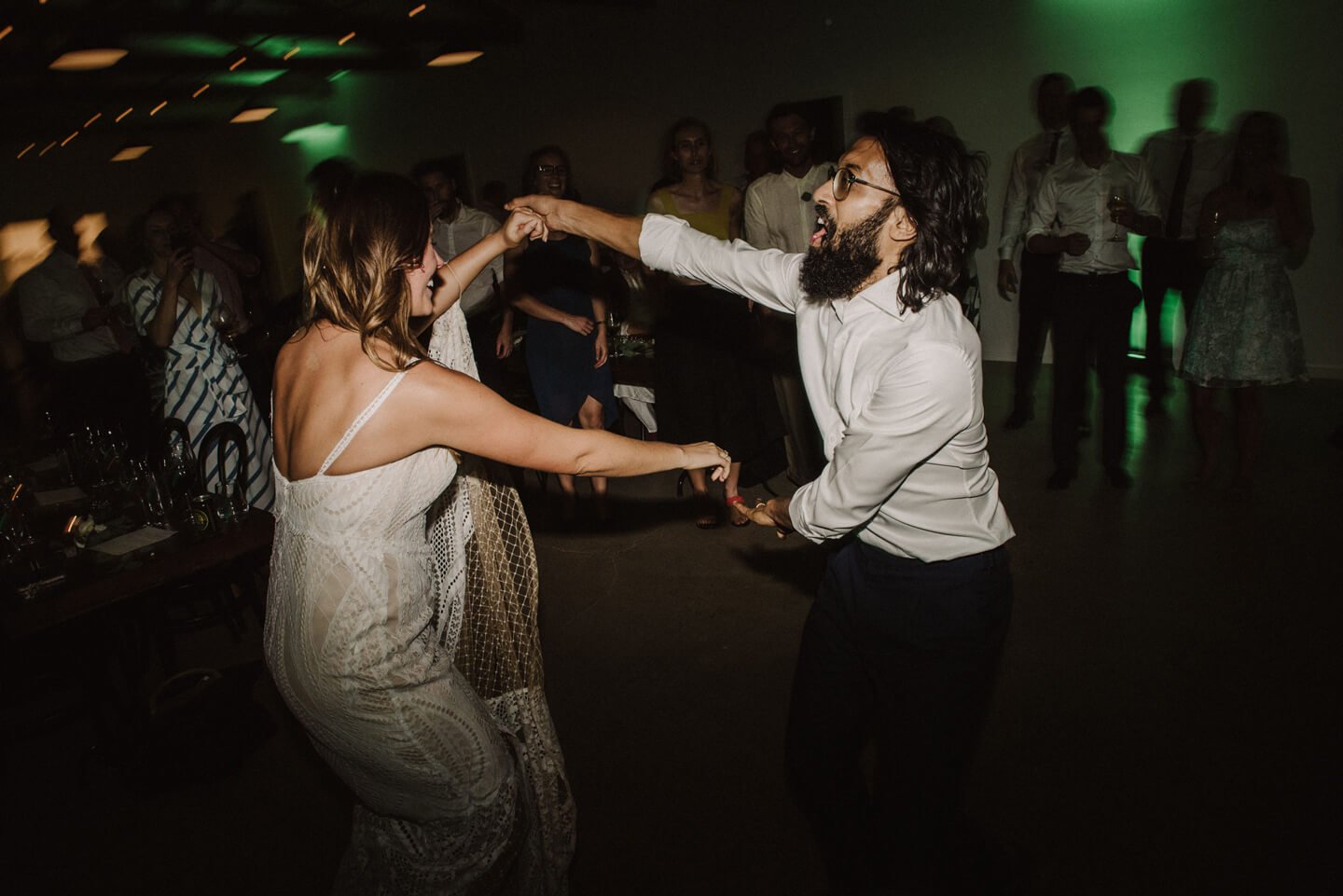 Book
a DJ
Like what you see? Get in touch to book DJ Eddy or Aleks for a banging dance floor!