Real wedding: Disco vibes at home
Categories
Real weddings.
13 Aug, 2018
Stephanie and John from Melbourne booked One More Song's DJ Eddy Mac for their very unique wedding party. Being true music lovers, the brief for the 8 hour party was tight: disco party vibes with some funk, cool house anthems and lots of remixes of artists such as Prince.
Getting married in their own backyard, Stephanie and John planned the whole affair themselves. They married on a fun trip in Vegas (followed by Coachella Music Festival!) and threw their wedding party back at home on their return to celebrate with their loved ones.
We asked Stephanie and John to give us the low down on their preparations, the music and tips for other couples wishing to host their own big day at home.
Tell us about your Vegas wedding!
Our Vegas wedding was the best day ever. No stress, no expectations (we really did not know how it would all play out really). We exchanged vows at the Neon Boneyard Museum which is an iconic Museum in Vegas where all of the big Vegas signs go to die. We were married by Elvis with eight of our closest friends and then had a party at the MGM Signature Suites in Las Vegas. It was amazing.
What was the inspiration behind throwing a less traditional wedding party?
Prior to deciding on getting married in Vegas, John and I butted heads for years about our wedding and what it looked like. John wanted the "big" wedding and I didn't. Late last year we found a compromise in having it at home. Then Vegas came about, so I guess in the end we got the best of both worlds!
What were the benefits – and pitfalls – of hosting a party in your own backyard?
We are perfectionists and John works in events so it was impossible for our "backyard wedding" not to blow out financially considering the vision that we had for the day. Do not be fooled into thinking that having a celebration at home is cheaper than at a venue – you just have more control. So much effort, blood, sweat and tears went into this one day / night. It was pretty stressful, however, we were able to have an party on our terms: from the transformation of our backyard to the gourmet catering, high quality drinks and the music, all of which were top notch quality, which was so important to us. In the end we got what we wanted, which was providing our nearest and dearest with an awesome night to help us celebrate.
What were you looking for in a wedding DJ and how did you come across One More Song?
It was a pretty simple process really. I did some research online and came across DJ Eddy Mac. I spoke to John and he had remembered Eddy being at Flemington when he was managing events there. One conversation with Ed and I knew he was our guy. Music at an event can make or break a night so there was no way I was going to let that happen. I had complete confidence that Ed "got us" and what we wanted out of our music. On the night, we could not have been happier.
Describe the process you went through to pull together your music brief.
Again, it was pretty simple. To start with, we told Ed what we didn't want to hear (even if our guests requested it!). I think that this gave Ed an insight into our personalities. We wanted cool disco tunes, however, as the day got closer, we felt like we had potentially pigeon holed the range of music. One quick chat with Ed and we were all sorted, deciding on a broader range of genres.
Which tunes went off the most on the night?
Hmmm Ed …. maybe over to you? The dance floor always had traffic, so as far I am concerned all of the tunes were a hit! (Note from Ed: "By far the biggest song of the night was a vocal remix of "Not Exactly" by Deadmau5, however Nalin and Kane's "Beachball" came pretty close too!").
What tips would you have for others who want to hold their wedding reception at home?
Be organised. Decide what is important to you for the day and invest in those areas specifically. Lastly it's your day, at your home, so do what makes you happy!
View all posts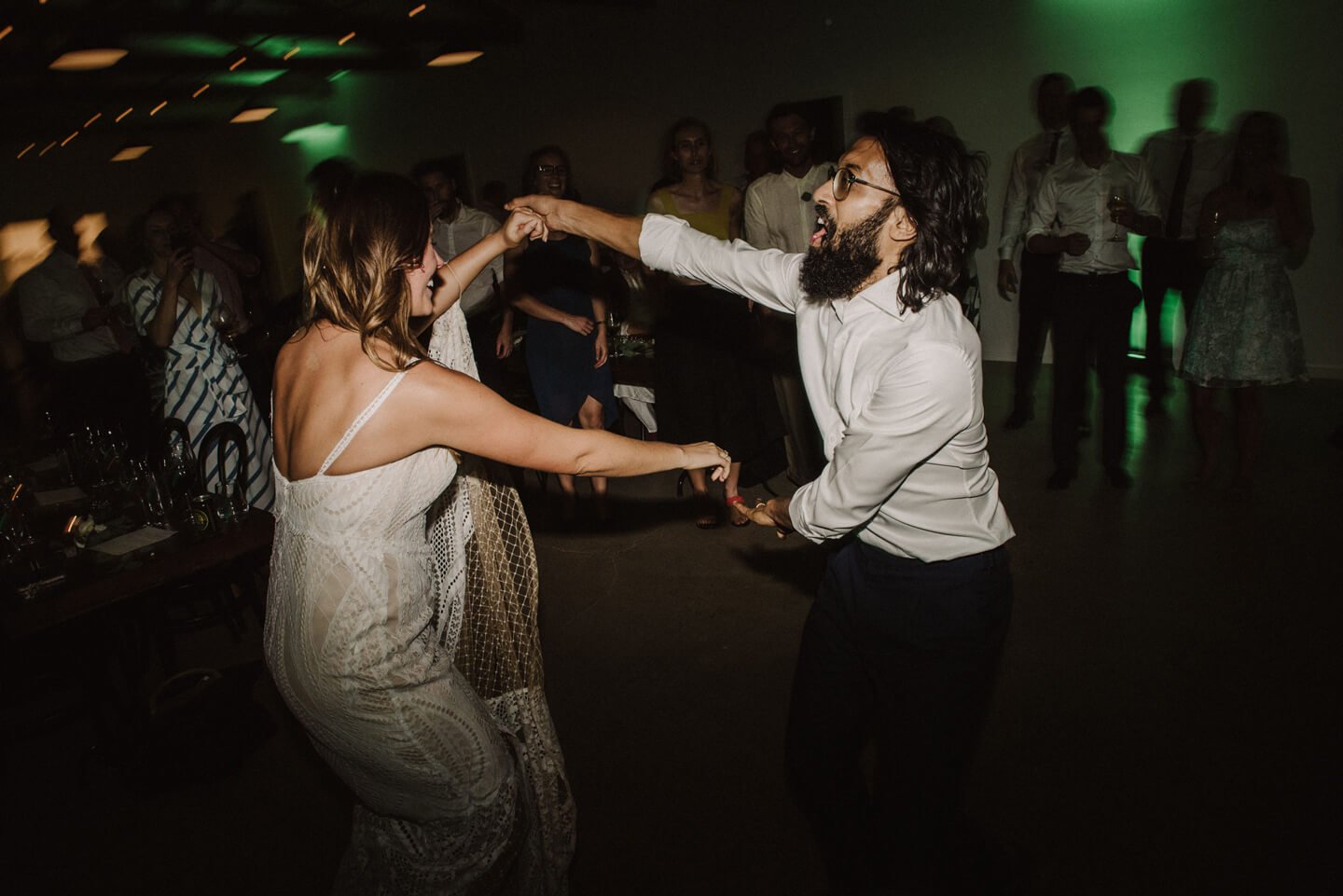 Book
a DJ
Like what you see? Get in touch to book DJ Eddy or Aleks for a banging dance floor!