Real wedding: Tropical paradise on Hamilton Island
Categories
Real weddings.
14 Jan, 2019
Megan and Andrew from Melbourne booked One More Song DJ Eddy Mac for their wedding reception on the picturesque Hamilton Island in Queensland. Both with large families and friendship circles, these two high school sweethearts wanted to make sure their wedding was not only an incredibly memorable one, but also a whole lot of fun!
Family and friends from as far as Germany joined them on the beautiful island for a few days of sunshine, relaxation and partying. It was a holiday for all involved, but not without its stresses for the bride and groom in the lead up.
We sat down with Megan to ask her about how they planned their destination wedding, what they would've done differently, and of course, their tips for getting the music spot on!
Tell us about the proposal!
Andrew and I have been together since we were 14, so I may have given him some subtle hints that it was time to get married! He booked a fancy lunch and then in the afternoon we drove to Mt Dandenong. We went for a walk in a beautiful garden, where there was no one else around and then he got down on one knee and proposed. I couldn't stop crying (with happiness of course) and finally told him yes!
By the time we drove down to the bottom of Mt Dandenong all our family knew we were engaged – we were so excited to let everyone know!
What was the inspiration behind throwing a destination wedding?
In 2014, we went to Hamilton Island for a holiday and when we saw the beautiful little chapel on the hill, I said to Andrew – one day I would like to get married here!
We both have big families and we wanted a more intimate wedding, so when the time came to planning we got some quotes from Hamilton Island Weddings and thought why not – and booked our wedding day in! We ended up having close to 80 guests join us on the island.

What were the benefits – and pitfalls – of hosting a destination wedding?
The benefits:
It's a week-long party! Most of our guests stayed in Hamilton Island for a week and we were able to enjoy lots of pre and post celebrations and it was great to be able to spend quality time with everyone.
You get a wedding planner! I work in Marketing so when it came to planning my wedding, I wanted someone to help with most of the logistics for the day. Hamilton Island Weddings organised the majority of the wedding with regular meetings along the way – which was great.
You end up with amazing photos! Hamilton Island is so picturesque and we were lucky to have perfect weather on the day with views of the blue water, palm trees and beautiful sunshine behind us.
Pitfalls:
Getting married in a tropical destination means some things are out of your control. A couple of months before we got married, a cyclone hit Hamilton Island and damaged our accommodation and a lot of the island. But luckily, by our wedding day you couldn't tell!

How did you end up choosing One More Song?
Our family (and us!) love the dance floor, so we viewed music as one of the most important parts of our wedding day. We wanted everyone to dance all night. Hamilton Island offered a DJ service, however, we weren't able to have much input into the song choices or meet with the DJ beforehand.
DJ Eddy Mac played at my work's end of year party so I reached out to him to see if he would be interested in travelling and he said yes! One More Song were fantastic with the planning in the lead up. They also liaised with the wedding planner directly and made sure all the right equipment was on the remote island!
In fact, some of our guests enjoyed DJ Eddy Mac so much that they have since booked their own wedding entertainment through One More Song.
Describe the process you went through to pull together your music brief.
After DJ Eddy Mac was locked in, we met with him to go through our ideas for song choices and running of the day. We had no idea what would work best so we were completely led by Eddy. Our only brief was we wanted to have our first dance on arrival so the dance floor would be officially open from the start for guests to enjoy the night. Eddy also helped us pick our first dance song – XO by John Mayer.
We met with Eddy before we left for Hamilton Island to go through everything and the logistics and we could not be happier with the result on the night! Our guests still rave on about the wedding and how much they enjoyed dancing to our tunes!
Which tunes went off the most on the night?
I think it is now the official tune for most weddings, but Horses by Daryl Braithwaite went off – so much so that we broke the dance floor and they had to get maintenance to help put it back together!
Bon Jovi's Livin' on a Prayer was also one of the highlights – this song has a special meaning for our family so we were all up on the dance floor singing it very loud.
What tips would you have for others who want to hold a destination wedding?
If you want to have a destination wedding – do it! Andrew and I have no regrets and wouldn't change anything about the day. We loved our wedding day!

Photo credit: Hamilton Island Weddings
View all posts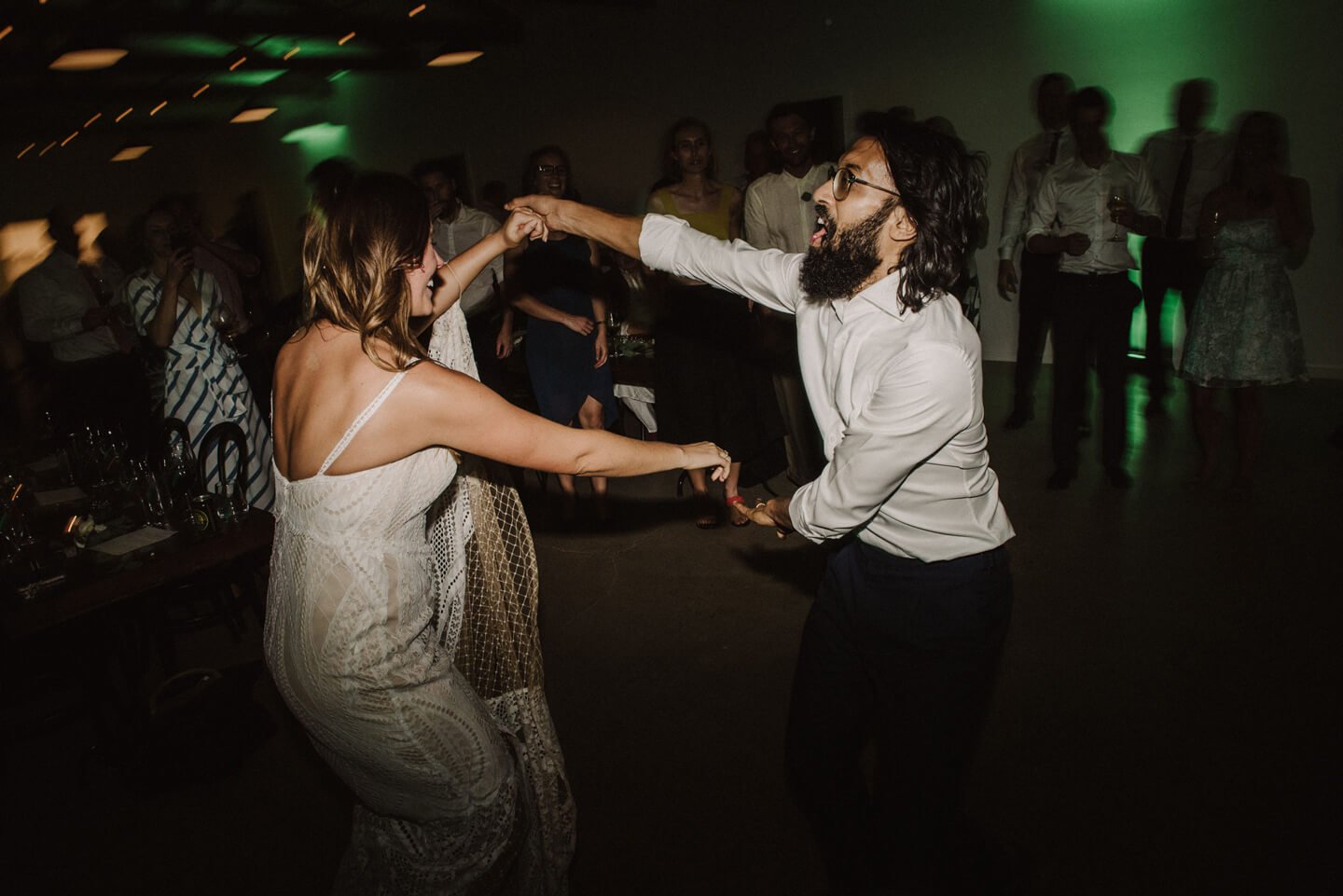 Book
a DJ
Like what you see? Get in touch to book DJ Eddy or Aleks for a banging dance floor!