Celebrant Kate's top tips for your wedding ceremony
Categories
Wedding suppliers.
04 Feb, 2020
Melbourne-based wedding celebrant Kate loves love. And with a background in corporate leadership, communication and culture, she has a genuine interest in people and their stories – all in all, a winning combination for a wedding celebrant! In this blog we asked Kate to share her pro tips in planning a wedding ceremony from initial research to the small but important stuff to think about on the big day.
What should couples look for when researching celebrants?
Look for someone you'd be friends with – someone you feel comfortable to have a chat with and relaxed to be around! The celebrant you feel a connection with is worth their weight in gold, they will make the preparation effortless and enjoyable and your actual wedding day will go off without a hitch. Ask yourself: do they appear interested in us and willing to get to know us?
Once you're feeling a good connection with a celebrant, then make sure you feel a sense of trust in their approach and processes.  Do they come across as professional, organised and helpful? How do they go about creating your ceremony? Have they clearly explained what's involved?
Definitely check out their reviews and testimonials to get a good sense of what other people's experience with a celebrant has been like.
Recently I've been hanging out in Instagram Stories almost daily sharing a whole lot of ideas, how and why I do things, and some behind the scenes footage. It allows couples to get to know me a bit and you can also ask me any questions at all and I'll happily answer them!

How do you work with clients in the lead up?
Our first meeting…
At our first meeting we'll talk a bit about you and a bit about me. You can tell me more about yourselves as a couple and your thoughts / plans for your wedding day so far. Based on that, I'll give you some ideas about how we can work together, some information on the legal aspects of getting married and answer any and all of the questions that you might have. It's an opportunity for you to get to know me, I get to know you, and we see if we click.
Planning, designing and creating…
Once you've confirmed your booking, I send you a whole lot of 'getting started' ceremony inspiration. It's an email packed full of ideas, questions, links and examples from previous ceremonies. Depending on your style you might devour it before our next meeting or you might delete it – either way is ok.
When you're ready, we'll book in a meeting to start planning, designing and creating your ceremony. We'll meet wherever is best for you and spend a good amount of time talking all about you as a couple, what's important to you and all the things that make you click  and how we could celebrate all of this in your ceremony. We'll also begin the legal paperwork and I'll let you know what documentation you need for that.
After this meeting, I'll write you a full draft of your ceremony based on all the things we've chatted about.
Next steps…
From here, you have a read of your ceremony, you let me know what you like, what you want to change, and we go from there. Depending on what suits you, we might make a time to talk it through or we might go back and forth on email for a bit.
In the fortnight before your ceremony we'll have a final run-through meeting. This is where we walk through how your ceremony will flow, and some details and preferences (like would you prefer to hold your own mic, or shall I hold it for you?) so that you can feel confident and comfortable at your ceremony and just enjoy every moment as it happens.
And then it's the big day!! By this stage I'm just as excited as you are! I'm there for you to make everything go smoothly, to make sure everyone is feeling relaxed and ready to celebrate, and to make your ceremony amazing!! You can just enjoy every moment, and your friends and family can too, as we kick off the celebrations with a ceremony that is authentically you.
How should couples tackle writing their vows?
The great thing is, we can work that out together! If you want to write your own vows, go for it! If you'd like some 'thought starter' questions to prompt you, I'll give you those. Often I write people's vows for them, but they are actually their own vows because I ask them a whole lot of questions, gathering the key words, expressions and sentiments they use and then put what I call 'vow form' to what we have discussed. This means  that your vows are your words, your expressions and your sentiments and therefore your vows! I've just guided you through the process and helped to put flow, form and polish to what you want to say. You can start the process having no idea what you want to say, and by the end of it, you have beautiful, heartfelt, often humorous and very personal vows!!

What role does music play and what needs to be taken into account for the ceremony?
Music is sooo important – it sets the vibe for your ceremony, helps guests to relax and is another way to convey who you are as a couple.
I tell all my couples there are four points in your ceremony where you need music:
Pre-ceremony – background music for guests' arrival. Don't play your favourite songs here because you won't be there to hear them :). Think more about choosing music that sets the vibe.
Entrance – song for walking down the aisle/beginning the ceremony.
Signing – background music to play while we sign certificates (if you don't this in your ceremony, you can sign documents post-ceremony).
Post-ceremony– song to walk back down the aisle together to. Choose something upbeat to float back down the aisle to and kick off the celebrations!!
Hiring professionals to do the music makes everything go super smoothly. Have a chat to your DJ about whether they can also  play your ceremony music. Live music is always a fun option, and you can plug into my PA system and play music through that too. I provide a comprehensive list of tips for making sure there are no hiccups.
You can also get really creative with music in your ceremony. Here are some examples of what others have done:
Friends opening the ceremony with a song – one couple did this with an acapella group.
A couple learnt a song on the ukulele and played/sang it together
Another couple chose a song that had lyrics that described their exact story (it was uncanny!) so we played the song and all had a moment with the music.

There's so much pressure for everything to be "perfect" on the big day. Can you share a couple of examples of weddings you've officiated where things didn't go to plan and how you dealt with whatever came up?
Often the funniest and most special moments are when things don't go to plan!! I love being able to say to my couples that no matter what happens on their wedding day, I can roll with it and I've got their back! After doing this for 10 years, I've seen it all, so there's nothing that could happen that we can't deal with and make the most of! And sometimes your Plan B ends up being better than your Plan A!
I've had rings go missing last minute, so I asked for volunteers to bring a ring forward that we could use. The couple and guests loved it!
I've had ceremonies in the rain. For the most recent one, we just popped up the umbrellas and kept going. This couple knew it was going to rain and were happy to go ahead. It has a lovely feel (so long as it's not torrential).
I've had a medical emergency where an elderly guest fainted from the heat, we paused the ceremony, the ambulance came, and then she insisted that we finish the ceremony before she went off in the ambulance! Big thanks to the paramedics who were so accommodating!!
I've had a hot air balloon ceremony that was cancelled due to rain, then went ahead last minute. By the time we took off we were on Plan D. We took off from a flooded paddock and had a rough landing, but the moment the couple said their vows mid-flight, peacefully floating over the Yarra Valley, was beautiful! And the whole adventure was a day none of us will ever forget! I know how important it is to be totally flexible and adaptable in those situations and help everyone roll with whatever's happening!

Get in touch with Kate about your wedding ceremony via her website.
Photo credits:
View all posts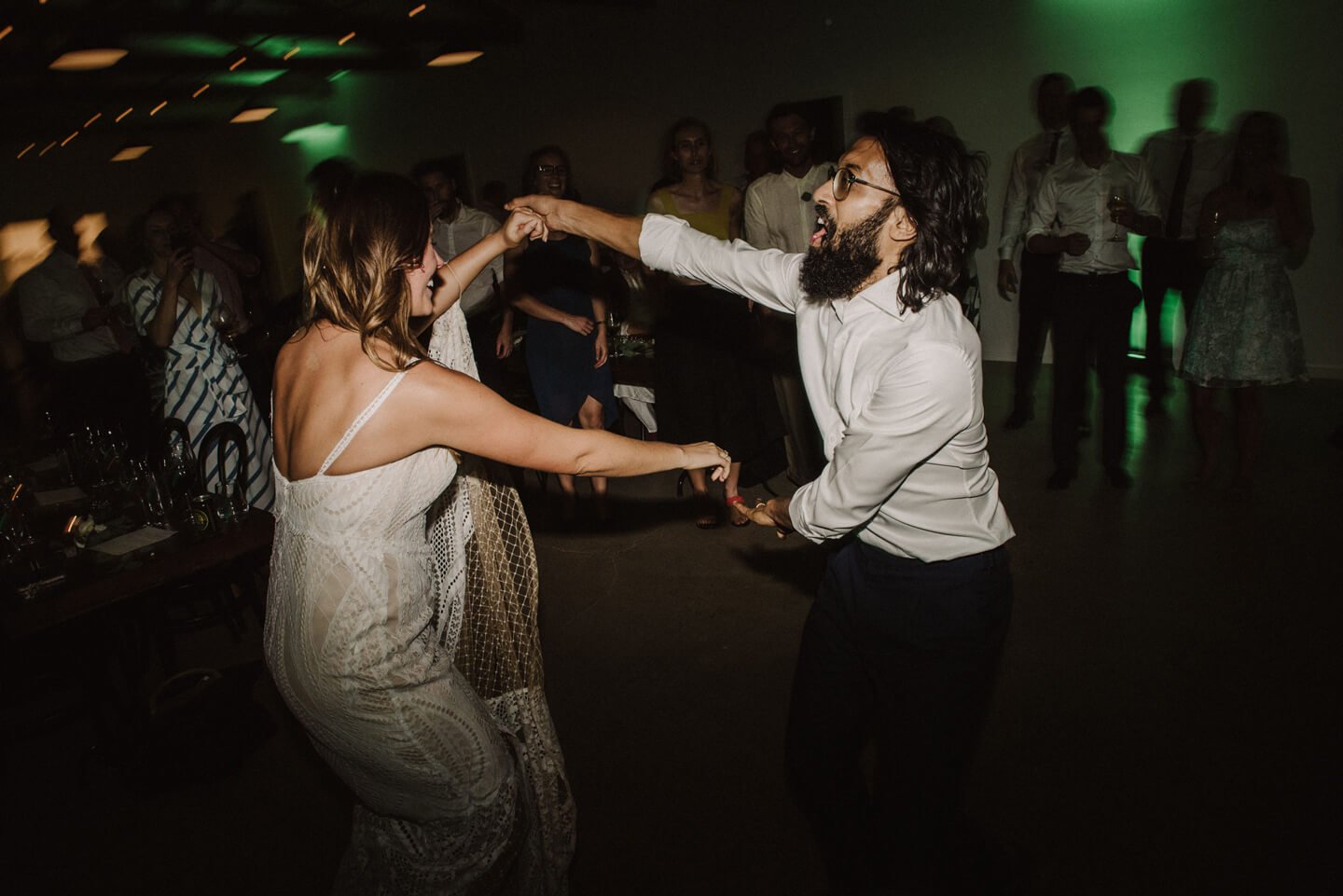 Book
a DJ
Like what you see? Get in touch to book DJ Eddy or Aleks for a banging dance floor!