Spice up your dance floor with our lights!
Categories
Wedding tips.
14 Aug, 2023
Have you thought about adding lights to your wedding or event? Just like the tunes we play, our lights are classy and non-cheesy!
We often get asked about the lights we offer as an add-on to your booking, so we thought we'd write a short blog post to help shed some light on the issue! 😀
Our lighting set up using a combination of two different lights!
What do your lights look like and how do they work?
We have two different lights as part of our set up. All of them are wireless lights that are mobile! One type of light is very small and sits low on the ground (we use 2-4 of these lights – you can barely see them!) and the other type is a very cool looking tube light that stands upright (we normally use 3 -5 of these) – see the photo above.
Their charge lasts a few hours, so plenty of time to keep your event lit up (and they can always be plugged into power if need be).
They're highly customisable, so for the earlier part of the night, you can choose splashes of any colour on the walls and around the DJ.
When it's dancing time, the party setting is turned on – the lights fade into different colours, heating up your dance floor and making your photos look EPIC!
Dan Brannan
"The dancefloor lights were amazing and brought so much extra energy to the atmosphere, really giving our guests the confidence to let their hair down and get low!"

Nellie + Jedd at Post Office Hotel
Do I need lights?
Good question. Most venues don't offer any lighting options for dancing time, which means it will be either too light or very dark/even pitch black. If your venue can't dim their lights or provide specific lighting for your dance floor, we strongly recommend booking our lights!
How much moolah are we talking?
Lights cost an additional $440 including GST. We bring a combination of lights and set them up to best suit your venue and the dance floor space.
When should I book them?
Up to you! We can lock them in when you've confirmed your booking, or add them later on.
Where can I see them in action?
Check out this Instagram reel or the videos below on our Vimeo page to see our lights in action!
Photo credits: She Takes Pictures He Makes Films and Dan Brannan.
View all posts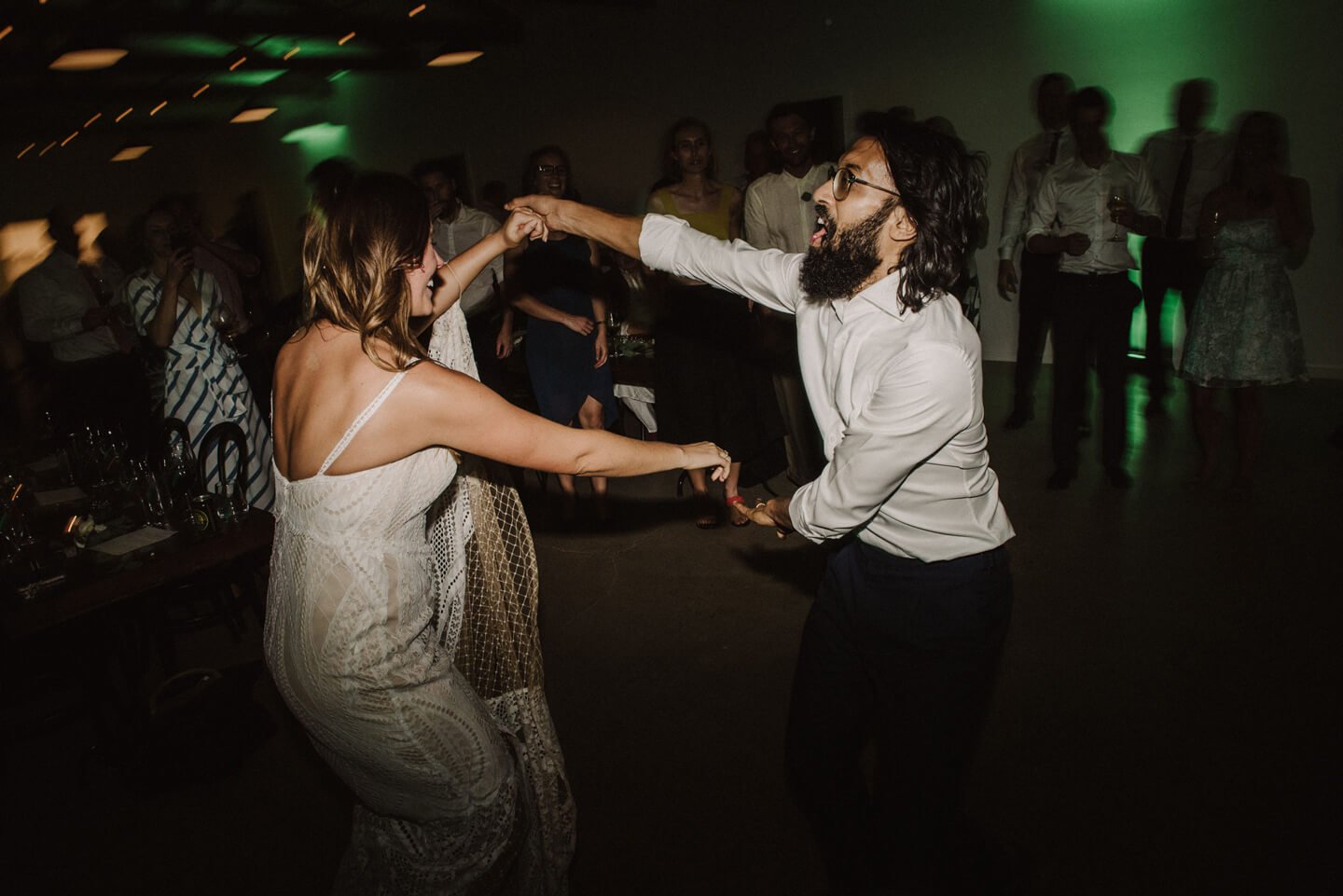 Book
a DJ
Like what you see? Get in touch to book DJ Eddy or Aleks for a banging dance floor!