Introducing our slick self operated photo booth!
Categories
Photo booth.
15 Jun, 2022
Did you know you can add a photo booth onto your DJ booking with us? Say hello to our slick, sexy digital photo booth bringing hours of (extra) fun to your wedding or special event. Read on to learn more!
How our photo booth works
Our photo booth is a freestanding unit (so not so much a "booth" per se) that is easy to operate by you and your guests and doesn't require an attendant!
Its features include:
Photos, GIFs and boomerangs easily taken using a touch screen with instructions
The ability to share snaps instantly via SMS
A sleek, compact design so you can fit the booth on or close to the dance floor action
A colourful (and customisable) LED ring light on the unit, meaning it can be used in darker venues
Access to the full gallery online after your event (to beat those post-event blues!).


How is it different to other photo booths?
All captures are shared digitally, which has the following benefits:
There's no need for a printer or photo booth attendant to look after the booth and make sure prints are coming out correctly
It's more environmentally friendly – no more prints scattered all over the venue's floor or binned after events
The set up is more compact and slick than a traditional booth, meaning it can fit into smaller venues!
Do you provide backdrops?
We want to keep the photo booth as simple as possible so recommend that you take a look around your venue for a good backdrop and get creative by reusing your arbour, florals or other bits and pieces used for the ceremony earlier in the day.
A lot of venues we play in have cool patterned wallpaper (like Rupert on Rupert, pictured below!), exposed/painted brick walls and greenery that all make perfect backdrops.
If you really want a sparkly backdrop though, we can hire one to add one to your booking –  just ask!
"Seriously a must do. The booth was probably more popular than my partner and I that night!!" – Simon + Tom's wedding


Do I need extra lights?
Just like your guests will be, our booth is pretty lit! But it all depends on your venue's lighting. We can throw in a couple of our wireless lights if you think it will be extra dark. We can chat to your venue and make a recommendation.
What does it cost?
The photo booth is a flat $880 (inc. GST) for the whole of your reception/party. As you'll be booking it alongside one of your DJs, they'll set it up before they begin playing so it's ready to go once the fun kicks off.
A collection of fun physical props is included in the cost, as is set up and pack down!
How can I book?
The photo booth is only currently available to clients who book our DJ services. Get in touch with your DJ (Eddy or Aleks) about reserving the booth for your date. The cost will be added onto your balance invoice.
Happy snapping!


Photo credit: Elsa Campbell Photography.
Are you still looking for a DJ and interested in adding a photo booth? Enquire now via our Book a DJ page!
View all posts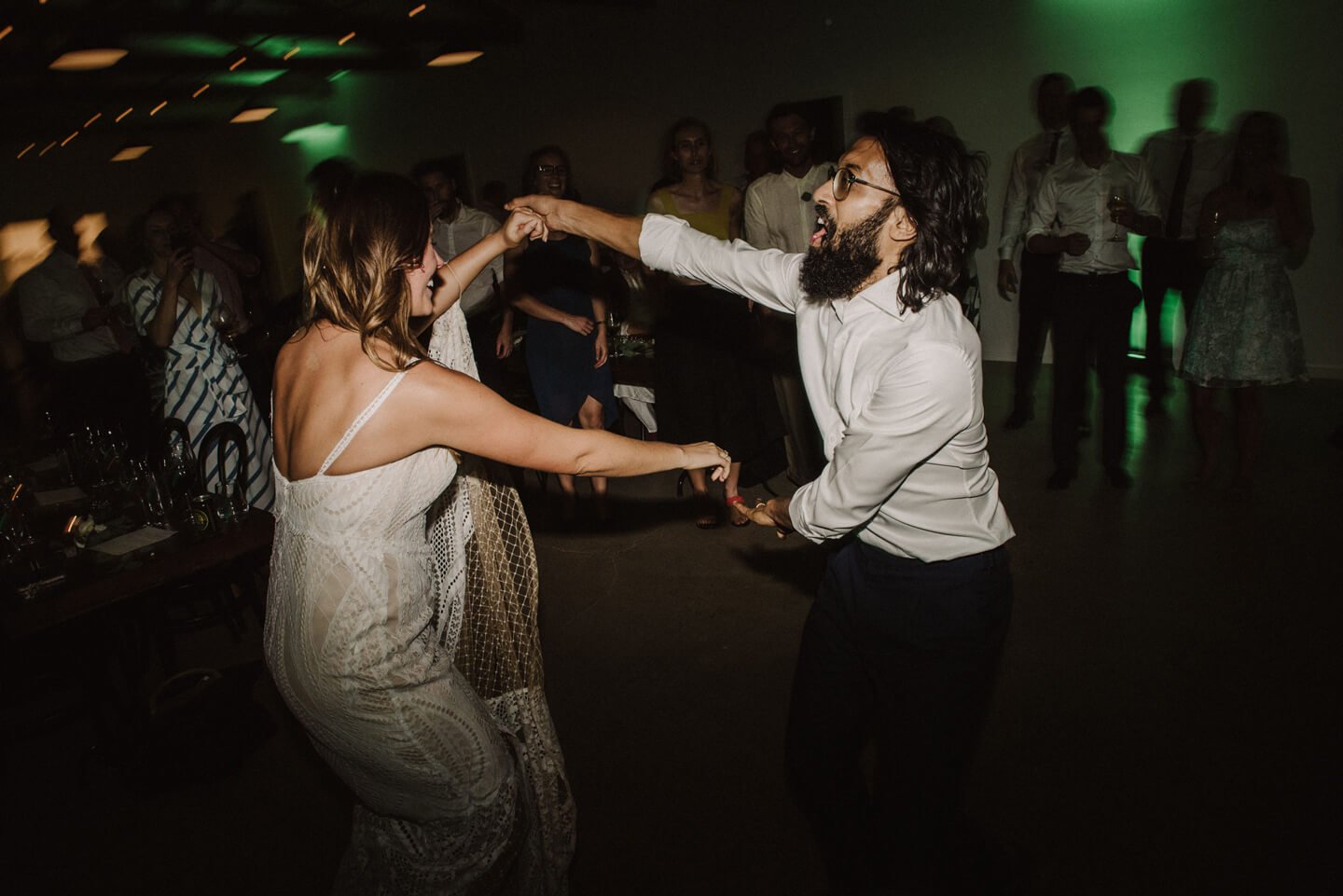 Book
a DJ
Like what you see? Get in touch to book DJ Eddy or Aleks for a banging dance floor!