Our tips for a cocktail style wedding
Categories
Wedding tips.
06 Oct, 2020
There are so many things to love about a cocktail style wedding! Clients who choose this style are generally looking for a relaxed vibe where guests can move around easily and mingle during the night. In this blog we list some of our tips on nailing a cocktail style wedding.
PS – If you're the non-traditional type, take a peek at our tips for a non-traditional wedding. If you're on the fence about whether to throw a more traditional sit down vs. cocktail style you can also check out this article from Wedshed.
Choose the right venue
Melbourne is home to some very special venues that do cocktail style weddings extremely well. One of our all-time faves is Glasshaus Inside in Cremorne, an intimate nursery space that you can bring all of your own suppliers into, making the day your own. Another great option is Rupert on Rupert, an industrial, quintessentially inner city Melbourne gem (the bar is to die for!). Our third option is Alfred Place in Melbourne's CBD, sporting classic Edwardian and Art Deco inspired style.
Keep timings flexible
At cocktail style weddings we often see that the less emphasis you place on timings for formalities, the better. Food service aside, if you and your guests are chatting away and bopping to the music, it's no big deal to push speeches out for a little while longer. Go with the flow and choose a venue and vendors that will be flexible on the night.
Catering for cocktail
As people are moving around quite a bit during a cocktail style wedding, it's important to choose a caterer that can deliver a steady supply of tasty treats during the night! The best cocktail caterers we've seen manage to always have a plate nearby to ensure a perfect balance between food and drink. One such caterer we can't sing the praises of enough is Fourside Events, one to definitely put on the short list!
Don't forget to provide some seating
Guests in heels and some of the oldies may appreciate a wee sit down from time to time! It's worthwhile arranging some seating for that little disco break! Check out our friends at Good Day Club for some glorious vintage and retro furniture ideas.
Nail the music
Be sure to chat to your DJ about the vibe you're after for a cocktail style wedding. In our experience, the music – particularly leading up to dancing – can be different to a traditional sit down wedding. We recommend a more upbeat vibe from the get go. And don't be surprised if some dancing breaks out early – it's one of the great things about a cocktail style wedding!
If you love the idea of a cocktail style wedding and want to chat music, get in touch!
Photo credit: Bek Smith
View all posts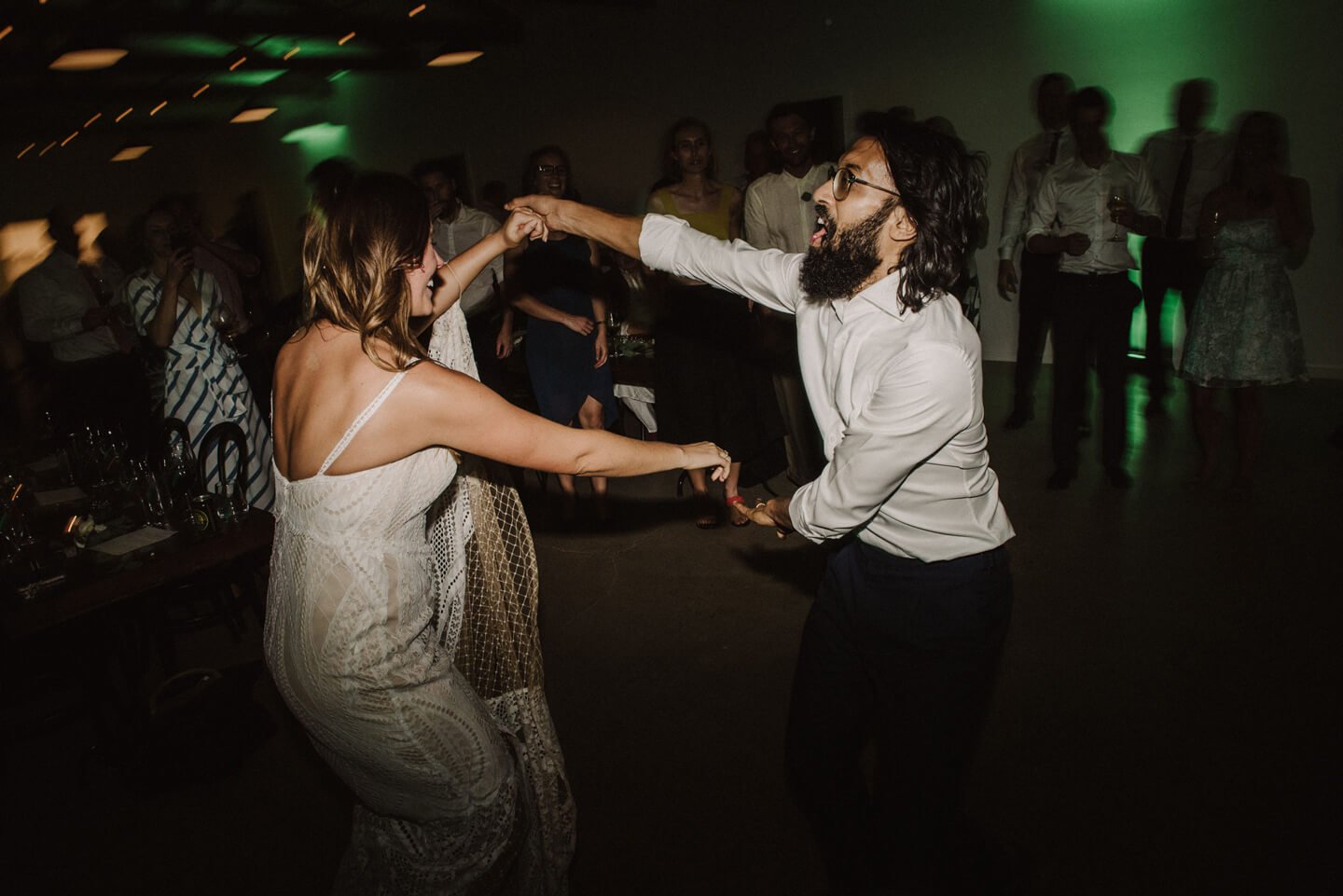 Book
a DJ
Like what you see? Get in touch to book DJ Eddy or Aleks for a banging dance floor!