Real wedding: Jess + Al's Rupert affair planned in under 3 weeks!
Categories
Real weddings.
06 Jul, 2021
Feeling stressed with only months to plan your wedding? It can definitely be done, my friends. Our clients Jess and Al pulled off the seemingly impossible and planned an absolutely gorgeous wedding in under THREE WEEKS! And all during a pandemic!
Jess and Al's wedding in December 2020 was our first event back after months of lockdown in Melbourne. Despite being on a Tuesday, this Rupert on Rupert wedding was an absolute hoot! Read on to find out more about how Jess and Al celebrated their special day.
A change of plans
Our friends at wedding blog and directory Ivory Tribe wrote about Jess and Al's day in this real wedding feature. In the article, Jess describes why the couple's April 2020 wedding in Bali moved to a December 2020 wedding in Melbourne:
"Unfortunately, like many others, Al and my initial wedding plans for 2020 were obliterated by COVID-19. We were supposed to get married in Bali in the April but instead found ourselves sitting on the couch sinking Negronis. With a Bali wedding looking less and less likely as the year rolled on and a family member facing a health condition, we decided we had to just get it done. We had two and half weeks to organise our Melbourne Wedding 2.0…
"Having been a part of the Melbourne wedding industry for a good few years [as well being a chiropractor, Jess is also a wedding photographer], I had a bit of intel to draw on. We ended up booking my favourite Melbourne venue and then some of my favourite vendors."

The venue
Rupert on Rupert is a super trendy venue in popular Collingwood, which means you need to be very organised to lock it in for your wedding. Given the unusual times we're in, Jess and Al tried for a Tuesday in December and were lucky enough to find the venue was free!
Rupert is instantly recognisable in photos. Its dark teal coloured walls, quirky vintage furniture and other-worldly feel really sets it apart. You can read more about the venue in our Melbourne's most unique wedding venues blog.
Jess and Al had both their ceremony and a seated reception at the venue. Check out the gorgeous reception set up below!

The other vendors
Jess perfectly sums up how every couple should find their tribe of suppliers: "Choose the right professionals so you can leave it up to them and sit back, relax and enjoy the day."
Jess and Al's other vendors included:
Of course, we provided the tunes! DJ Aleks Mac played for part of the reception and the dance floor. Bride Jess photographed a 2019 wedding (at Euroa Butter Factory – read our blog about this real wedding) where Aleks played, so felt comfortable in booking straight away! In Jess' own words,"Our dance floor went off. Aleks nailed it".
Brown Paper Parcel
The music brief
Jess and Al were pretty relaxed about the music and formalities. They opted not to have a first dance! For dance floor, their selected genres included pop from the 80s through to today, disco, classic house, pub rock classics, RnB and Triple J vibes – a real mix! However, if we had to choose a song of the night it would be Bag Raiders' Shooting Stars. Cue literal squeals from the guests (and maybe the DJ too…!).
"Our dance floor went off. Aleks nailed it".

Listen on Spotify
Check out the tunes Aleks played for the dance floor in our Spotify playlist here or below!
Like what you've seen in this real wedding feature? Chat to us about DJing at your special day! Get in touch via our Book a DJ page.
Photo credit: All photos by Brown Paper Parcel.
View all posts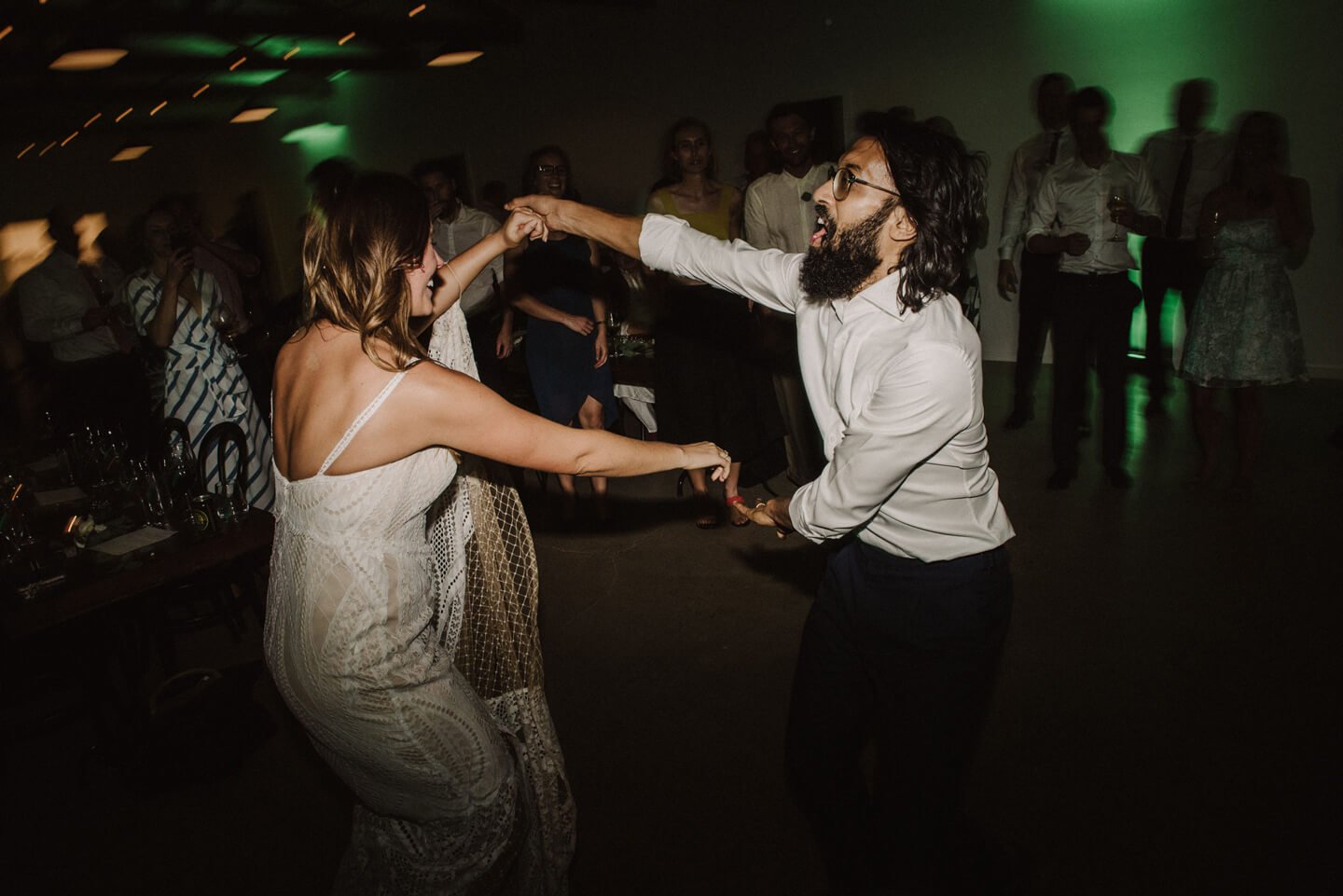 Book
a DJ
Like what you see? Get in touch to book DJ Eddy or Aleks for a banging dance floor!