Song tips: The first dance
Categories
Music tips.
26 Jun, 2018
In this blog post as part of our "Song tips" series, we share our ideas on selecting the perfect first dance song. For most wedding receptions, this is the most important moment and often couples find it difficult to choose a track. We've got some creative tips to share with you – read on!
(This blog post first appeared on the Ivory Tribe blog – check it out!).
Where should a couple start when it comes to selecting a song for their first dance?
Choosing a song you both like is better than compromising, so have a discussion about songs you both like first. (Having said that, compromise is achievable – we'll cover this a bit later).
Think about songs that were meaningful to you both when you first got together – not necessarily what was popular at the time, but songs of significance, e.g. from a movie or early memories of the relationship.
Some couples prefer to select lyrics of significance – that might be a good place to start. Even if it's an upbeat song, there are always broken down (i.e. acoustic) versions to consider.
Boyce Avenue are well known for their versions of popular love songs. Check them out on YouTube and Spotify – always great tools for research and inspiration.
How on earth do you select a song if you have totally different music tastes from your partner?
Because there are so many different versions of songs and covers, it's possible to come up with something both parties like – for examples, check out Triple J's "Like a Version" albums where popular artists cover well-known songs in a unique style.
Don't forget – not all first dances need to be slow waltzes. Increasingly we're seeing couples choose more upbeat songs that have a special significance to them.
What if a couple like a song, but the lyrics are not romantic, would you suggest not choosing it?
Not at all – this is about the couple, not the guests! If a song means something to a couple, they should go for it. The song may have been chosen because of an inside joke that the guests are not privy to, or it's a song they heard repeatedly on a recent holiday.
An example of a song that sounds romantic and dreamy but has un-romantic lyrics is Bon Iver's Skinny Love.
How can you make the music you choose for your first dance stand out from the crowd?
It's about making a selection that's unique to you, which is where our tips about selecting cover songs are handy. If you want to stand out, try not to select a recent top 40 song as these get overused, e.g. All Of Me – John Legend or Thinking Out Loud – Ed Sheeran.
However, if you do want to choose a recent chart topper and still stand out from the crowd, consider booking a live acoustic singer/guitarist to perform your song instead of the DJ playing it.
For those that are traditionalists, can you share with us some songs that best suit their first dance?
At Last – Etta James
Your Song – Elton John
The Way You Look 

Tonight

 – Frank Sinatra
L.O.V.E – Nat King Cole
Stand By Me – Ben E. King.
For those looking for something modern, what songs would you recommend?
How Long Will I Love You – Ellie Goulding
XO – John Mayer
A Thousand Years – Christina Perri
Everything – Michael Bublé
Tenerife Sea – Ed Sheeran.
What are some songs that you have heard recently used for the first dance that haven't been done to death?
Dog Days Are Over – Florence + The Machine. This one is interesting because it starts off slow but builds up, so you can get the dance floor started halfway through the song.
Catch & Release (Deepend Remix) – Matt Simons. This song is great at a tropically inspired wedding.
Believe it or not… Praise You by Fatboy Slim is a really unique and fun choice.
Generally after the first dance, the rest of the guests are supposed to join in and start the party, what are some top tips for making this happen seamlessly? (ie – avoid having the couple frantically waving at guests to join in).
Get your DJ to play a mashup of an acoustic version of a song for your first dance, followed immediately by the original to get people dancing (e.g. Can't Help Falling In Love by Elvis, mixed into the UB40 version).
Brief the bridal party beforehand to get up onto the dance floor at an agreed time (it depends on the couple – some only want the spotlight for a part of the song, after which the guests can join in).
Another tip is to add a saxophonist, percussionist or live vocalist to your DJ to signify the start of the party!
Any tips for those couples that have two left feet, but would still like to share a first dance?
Based on our experience, it's about the couple sharing a moment before the party begins, and not about the dancing.
In fact, choreographed dances often mean couples are preoccupied and concerned with getting the steps right, rather than enjoying this key moment of the wedding.
If you're concerned about your dancing, keep it really simple, and brief the DJ to start mixing into a new song after a minute or so, and get those guests on the dance floor!
Check out all of our FAQ videos on Vimeo.
Photo credit: Katie Harmsworth
View all posts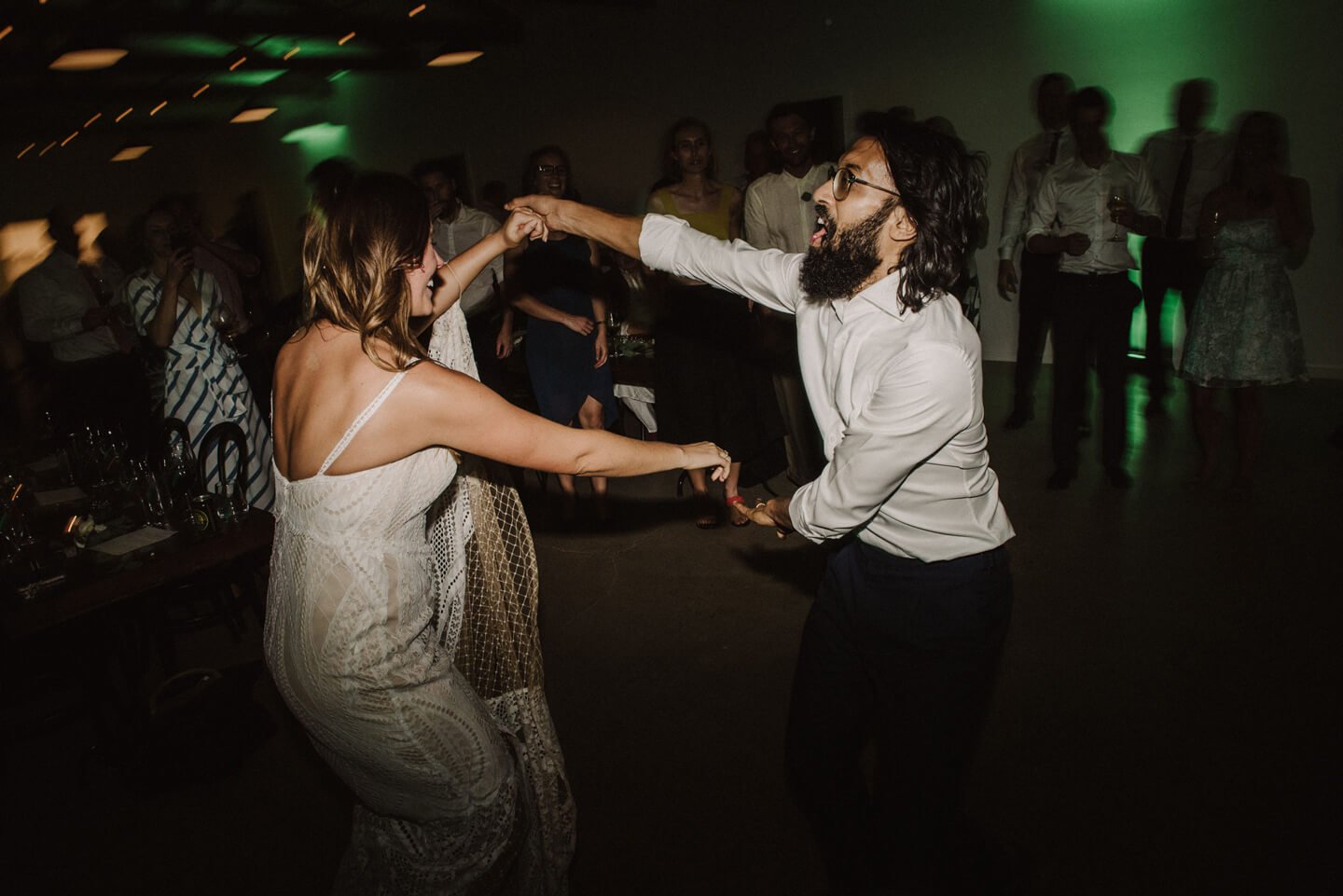 Book
a DJ
Like what you see? Get in touch to book DJ Eddy or Aleks for a banging dance floor!