Talent spotlight: Kenny on sax
Categories
Talent spotlight.
02 Nov, 2020
Kenny is one of our all star sax players who you'll often see at weddings alongside our DJs. We spent 5 minutes with this legend chatting about weddings, some of his favourite sax bangers and just how important music is to the success of a party.
How did you get into music?
From a young age it became my only real form of expression, anything from Funk to RnB to New Age Electronic Music, music became both a form of expression and a reason for being.
What's your favourite thing about playing weddings?
A wedding to me is the ultimate celebration.  It's a party on an epic scale, with friends and family from all corners of the globe, as well as an incredibly significant, deep and symbolic event of two people dedicating themselves to each other… I love being a part of that party energy, but even more so.. I love being a part of such an amazing occasion and a meaningful event.

Photo credit: Dan Brannan
What types of tracks work really well with sax?
It's often said the reason we connect with the saxophone so much, above all other wind instruments, is that it most closely resembles the tone of the human voice… hence it connects with everyone.  I am comfortable chilling with a sultry ballad, just as I am gettin' my funk on with a dance or RnB banger… whatever the style, the saxophone lends itself to it as another melodic layer, something extra.
"Music is an integral part of any event, it doesn't create the party – but it influences and embellishes every aspect of it."
Tell us about the most fun wedding you've played at.
It's hard to narrow down, but honestly when you've played as many weddings as I have.. it's the genuine stories… it's when I feel that connection between a couple, that reverberates through the room and becomes an infectious energy that builds the party… maybe a "je ne sais quoi".  With good people and good energy, bringin' the party on sax is effortless!
What's your favourite sax banger where you can bust out a sweet solo on the dance floor?
I am a great lover of RnB and Funk, you give me something with that syncopated beat – anything from James Brown to Bruno Mars, and I'll give you a funky treat that you just can't resist!

Photo credit: Tanya Volt
How important is music to the success of a party?
Music is an integral part of any event, it doesn't create the party – but it influences and embellishes every aspect of it.  With the right tunes, and the right vibe from performers you can take a simmer to a boil, a spark to a flame, and make that event truly memorable.
If you'd like to add a Kenny to one of our DJs to get the party started, get in touch!
Main photo credit: Gold Flamingo
View all posts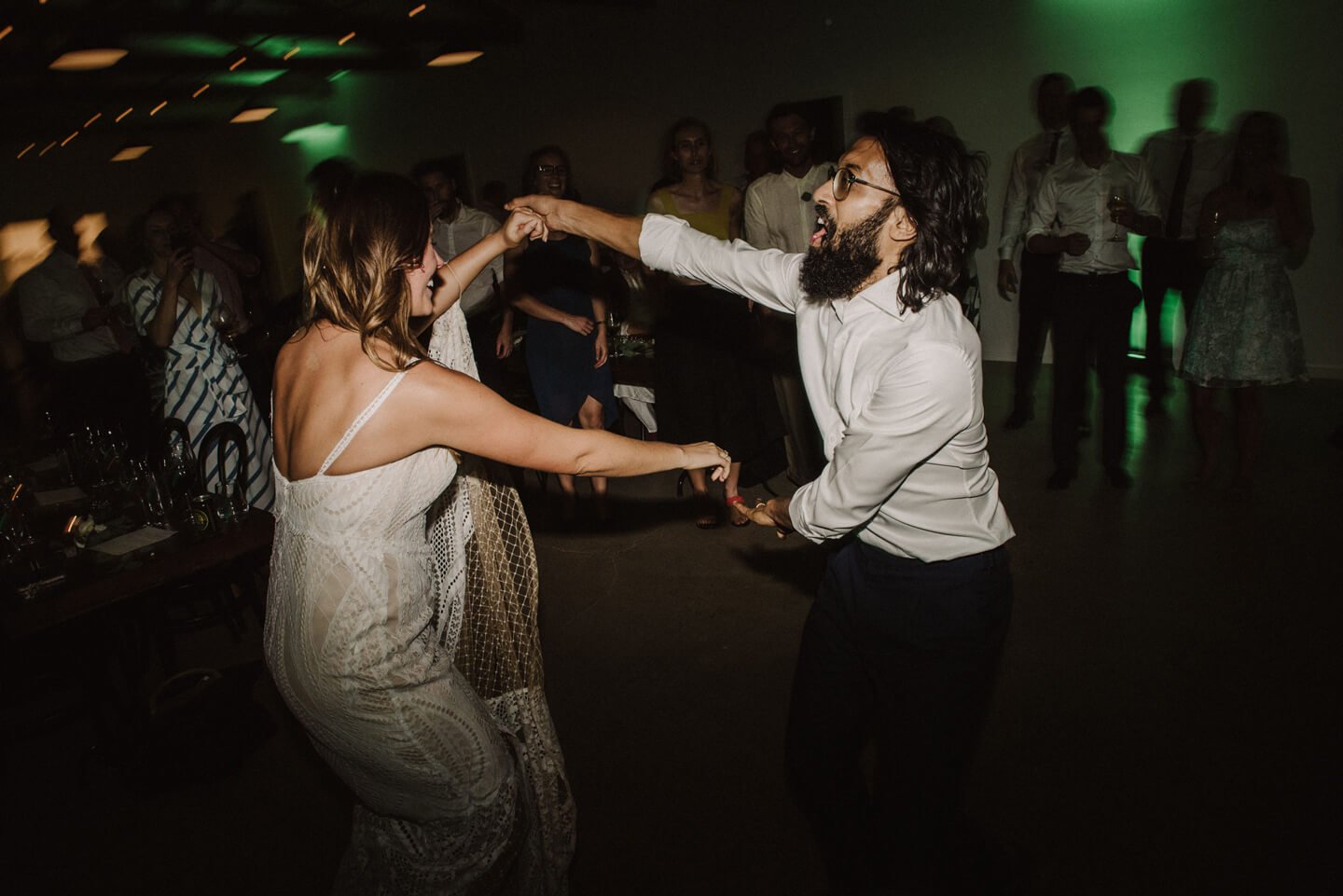 Book
a DJ
Like what you see? Get in touch to book DJ Eddy or Aleks for a banging dance floor!