Tips for planning a wedding in a tough economy
Categories
Podcast.
Real weddings.
Wedding tips.
06 Jul, 2023
The cost of living crisis is hitting us all, so in this episode of our wedding planning podcast, Project Engaged, we chat about planning your wedding in today's tough economy.
Prioritising the big ticket items for your big day
Planning a wedding on a budget can be challenging, but it's definitely possible to save money without sacrificing the things that are important to you as the couple.
In this episode we chat through some tips to help you save money on your wedding while still prioritising what matters to you.
We hope you enjoy this episode and get something out of it (even if it's a small thing!).
Listen below or read on for our tips!
Listen to the episode on Project Engaged
Our tips for planning an epic wedding that fits within your budget
This is obvious, but set a budget!
Start by determining your overall budget and allocate funds to different aspects of the wedding. This will help you stay on track and make informed decisions throughout the planning process.
Prioritise what matters most
Discuss with your partner the elements of the wedding that are most important to both of you. Focus your resources and efforts on those key aspects, such as the venue, food, photography, tunes, while being more flexible with other details.
Choose an off-peak season or day
Wedding costs can vary significantly depending on the time of year and day of the week. Consider having your wedding during an off-peak season or on a weekday, as venues often have low season prices.
Trim the guest list
One of the most effective ways to reduce costs is by cutting down on your number of guests. By keeping the guest list intimate, you can save on catering, invitations, and venue expenses. Invite only close family and friends to celebrate your special day. Lots of vendors including celebrants and photographers offer micro wedding and elopement rates.
Opt for a non-traditional venue
Large and traditional wedding venues can be expensive. Consider alternative options such as cool function spaces in your favourite bar or local breweries and distilleries. Just make sure they can accommodate your needs. And ask all your shortlisted venues about venue hire fee – a lot of venues don't charge this. They have a minimum spend instead.
Choose a fun ceiling installation for maximum impact!
Save on ceremony costs with a micro ceremony followed by a big party
A lot of our couples have been doing this. It doesn't even need to be on the same day! You will feel so much more relaxed having the after party a couple of weeks after you're married and there will be fewer formalities so you can really let your hair down and have a great time with your guests.
Chat to your vendors about their packages and how the booking process works
We're not saying to ask for discounts, but as an example, often we'll suggest our couples book us in for the 5 hour minimum DJ services and add on any extra services later on. This includes extra time and add-ons like our lights and audio guest books. It gives our couples more time to save extra money to pay for those things closer to their big day!
Consider different catering options
Opt for a cocktail wedding with a grazing table and substantial food like wood fired pizza (yum!)
Grazing tables are so delicious and filling!
Borrow or rent decor
Borrowing or renting decorations from friends, family, or even online marketplaces like Facebook can help you save money on styling your wedding. Plus it's more sustainable. You can also reuse ceremony flowers and styling elements like arches and arbours for the reception – for example, a fun ceremony backdrop can be reused as a photo booth backdrop.
Choose one high impact styling element
Speaking of styling, choosing one really high impact element can add so much to your space without having to deck out the whole venue in flowers. An obvious example is a big Bangin Hangins ceiling installation (pictured!).
Keep an eye out for sales and discounts (for products, not services!)
Take advantage of sales and discounts when purchasing wedding attire, accessories, or other items. Shop around, compare prices, and consider buying off-season to save on wedding-related purchases.
Photo credits from top: Maegan Brown Moments, Jackson Grant and Brendan Creaser.
Is music a big ticket item for your wedding?  Get in touch with us via our Book a DJ page!
View all posts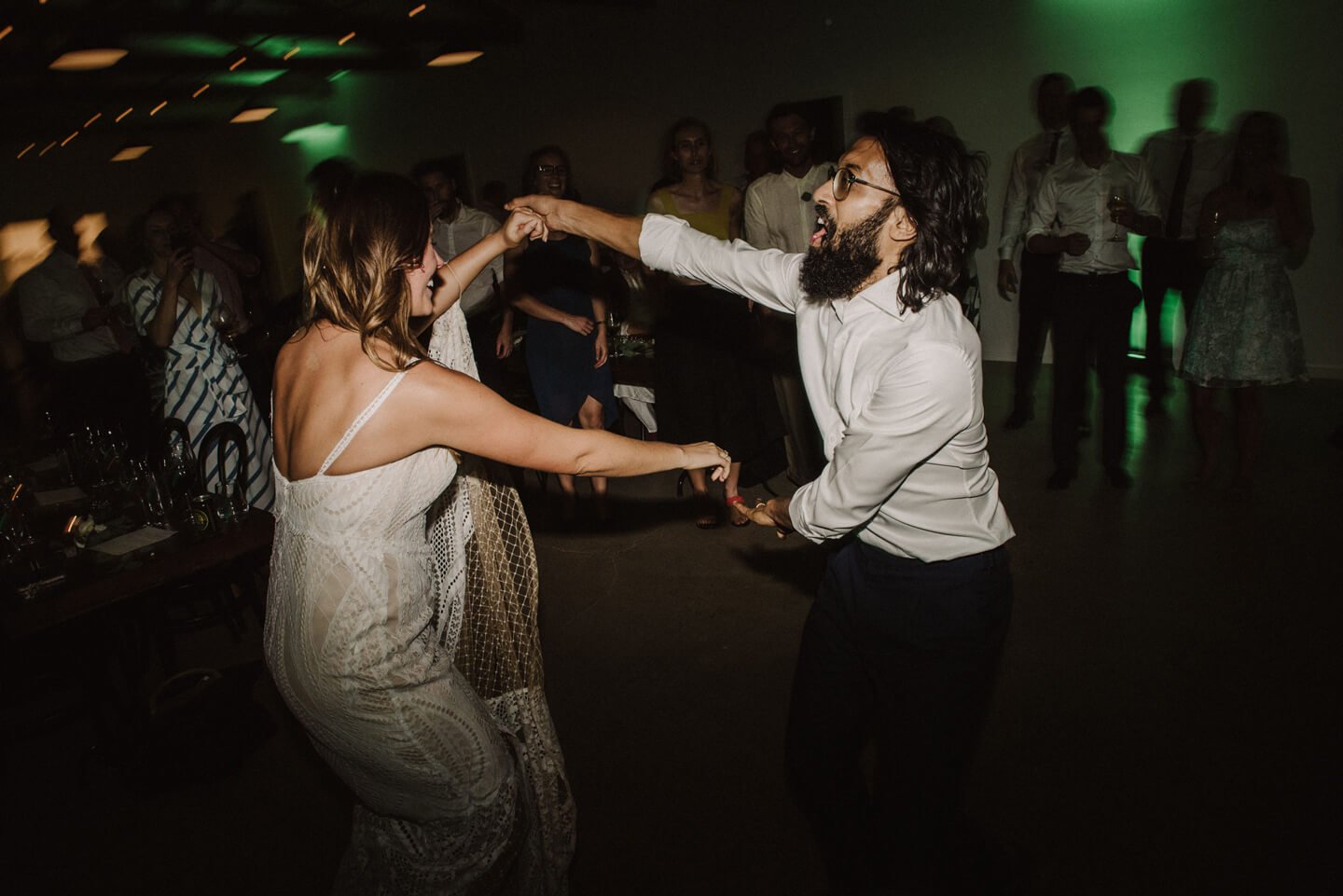 Book
a DJ
Like what you see? Get in touch to book DJ Eddy or Aleks for a banging dance floor!