DJ Aleks Mac on how to plan your wedding music
Categories
Talent spotlight.
26 Aug, 2020
Just before COVID-19 hit Melbourne hard, DJ Aleks Mac was involved in one of the most unique weddings – a KFC wedding! Yep, you heard it right. Grooms Sam and Paul won a nationwide competition by KFC Australia to cater and fund their wedding at home. It was a ripper party with banging tunes, full of disco classics, house music and fun pop. It was there that she met Oli Sansom, the arty wedding photographer behind business Briars Atlas and a host of other creative businesses.
Oli interviewed Aleks for a blog on his website, asking her lots of in-depth questions about One More Song, how we DJ and how couples can plan the music for their weddings. Read the full interview below!
Who are you and if someone in a long elevator ride asks you what you do, how do you fill the air with 65 floors worth of words?
65 floors! I feel sorry for them. I could talk about what I do all day. In a nutshell though (and as this is a blog!), I'm a business co-owner (with my partner DJ Eddy Mac) and wedding DJ. Eddy and I run One More Song. We're not a "booking agency" – we're a wedding DJ business (we're the only DJs in the biz). Weddings are front and centre for us. We just love them!
Both Eddy and I run all aspects of the business and work with our clients in the lead up to their big day.
There are no desk-based entertainment managers at One More Song – you're always dealing with someone who lives and breathes weddings!
What makes you come alive about being a DJ and working with weddings, and what are some surprises that you've enjoyed recently with it all?
Is there a better party than a wedding? You have an excuse to get super dressed up, you get fed, watered and spend all night dancing with your favourite people. There is a special energy at weddings that you just don't get anywhere else. And you definitely feel that behind the decks!
I love DJing at weddings because you get to play epic tunes from all eras and genres. I love so many different types of music – disco, funk, old school RnB, classic house, 90s dance, Motown, 80s synth, hip hop – the list goes on! Getting a pumping dance floor at a wedding involves really mixing it up to get old and young dancing. I truly love seeing people from all walks of life coming together to dance and for those few hours, forget about the mundanities of everyday life.
The one thing that constantly surprises me (but probably shouldn't) is how much people of all ages love older music. There are just so many artists that have truly stood the test of time (think Queen, Prince, Bee Gees, Marvin Gaye) and always get the party going.

What is your process for working with a couple to create the perfect set for their wedding, and how do you balance their needs with your wealth of experience in keeping the energy high in a room?
We're always super upfront with our clients about the process so we can set their expectations. We always tell them that there's only so much we can prepare – 80 per cent of the work is done on the night (read more about this in a blog on how our DJs pick tunes). Apart from the key moment songs (first dance, etc) and some "must-play" song requests from the couple, we just need an idea of what our clients DON'T want to hear and some genres/artists they love. Also importantly, we ask them what their friends and family will be into as well.
Then it's up to us on the night! We use our experience to read the room and build the energy at the right level. You can't go hard with bangers at dinner and then play ambient jazz during the dance floor. You also can't play one genre all night or guests will fatigue. It's a fine balancing act!
We're blessed as our vibe attracts clients who get all of this and are more than happy to leave most of the work to us. Building that trust with them is essential to us doing the best job possible on the day. We have heard of DJs who are provided with a list of 300 songs to play. That just doesn't get the best results, so we let our brides and grooms know how we operate nice and early!
How much does the fixed nature of a set flex and change in the moment? I mean I'm not asking what happens if someone comes up blubbering "can you play Horses by Braithwaite" but I'm kinda asking, what happens when someone comes up blubbering "Hey DJ can you play Horses by Braithwaite".
Our gigs are not fixed at all! We live mix. Yes, we're organised – we have thousands of tunes catalogued in every which way (folders for different parts of the evening, different decades, genres, sub-genres, etc), but we're totally flexible and play to the crowd. Sometimes I'll cue up a song to play and then 20 seconds before I'm about to mix out, I'll change my mind – it definitely keeps it interesting!
I'm happy to take requests and happy to play Horses (no Nutbush, Macarena or Chicken Dance though… the line has to be drawn somewhere). BUT the caveat is that the request needs to be a song that the newly married couple will be happy with, and it needs to be played at the right time. If someone drunkenly requests Horses and guests are just finishing their mains, well, it ain't happening!
I'm a bit of a (ie, a total) neophyte when it comes to the whole DJ thing. I mean, I see flashing lights, buttons, knobs, and an operator that somehow knows what it all is and makes the entire room move with it. What does it all mean, and when our octopus friends raise their IQ into the 3-digit-zone and cultivates good taste in music, are you out of a job?
The flashing knobs and buttons are designed to make us look very skilled, important and intimidate all who try to talk to us. 🙂 No, but really, technology has come such a long way and really helps when it comes to DJing at weddings. For example, we can cue up tracks at different points for key moments like wedding party entrances and use different effects and functions to help smoothly transition between genres – a very important part of being a wedding DJ.
As for the robot with good taste in music, its name is Spotify. The clients I've spoken to who had a Spotify play list for their engagement parties have always regretted it. I'll only be threatened if the robot develops so much that it can read the tiny flicker of excitement in a guest's eyes when you play a tune they love while they're still having their entree, or be able to deal with an inebriated uncle who wants you to play The Angels all night. Then MAYBE I'll be out of a job.

How do couples generally book you and what's the meeting process like?
When a couple enquires with us, they receive our shiny "party pack" – an easy-to-digest information pack that has more about how we work, our sample mixes (which you can listen to on our DJ mixes page), videos, etc. Then, some couples will either lock us in or book in a phone or video call (or in-person meeting, depending on what lockdown stage we're in). During this chat, we talk about everything wedding-related and ask the couple about their wedding timeline, music likes/dislikes, their guest demographic, the vibe they're after, etc! And of course, we go into more detail about how we work and offer some suggestions. After that, it's a 50 per cent part payment to lock us in! (Read more about how One More Song operates in our FAQs).
How do you navigate a room that's losing its energy and revive it, and to the opposite, do you proactively craft the space so that there's ebbs and flows in how packed the floor is to set context?
A packed dance floor is obviously the ultimate goal, but people do need breaks – they might grab a drink, powder their nose, chat to a friend they haven't seen in a while – it's all part of it. And you need to provide something for everyone. Generally we'll make sure the oldies can enjoy the dance floor earlier on in the night and leave the late night sing-alongs for those who are really letting their hair down.  As a wedding DJ, you need to respond to what's happening in front of you. If you're about to play the bride's all-time fave song but see she's heading off to the bathroom, you better find a different track pronto!
I've gotta ask it. If the whole room is screaming your namesake "one more song", what's the likely candidate?
This does happen quite a bit (which is why we came up with the name!). It's hard to pick one track as it really depends on the couple and the vibe, but normally it's got to be something that has broad appeal, known and loved by both the couple and guests. An upbeat remix of a classic seems to work well – maybe an edit of a disco track. At one wedding last year I played Don't Leave Me This Way by The Communards and it went off!
How to plan your wedding music: what are your 3 best tips for couples in planning out their entertainment?
Think about what you DON'T want to hear as much as you what you love
Use the wedding planning time to throw together some tunes in Spotify/Apple Music/Excel spreadsheet (it doesn't really matter!) that you both love. This can happen organically as you're listening to music so it's more fun than work!
Don't forget that although it's your day, two people on a dance floor does not a rocking dance floor make. So think about music you love that you know others will love too!
You can read more about Oli and the art of being an un-weddingy wedding photographer in our blog.
Photo credits: Briars Atlas.
View all posts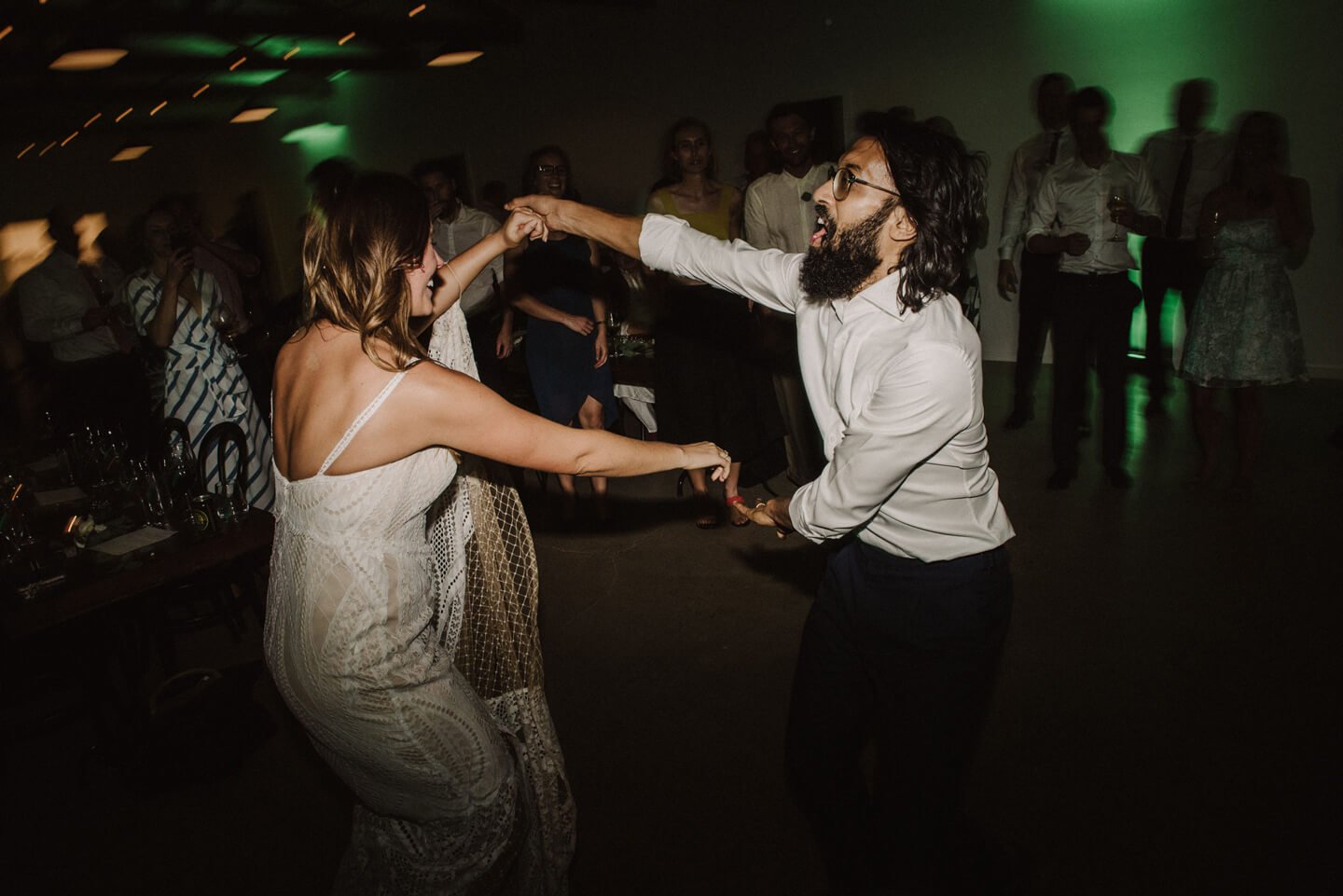 Book
a DJ
Like what you see? Get in touch to book DJ Eddy or Aleks for a banging dance floor!