How we pick tunes at weddings
Categories
About us.
Podcast.
09 May, 2023
There is so much good music around and so many factors to consider when hand-picking tunes for a function. Often you have a mixed demographic with different ages, backgrounds and music tastes. Some people love to dance and some need a little more encouragement. How do we go about selecting what to play?
In this blog post, we share an insight into how we choose music, including pre-gig and of course, throughout the night! We also cover this topic in a Project Engaged podcast, which you can listen to on Apple Podcasts or below.
Listen on the Project Engaged podcast
The music brief
Getting a good brief from clients is essential. Usually we ask lots of questions to gauge how flexible our clients are and draw out their preferences. Briefs vary widely! Some clients will be happy to provide names of artists they would like to hear and leave the rest to you, others will provide Spotify playlists with specific tracks (read about what we do with these playlists) and some even just tell you what they don't want to hear.
As we work closely with clients in the lead up to their events (especially weddings), we find that they put their trust in us, so often clients will leave it up to us on the night to see what works. We also keep within their vibe/brief – some clients prefer Indie over more mainstream music and some want nostalgia from their partying days. By picking the right songs, you can turn any brief into a rocking party!

Prepping tunes ahead of time
Using our briefs, we'll put together song requests from the client (plus key moment songs for weddings, eg for first dance) and other tunes we think will work into folders for different parts of the night, usually: background, "build the dance floor", dance floor and late (depending on how loose the party gets, these tracks could be trance classics, guilty pleasures or sing-alongs!).
We probably play only about 40-50% of the tracks we've prepared on the actual night! And we never prepare the order of the tracks. We always have our full music library with us at every gig so we can access songs on the fly.
A lot of the work is done at the actual event – you need to read the crowd and see what resonates. There is no way to predict what guests will enjoy but by spending time with clients ahead of time, you can at least get an idea and get yourself organised.

Picking music on the night
This is the fun/unpredictable bit! There is a bit more control earlier in the evening when playing background tunes as people are busy chatting and mingling so are not as focused on the music. Having said this, they're still responding to the atmosphere you are setting so it's important to create the right mood. We normally look around and see what guests bop their heads along to and perhaps mark a couple of songs in our DJ software that could work later on during the dance floor part of the night.
We love the "build the dance floor" part of the evening. For a cocktail format, this is maybe 2 hours in where people have had a few drinks and some may already feel like dancing. This is a good time to test what works – we may try some RnB and if that works, play a "mini set" of 3 or 4 similar tracks to keep guests dancing and encourage others to join.
During the dance floor part of the event, we choose super upbeat tracks. Usually this is a mix of genres, artists and decades, but carefully considered to ensure a good flow to the night, and of course, give guests a chance to grab a drink or catch up with each other. There is a fine balance to strike!

Taking requests
Guest requests can work really well or not at all. We always check with clients ahead of time if they're happy for us to take and play requests – their answer is often "yes, but within our brief". If we're not able to play a guest request as it doesn't fit the brief or isn't appropriate for that part of the night, we'll usually ask if there's anything else they'd like to hear.
Sometimes requests are really helpful. There may be a song that has sentimental value to a large group of guests that will bring more people to the dance floor – we're all for that!
Read more about how we deal with guest requests!
Photo credit: Katie Harmsworth
Looking for someone to expertly pick tunes at your wedding? Get in touch with us via our Book a DJ page!
View all posts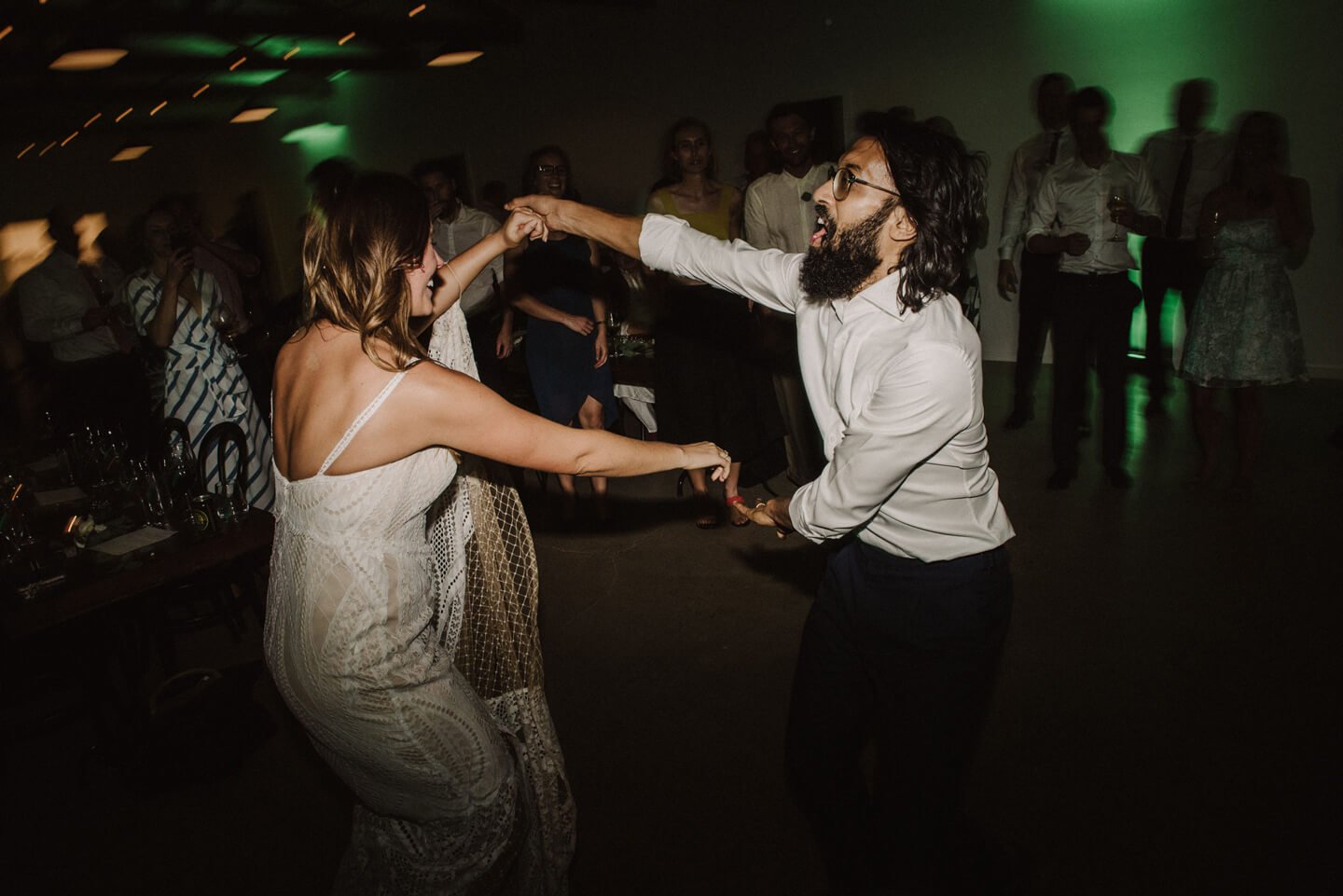 Book
a DJ
Like what you see? Get in touch to book DJ Eddy or Aleks for a banging dance floor!