What we do with our couples' Spotify playlists!
Categories
Music tips.
18 Nov, 2021
You've booked us in for your wedding and you're ready to turn your mind to our favourite topic – the music! As part of how we work with clients, we provide an online questionnaire called the "party brief", which guides you through all your wedding details, including music preferences. There's also a spot for you to include a link to a Spotify playlist of tunes you love. Some couples provide us with 10 tunes, others MANY more. So, what do we do with this list? Read on to find out!
We're human wedding DJs, not robots!
First things first: we will not simply press play on your Spotify playlist. If we were to do this, you may as well have slapped on a phone with a playlist instead of hiring an experienced wedding DJ! But trust us, this would be fun for no one. We've heard stories of guests spending all night trying to get to the phone to put on their song. Save that for your next house party!
How we prepare music for each wedding
Once we have your party brief, we create a brand new folder in our music library with your name and date of the gig. We then create sub-folders with your key moment songs, any specific song or artist requests you've noted down (for artist requests, we choose tunes that we know work well at a wedding) and other tunes we've hand-picked based on the genres you've ticked in the brief. Further, these are split into background tunes and dance floor tunes.
You can read more about how we pick tunes for your wedding. By the way, we spend a significant amount of time preparing for each and every wedding. No two weddings are ever the same!
The next step is to go through your Spotify playlist (if you've provided one)! PS – some couples provide different playlists for different parts of the day, eg. cocktail hour, dinner and dancing tunes. That's totally fine with us. The process we go through is the same! Of course, you don't have to provide us with a Spotify playlist. The party brief will give us enough information about what you like (and importantly, DON'T like), but you are very welcome to do so. Spotify playlists are easy to collaborate on so if you and your partner want to throw in tunes as you listen to music separately, go for it!
By the time you see us at a wedding, we've already spent lots of time prepping for it!
Searching your playlist for musical gems
When we receive your Spotify playlist, we scan through and pick out tunes that we know will definitely work at a wedding. Normally the majority of songs are great, but sometimes we have to select carefully. Why are we so picky? Well, you may love listening to Mariah Carey in the car on your way to work, but "Hero" will just bring the mood down at a wedding. So we won't include that in our music prep. But knowing that you like Mariah, we'll throw in some more fun tunes like "Fantasy" – much more upbeat and appropriate for a party!
We're very honest and transparent with our couples. You've entrusted us to look after your music so we will expertly guide you to get the best possible result – good vibes all night, a killer dance floor and happy memories for years to come!
"We spend a significant amount of time preparing for each and every wedding. No two weddings are ever the same!"
Then it's all about reading the crowd!
When the big day rolls around, we use a combination of the music we've prepared for you specifically together with our wider (and very organised) music library to pick tunes. You're paying for us to use our experience to read the room and build the energy at the right level. You can't go hard with bangers at dinner and then play ambient jazz during the dance floor. You also can't play one genre all night or guests will fatigue. It's a fine balancing act!
Read more about how we get people dancing and how we deal with guest requests on the night.
A final note on streaming music
We can't actually play Spotify tunes through our DJ software! Although streaming is possible, we have to source tunes from other streaming platforms. So if there are tunes we don't have in our library, we will individually download them for you. Although streaming is great, it relies on a steady internet connection, so for your key songs and important requests, we always make sure we have these in our music library!
Looking for an experienced wedding DJ for your wedding? Check our availability by enquiring through our Book a DJ page!
Photo credit: Quint Photography
View all posts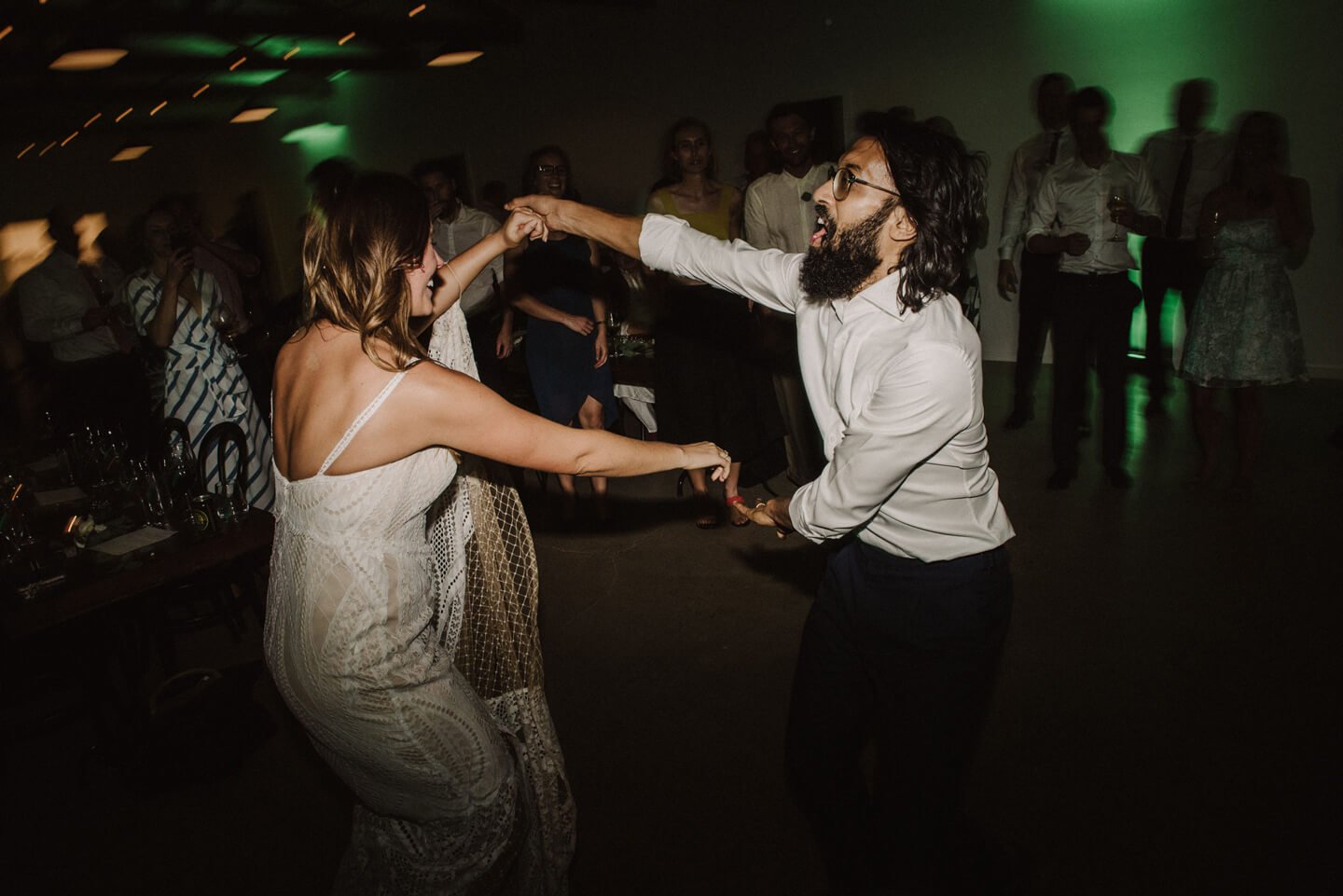 Book
a DJ
Like what you see? Get in touch to book DJ Eddy or Aleks for a banging dance floor!