Help! I need a wedding DJ who can actually make people dance!
Categories
About us.
Wedding tips.
Weddings.
13 Apr, 2021
Planning a wedding involves hundreds of hours, tens of thousands of dollars and a lot of energy. You'll want to make sure all that effort is worth it on the day! If you're after a big party for your wedding, this means booking a DJ who'll create an epic dance floor. Read on for our tips on how we make this happen for our clients!
Nail that brief
A lot of our work is done in the lead up to an event. A lot of clients are surprised at how much is involved on the music side!
We capture all of this information in our "party brief" – an online questionnaire clients fill in with all of their event details, including timings, sound requirements, music likes and dislikes, key moment songs and overall vibe they're after! (Read more about how we work with clients).
Nailing this brief is essential. It helps our clients articulate their music tastes and helps us to go into their wedding with a plan of how we're going to create a great atmosphere through music!
Warm everyone up and prove yourself!
It's the big day and we're all set up and ready to go! You may not realise, but as soon as we hit play on that first song, we are working hard to create the right energy from the get go.
People often underestimate the importance of background music. Getting it right is critical to building trust with guests in the lead up to the dance floor. If they're excited about what the DJ is about to play, they're more likely to dance and stay dancing!
A good DJ will watch guests' reactions to background tunes and if they see head nodding and toe tapping, they'll prepare some similar tunes to play later on (read more in our blog on how we pick tunes).
We've put together some tried and tested "build the dance floor" song ideas in our Get guests ready to boogie blog!
Read the crowd
You may have heard the expression "reading the crowd" but what does it actually involve? As experienced DJs, we are experts at it! It means watching peoples' reactions to certain songs, genres, artists and tempos, and adjusting what you play next according to what you witness!
If it's broke… fix it!
We're not precious, so if we can see something we're playing isn't quite working, we'll play something else! The beauty of being an open format DJ is being flexible enough to play literally any genre and transition between these smoothly. Our goal is to have a large group of guests on the dance floor the majority of the time!
(If you want a banging wedding dance floor, check out our list of ultimate 40 wedding party tunes).
Photo credit: DUUET.
Want an experienced DJ who can expertly read the crowd? Get in touch with us via our Book-a-DJ page.
View all posts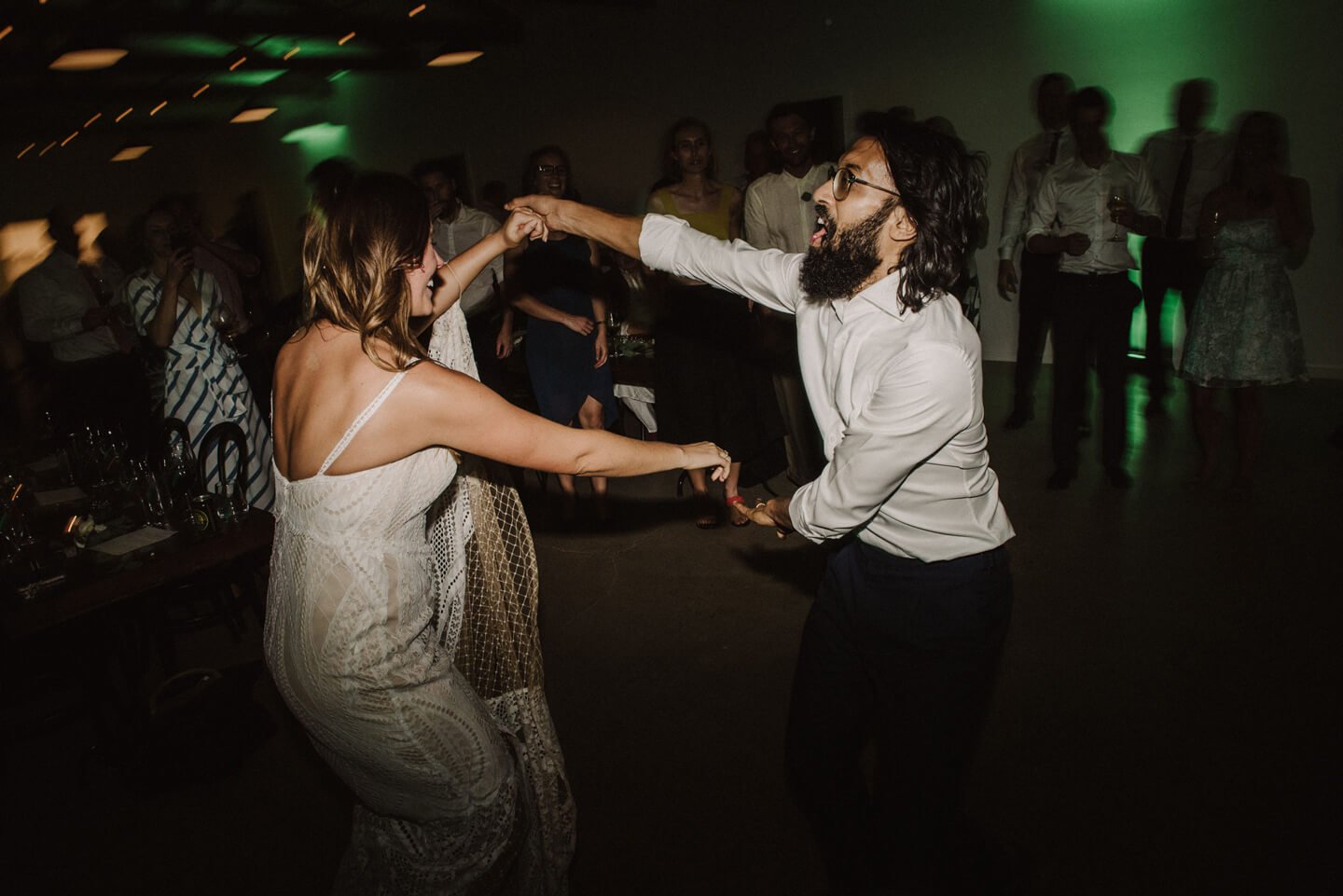 Book
a DJ
Like what you see? Get in touch to book DJ Eddy or Aleks for a banging dance floor!