Our favourite Melbourne city wedding venues
Categories
Wedding venues.
28 Aug, 2020
Melbourne city is blessed with some beautiful wedding venues that are great for a party. We've managed to narrow it down to our five of our favourites. Each of our chosen venues offer a lot of spaces and flexibility for your big day.
Alto Event Space
Located in the iconic Melbourne GPO building, this venue comes with breathtaking views of the city and gorgeous interiors. Alto has a capacity of 150 for a seated reception and a whopping 400 for cocktail!
Alto can provide stylish furniture including ottomans, cocktail tables, plush stools and chairs to match the occasion. For the outside terrace, black market umbrellas and outdoor gas heaters for colder weather can also be provided.
Want your ceremony there too? No worries!  Alto also boasts a private terrace which is perfect for a wedding ceremony. Should Melbourne's weather turn, you can host the ceremony inside as your plan B!

Photo credit: The Style Co
Ormond Hall
Ormond Hall is a historic building in the heart of Melbourne known for its epic parties. With a history dating all the way back to the 1890s, refurbished in the 1920s and again in 2017, the original art deco decor has been flawlessly preserved, capturing its old worldly feel.
Ormond Hall has a number of spaces for your ceremony, cocktail hour and reception. (It also sports a beautiful stage that your DJ can set up and do their thing on!). Check out Kat and Andrew's real wedding at Ormond Hall for some insight into one of the parties at this beautiful venue.

Photo credit: Ormond Hall
Richmond Rowing Club
This venue is positioned right on the banks of the Yarra and sports one of the best views you'll get of Melbourne CBD. Richmond Rowing Club is definitely a worthy contender for a city wedding. The club has a spacious interior that can be opened out to the huge terrace for an indoor and outdoor wedding.
The club seats up to 120 for a sit down or a handsome 200 for a cocktail wedding.

Photo credit: Ed Dixon
State Library Victoria
State Library Victoria is a world-class and heritage listed wedding venue with distinct charm. If you love the idea of getting hitched surrounded by stunning marble staircases, soaring bookshelves and architecture dating back to the 1850s, this one is worth a look!
Recently refurbished, it sports a variety of beautiful spaces for your day. One such space is The Ian Potter Queen's Hall, which is the original library reading room. The newly-renovated 19th-century interior makes it an unforgettable venue for a reception.

Photo credit: State Library Victoria
Two Ton Max
Hidden away in the alleyways of North Melbourne, Two Ton Max is a modern, industrial venue that screams "Melbourne" in its design. Large ceilings with skylights, polished concrete floors and a private courtyard are just a few of the details you'll fall in love with.
If you're a couple that wants the ultimate flexibility in bringing in your own suppliers, Two Ton Max allows your imagination to run wild! It's the ultimate space to make a wedding truly your own. It has a generous capacity of 240 seated or 300 for cocktail, so you won't be having to cull that guest list either!

Photo credit: Peter Rowland
If you're looking for more regional Victorian venue inspiration, check out our friends over at Wedshed.
You can also take a look at our blogs on Melbourne's most unique wedding venues or Regional Victorian wedding venues we love.
Main photo credit: Motta Weddings
View all posts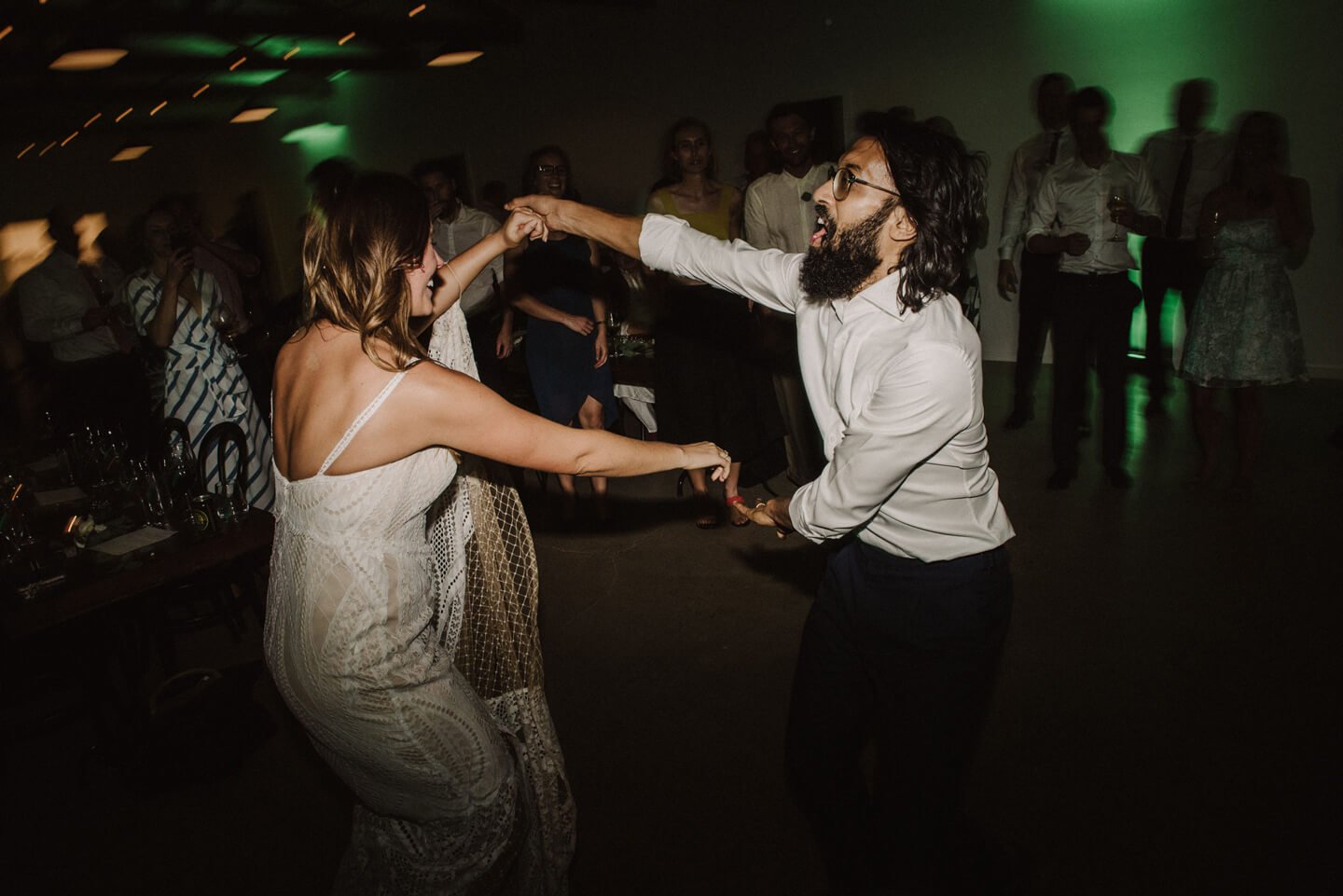 Book
a DJ
Like what you see? Get in touch to book DJ Eddy or Aleks for a banging dance floor!