Real Glasshaus weddings we've played!
Categories
Real weddings.
Wedding venues.
17 Feb, 2021
We've said it once (actually, a million times) and we'll say it again – we just love the venue Glasshaus (nursery by day) in the inner city suburb of Cremorne, Melbourne. It's unique, it's filled with luscious greenery, it's in a convenient spot and it's just stunning.
There are also two main spaces – Glasshaus Outside and Glasshaus Inside – both equally beautiful and available for wedding ceremonies. You can read more in our blog Venue spotlight: Glasshaus Inside.
We've been lucky enough to play there regularly. In this blog, we recount some of the recent weddings we've played at this incredible venue!
Scott + Irene: Silent disco sing-alongs
Scott and Irene's cocktail wedding was one of a kind. With Glasshaus being a venue in a residential area, the couple decided to opt for a silent disco later in the night as they really wanted to crank the music (Glasshaus has a policy of music being turned down after 11pm, which is not an issue, as this is when most receptions finish!). This involved guests putting on some brightly lit headphones and singing along loudly to what sounded like silence to everyone else at the wedding!
Song of the night was Dancing Queen – ABBA, which everyone belted out during the silent disco.
Video credit: Thick Black Frames.
Sari + Brad: Indie vibes for the perfect day
Two lovebirds Sari and Brad chose Glasshaus Inside for both their ceremony and reception, meaning that their family and friends were in the one location all day. Their music brief was very Triple J inspired. One of the musical highlights of the day came early with the song Dog Days Are Over – Florence + The Machine bringing the house down as celebrant Megan Watson pronounced them as husband and wife.
The party that followed was intimate, relaxed and full of joy. It was one of those special days that we often reflect on as an event filled with celebration.

Photo credit: Madeline Kate.
Natalie + Brandon: Killer dance floor featuring sax
Natalie and Brandon's wedding looked like something straight out of Vogue!
In terms of their music brief, the stylish couple requested a crowd-pleasing mix of oldies, 80s, disco, classic house and 90s. As they had both DJ and sax, they also requested some songs with epic saxophone solos (read more in our blog on sax bangers for inspiration)! They had a really fun crowd and the dance floor was packed.
Song of the night? Gimme Gimme Gimme – ABBA, followed closely by Jubel – Klingande!
Read more about Natalie and Brandon's wedding in our blog Real wedding: Stylish celebration with DJ and sax.

Photo credit: Aleksandar Jason Weddings.
Rose + Stefano: Two days of wedding celebrations
Rose and Stefano's cocktail wedding wasn't really a wedding; it was a post-wedding celebration! The couple got hitched the day before their Glasshaus party so they were ultra relaxed for their reception.
Photographer extraordinaire Anna from Lulu + Lime captured both days. You can check out the full album on the Lulu + Lime website.
Song of the night was Sandstorm – Darude, as requested by the groom!

Photo credit: Lulu + Lime.
Sophie + Brad: A warm and genuine wedding filled with classic tunes
Sophie and Brad's wedding reflected the couple: warm, genuine and unpretentious. Their family and friends were big music-lovers, even having a boogie during cocktail hour, well before dancing officially kicked off!
The couple had great taste in music – really varied, with no cheese. They considered their guest demographic in putting together genres, artists and tunes they liked, with a definite bias towards the classic stuff everyone loves! There was lots of Motown, smooth Rnb, 60s rock'n'roll, newer house tunes and some 80s thrown in for good measure.
Song of the night was their final tune, the crowd-pleasing Shout – the Isley Brothers.
You can read more about their wedding in our blog Real wedding: Sophie + Brad get hitched in lush green style.
Video credit: Annette and Dani films.
Main photo credit: Katie Harmsworth.
Getting married at Glasshaus and want a DJ who knows the venue inside out? Get in touch with us via our Book a DJ page.
View all posts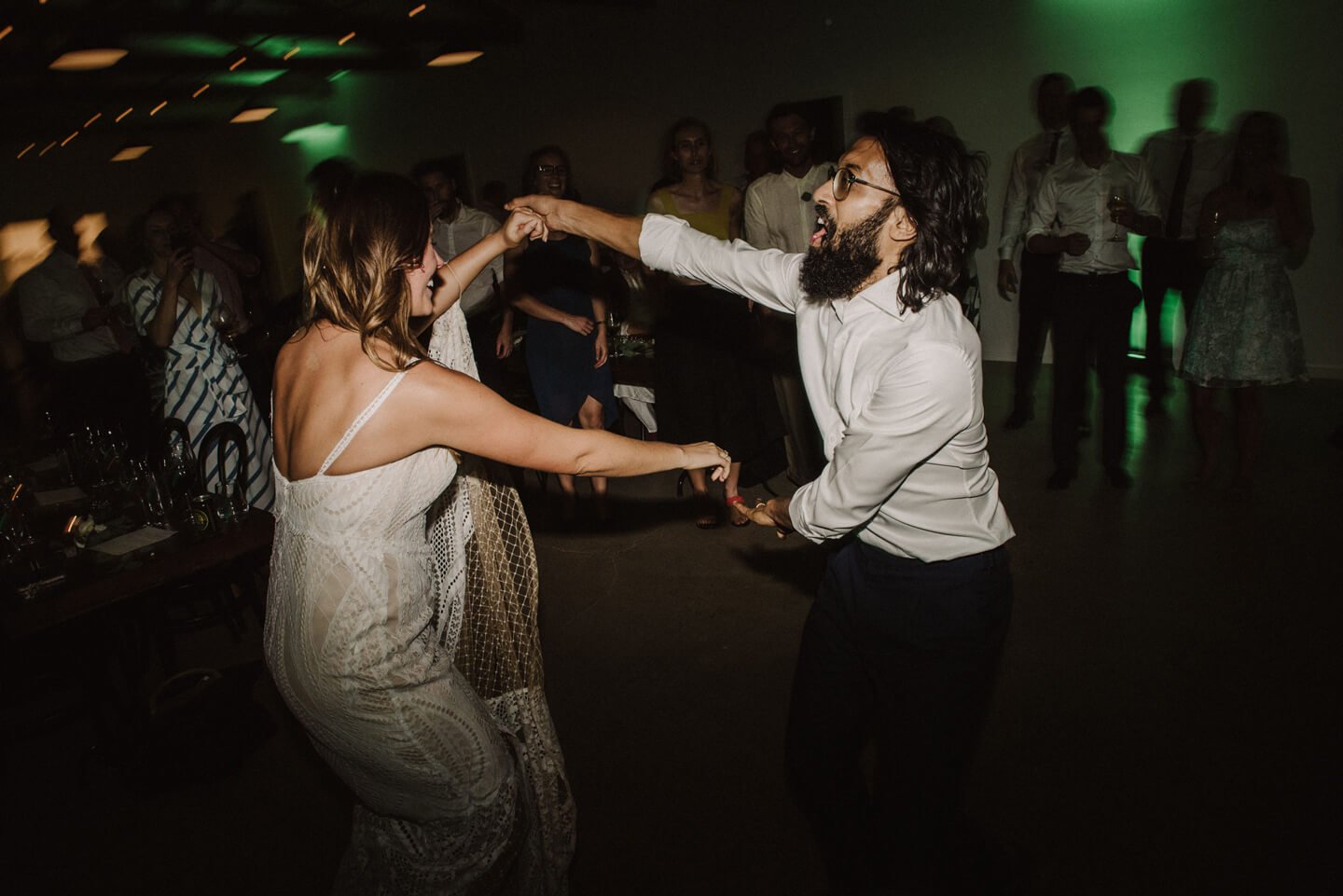 Book
a DJ
Like what you see? Get in touch to book DJ Eddy or Aleks for a banging dance floor!