Venue spotlight: The Craft & Co in Collingwood
Categories
Wedding tips.
Wedding venues.
Weddings.
27 Jun, 2023
We love an inner city venue, and The Craft & Co on Smith Street in Melbourne's trendy Collingwood is no exception! This venue is housed in a heritage-listed building and is also a craft distillery and brewery. What more could you ask for? Read on for more about weddings and functions at the venue, plus our tips on the best sound set up.
The wedding space
The Craft & Co weddings we've been involved with have been held upstairs. The second level features large windows and high ceilings, with a modern yet warm industrial feel. There are two main spaces, separated by a bar, and the room can be curtained off for smaller events.


Our recommended DJ set up
We have played at both cocktail and sit down weddings at The Craft & Co, which have used the full second floor. The DJ is normally set up at the far end on the Smith Street side, which is where the dance floor is. This means we are quite far away during the dinner part of a sit down wedding. Fear not, however – we have the perfect speaker solution!
As well as our main DJ set up (seen below, left), we recommend a third speaker placed halfway down the room (also below, right – blink and you'll miss it!), facing the farther space. We send a signal wirelessly so that our tunes and announcements/speeches can be heard throughout the entire venue.


Our signature lights
With plenty of white walls, we recommend adding our signature lights to your booking at The Craft & Co! We can set them to a colour that matches your styling for the early part of the evening. You can see in this blog that we set them to different colours to match the multi-coloured Bangin Hangins installation for Sarah and Simon's wedding.
Then when it comes to dancing, we turn on the party setting, where the colours slowly fade in and out. The lights add so much colour and energy to your venue, as seen in these photos by Brendan Creaser.


Tips for ceremony
If you need someone to look after your tunes for the ceremony too, we can do this easily. Our main DJ set up is in the same space as the ceremony at The Craft & Co, which means we can play your ceremony tunes from our decks! Ask us for a quote to cover pre-ceremony guest arrival, ceremony key songs and cocktail hour.
What types of weddings would suit this venue?
The Craft & Co is for couples who want a relaxed and fun wedding with great food and craft beverages. We love that the venue is an all-in-one, so you can have your ceremony, cocktail hour and full reception with a dedicated dance floor. And if you want to keep the party going? You are in the middle of Smith Street, with so many late night options nearby. You cannot go wrong!
Miss Trixie Drinks Tea cake featuring our lights!
Our clients Simon and Sarah, who got celebrated in fun, colourful cocktail style!
All photos are from Sarah and Simon's wedding in May 2023, photographed by Brendan Creaser Photography.
View all posts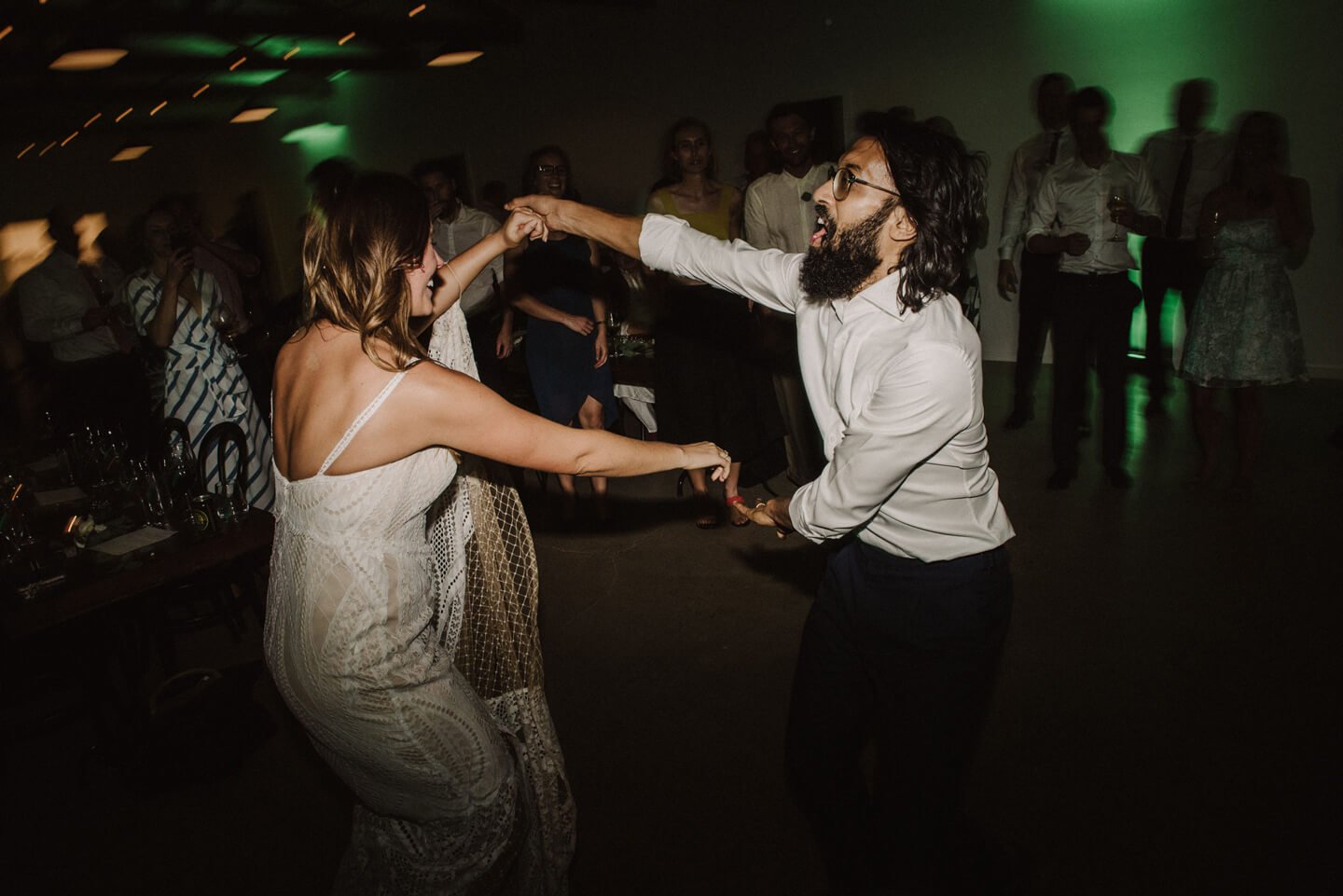 Book
a DJ
Like what you see? Get in touch to book DJ Eddy or Aleks for a banging dance floor!