What music do I need for my wedding ceremony?
Categories
Music tips.
27 Jan, 2021
Clients often ask us what music they need to think about for their wedding ceremony. There are three distinct parts to a ceremony from a music perspective:
Pre-ceremony tunes
Key moment songs during your ceremony
Post ceremony tunes.
In this blog, we take you through our recommendations and some song ideas to get you started on your planning for this part of your day!
Pre ceremony vibe
You'll want to "set the scene" as your friends and family arrive and find their seats before things kick off! We generally recommend having music start a good half hour before the ceremony begins as there will always be early arrivals!
Acoustic vibes always work well for this part of your day. Check out our Spotify playlist for some inspiration!
Key moment songs
While it's difficult for us to recommend particular key moment songs for the ceremony (as these songs are very personal to our clients!), we can let you know each moment you'll need to soundtrack!
Aisle song (processional)
This is the big one! Whether you're choosing a song that one of you or both of you will walk (or dance!) down the aisle to, make sure you choose a song that means a lot to you. It could be a song that perfectly sums up your relationship, a tune that was on the airwaves when you first got together, or a golden oldie!
Signing the certificate
Not all ceremonies these days will have couples sign their certificate during the ceremony itself (some prefer to sign it afterwards so the ceremony is short, sharp and shiny!). If you do choose to sign yours during, we recommend choosing 2 songs as it generally takes a couple of songs' worth of time.
Ceremony finish (recessional)
Now it's time to turn it on! We recommend a fun, upbeat song with plenty of energy for the closing of your ceremony. You've just been hitched, so let's celebrate! 🎉
Post ceremony vibe
We recommend to continue the celebratory, upbeat vibe that the ceremony finish song kicked off with. Drinks will be in hand and there will be plenty of hugs going on! Check out our Spotify playlist for some inspiration!
How our DJs play your ceremony
If you elect to have one of our DJs for your ceremony and it's in a different area to your reception, we can provide a battery powered speaker for the music. Our DJs will use an iPad to play the songs (as laptop screens can be too difficult to see outside and tend to overheat on a warm day!).
For pre and post ceremony we'll curate the music ahead of time and for the ceremony itself we'll work with your celebrant to play the right tunes at the right time! We also have a handy blog about how we work with celebrants that you can check out!
If you want one of our DJs to soundtrack your ceremony, get in touch for availability!
Photo credit: She Takes Pictures He Makes Films.
View all posts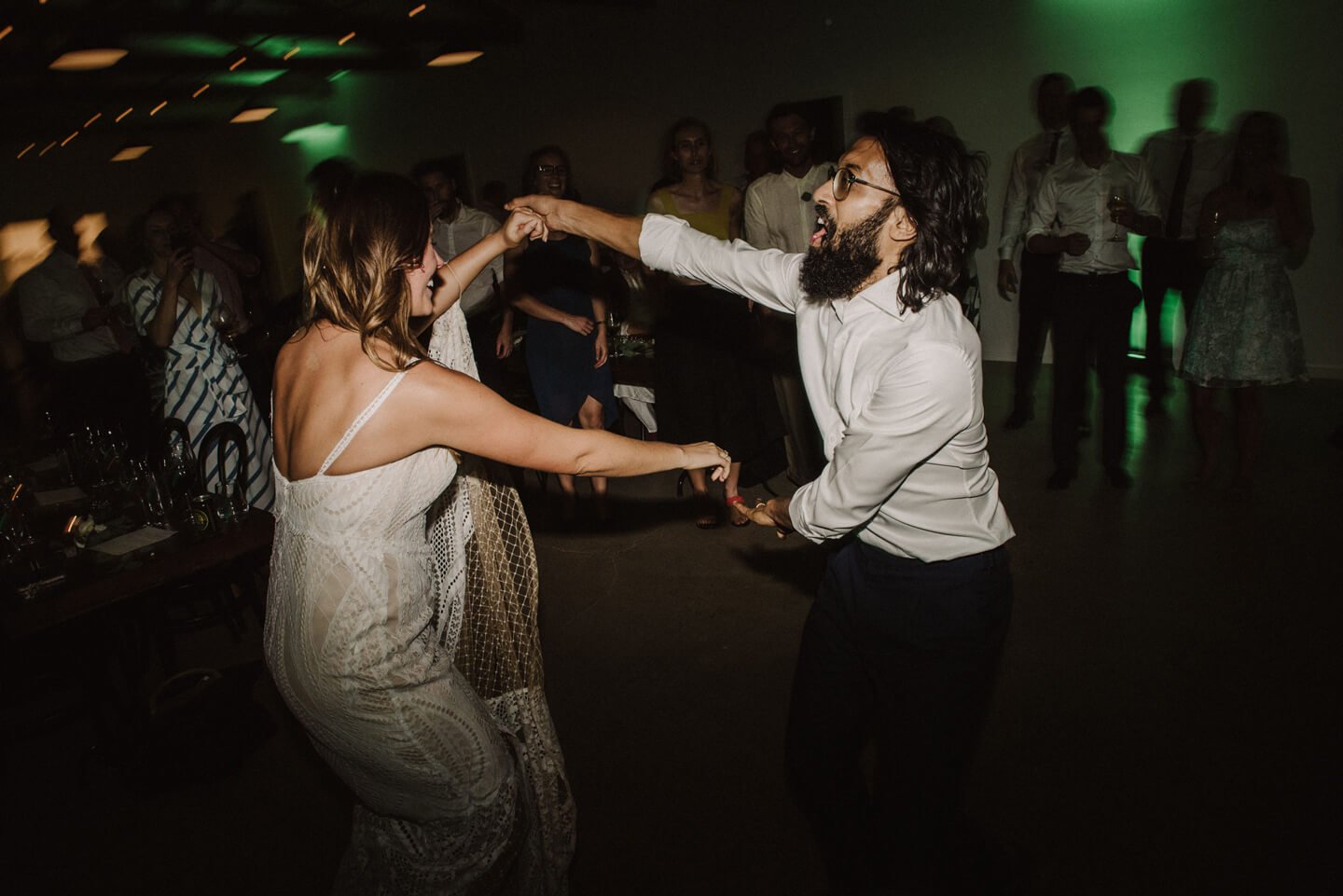 Book
a DJ
Like what you see? Get in touch to book DJ Eddy or Aleks for a banging dance floor!