Getting the most out of your wedding vendors!
Categories
Podcast.
Wedding suppliers.
Wedding tips.
Weddings.
27 Mar, 2023
After hours of research, you've found your dream team of wedding vendors and are ready to start booking them in. How do you make sure you can secure these legends, and also get the most out of their expertise and experience throughout the planning process and of course, on the big day itself?
On S3, EP15 of our wedding podcast, Project Engaged, we (Eddy and Aleks) share our tips for getting the most out of your wedding vendors from initial enquiry right through to post-wedding! You can listen to the episode below or read our tips in the rest of this blog!
Listen to the episode on Project Engaged
Our tips for getting the most out of your vendors
The enquiry stage: Reaching out to your dream vendors
Get in early!

Offer multiple dates that your venue is available for the greatest chance of booking in your dream vendors.

Do your research thoroughly so you get a good sense of your vendors' style and vibe before reaching out (this includes pricing/budget).

Put in some effort when making the enquiry – let the vendor know what you love about them, how you found them and what your vision is for your big day.
The initial meeting
Treat your initial catch up as a mutual vibe check.

Send any helpful information ahead of time to your vendors – eg. if you have a Spotify playlist of song requests for your DJ or a Pinterest board of your aesthetic vision for your wedding planner/stylist. 

Go in prepared with lots of questions to get the most out of the meeting.

Leave the meeting understanding the next steps.
The quoting and booking stage
An organised vendor should send you a formal quote and next steps straight after your initial catch up.

Look through all of the information and come back with any other questions promptly.

Vendors can't hold popular dates for very long so stick to the deadline. For example, our quotes expire after seven days.

Don't ghost your vendors! If you've found an alternative supplier, let them know and thank them for their time.

If you're booking them in, let your vendor know when they can expect the initial payment. This will help secure your booking.
Do your research thoroughly so you get a good sense of your vendors' style and vibe before reaching out (this includes pricing/budget).
The months leading up to your wedding
Make sure you follow your vendors on socials! Look out for tips and inspiration that you can incorporate into your planning.

Be in touch with your vendors – it's likely your vendors will be in contact a few times in the lead up. Use this as an opportunity to ask lots of questions. 

Fill in any questionnaires with lots of detail – the more the better. We love it when our couples provide lots of inspiration in their party brief. The more we get, the more we understand exactly what you're after. (Read more about how we work with clients in the lead up).
Reach out to your vendors as soon as you have a draft run sheet for their expert input. (For more tips on timings, check out our podcast episode 5 mistakes to avoid at your wedding).

The week before (or the week of) your big day
If your vendor hasn't been in contact about a final meeting and you'd like to have one, let them know, and lock it in! Things get hectic so we reach out to our couples one month before the wedding to book in a final meeting and organise the final payment.

Make your final payment on time – that goes without saying. You don't want to be chased in the days before – you've got other things on your mind at that point!

Confirm any final details in writing, especially if there are significant changes, eg. changes to timings or key moment songs. 

Make sure you understand any additional requirements for your vendors – they should communicate these with you and your venue, but if they haven't, check what time they'll arrive, if they have dietaries and anything else they may need on the day (eg. access to power or WiFi).
The big day!
If you've followed our tips, the only thing you need to worry about on your big day is having an amazing time and trusting your suppliers!

It's important that you let go and don't get overwhelmed with small details. Your venue and vendors are there to sort out any niggles on the day – that's not for you to worry about.

Don't micromanage your vendors on the day. They have your brief and will use their experience and knowledge to make sure the day runs smoothly. You will likely upset your vendors if you try to micromanage them, which means they won't have a good time!

Acknowledge your vendors in your speeches!
Post wedding
Show some love – tag all your vendors when posting sneak peek photos.

Leave a Google review if you had a great experience and 

recommend your vendors to your network – referrals are such a huge source of work for wedding businesses.

Ask for any content they may have while you wait for your full photo gallery and film if you have a videographer – eg. we'll often throw together a Google Photos album with videos we took of the dance floor for the couple to enjoy and we can also put together a Spotify playlist of our set. Extra content extends your big day so you avoid those post wedding blues!

Use your vendors for other parties! Our wedding clients have used us for their family weddings, corporate parties and milestone birthdays. You get to enjoy your lovely vendors again and relive your big day!
Photo credits
Photo credits in order of appearance:
Are we part of your dream vendor team? Get in touch with us to check our availability via our Book a DJ page!
View all posts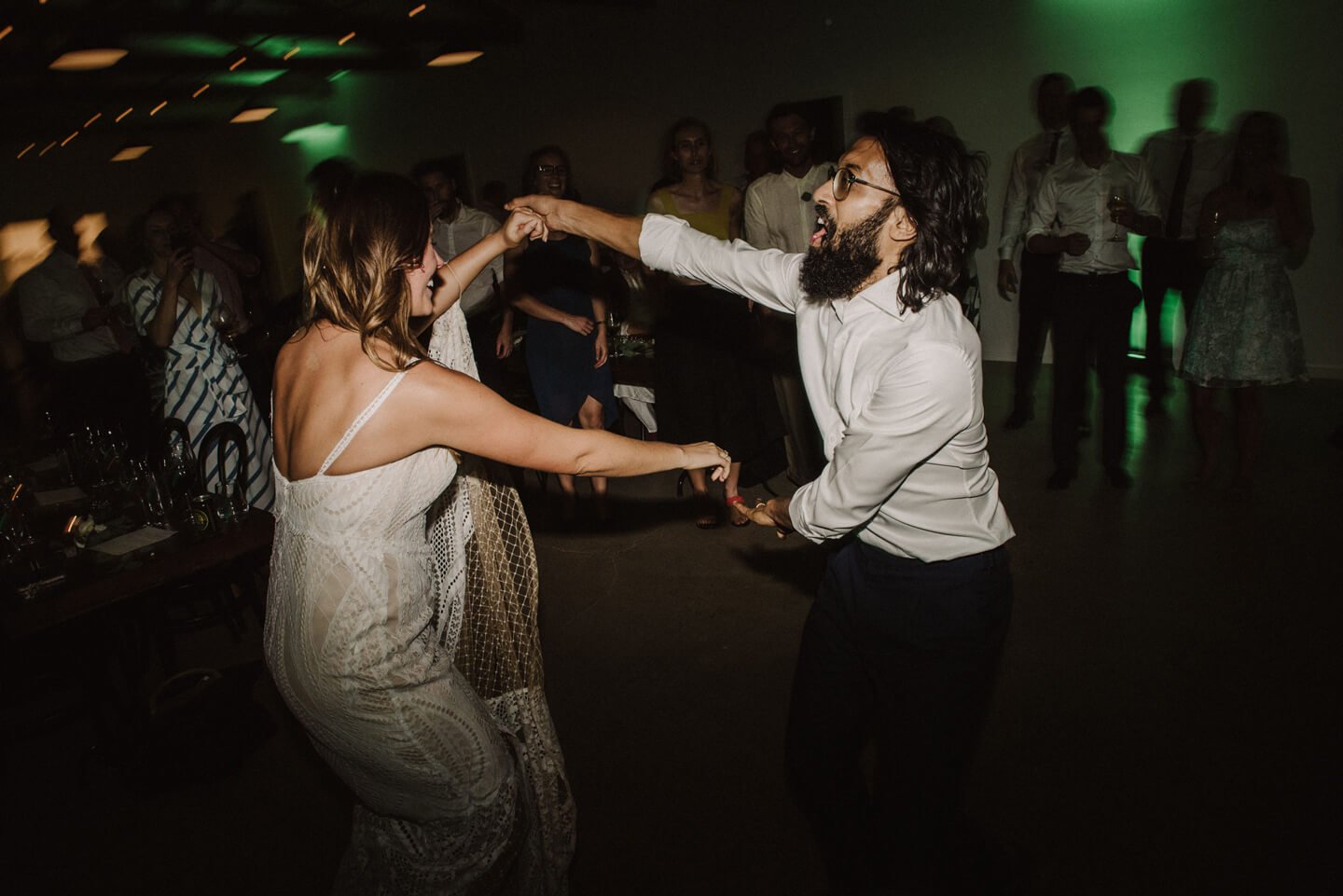 Book
a DJ
Like what you see? Get in touch to book DJ Eddy or Aleks for a banging dance floor!