Interview with LGBTQI+ wedding publication Dancing With Her!
Categories
About us.
Music tips.
Wedding tips.
13 Aug, 2021
We recently had the pleasure of being profiled by LGBTQI+ wedding publication Dancing With Her! Founders Arlia and Tara asked us about everything from our process of working with clients to how we keep the dance floor alive and our favourite tune for dancing!
Read the full interview – originally published on the Dancing With Her blog – below.
---

If you've been on the hunt for a Melbourne wedding DJ that promises to get the dance floor going without any daggyness or pre-prepared playlists, One More Song are your crew.
First things first, favourite dance floor tune and why?
We've managed to agree on our favourite, which is Shooting Stars – Bag Raiders! It has the most epic build, it has a unique sound, and it's so nostalgic for the generation of peeps currently getting hitched!
What can couples expect when hiring you?
A fun break from the stress of wedding planning! We're the party people, and this is exactly what we focus on.
In the lead-up, we'll talk about those epic moments we want to create. From toe-tapping and head-nodding during dinner through to your grandma throwing shapers to a banger late in the night. All of this is captured in our "party brief" questionnaire, which is a living document couples fill in online to provide all the juicy details of their wedding and, importantly, the music brief.
On the big day, you can expect that we'll be working our butts off from the very first song we play. Ensuring we're setting the right mood and building up throughout the night. Once the dance floor hits, we are reading the crowd and adapting to make sure everyone has a chance to bust a move!
Why do you think wedding entertainment is something couples shouldn't forget about on their wedding day?
It's a key aspect of the atmosphere that's created. Of course, it's hard to capture the feeling (compared to more aesthetically focused businesses like a florist), but it's also one of the main things people remember from the night for years to come. How they felt and if they had a good time.
She Takes Pictures He Makes Films

How extensive is your music library or song list?
We don't pre-prepare set lists, so much of the work is done on the night – in the moment! But we do organise our music according to our couples' briefs, so we're ready for anything!
We have an extensive core library that we've split up into different genres, decades, parts of the night, and even past events we've played!
(Check out a sample of some of the tunes we play on our Music page!).
Do you take requests on the night?
Yes, we are happy to take and field song requests from guests throughout the night! We say "field" because we carefully select tunes for different parts of the reception according to our couples' brief.
If a guest requests something we know our clients won't like, we'll ask that guest if there's anything else they'd like to hear. Also, if it's not the right time to play a song request, we'll mark it in our software to play later on.
(Read more in our blog on how we deal with song requests).
"On the big day, you can expect that we'll be working our butts off from the very first song we play."
Give us a little snapshot of an unforgettable wedding, one that is burnt into your memory.
There was one this year where the couple danced all night literally. The dance floor lasted for 3.5 hours, but they started dancing before that. They even got on the mic and took over the MCing to hurry up and get to the dancing bit – legends! Their final song was a 10-minute edit of a Rufus tune (Innerbloom), and they danced until the very last second.
And lastly, give us a little wedding planning advice for couples currently planning their wedding day and wanting entertainment.
Speak to your potential DJ and take the time to get to know them. You'll want to make sure you're a good fit (this goes for all your suppliers). Ask yourself, "Would I have a couple of drinks with this person?". If the answer is yes, you'll enjoy working together and it will make the day stress-free.
Another one is to make sure you have listened to some mixes (if they're a DJ) or seen your entertainer live (if they're a band or acoustic act). And read genuine Google reviews!
And finally, book early and consider a non-Saturday wedding! The pandemic has meant that suppliers are getting squeezed for dates with all the postponements happening. Given the rollercoaster 18 months we've had, make sure you also understand your potential entertainer's COVID policy before you book in.
Like our vibe? Get in touch via our Book a DJ page!
Photo credits (in order of appearance): Natalie Davies Photography, She Takes Pictures He Makes Films and Quint Photography.
View all posts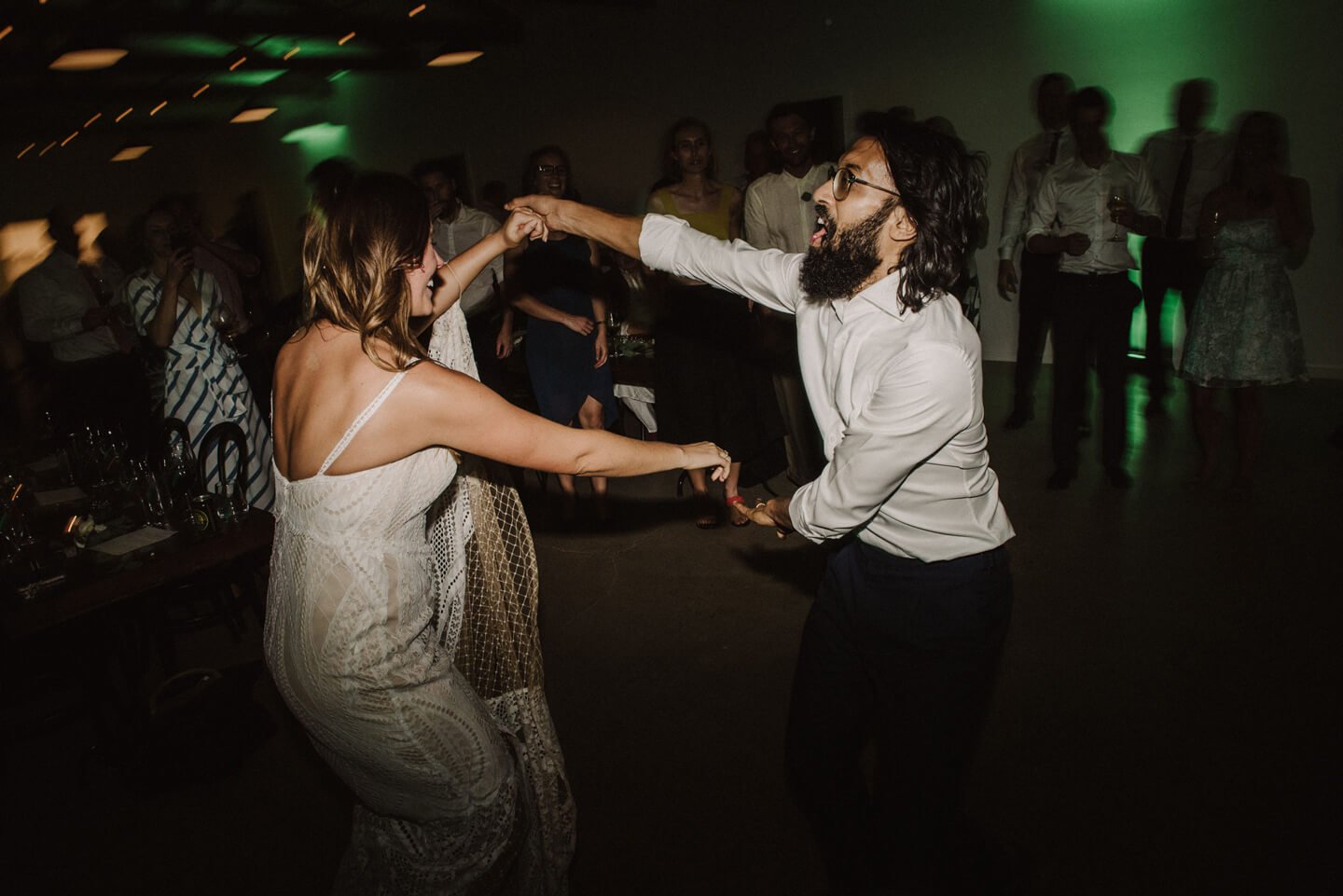 Book
a DJ
Like what you see? Get in touch to book DJ Eddy or Aleks for a banging dance floor!