Micro weddings at Rupert on Rupert: An Elopement Extravaganza!
Categories
Real weddings.
Wedding suppliers.
Weddings.
30 Aug, 2023
We were recently involved in two special weddings at Rupert on Rupert as part of the first Elopement Extravaganza organised by Toko Events and Mama Wedding Films.
These micro weddings were held back to back on a sunny winter's day and we (Aleks and Eddy) DJed and MCed at one wedding each.
Read on for more about what this glorious day involved!
Small but mighty
The 30-something guest numbers at both Amy and Phil's and Blair Stu's weddings did not impact the wow factor of the day at all. On the contrary, event planner Judith from Toko Events pulled together an all-star vendor line up to give both couples an exceptionally styled and organised day.
These micro weddings were not only aesthetically on point, but the vibes were high. Who said you need more than your absolute nearest and dearest to have a cracking great time?
The concept
Judith and Murray (from Mama Wedding Films) wanted to offer couples the opportunity to lock in a handpicked group of top Melbourne vendors for a more affordable overall cost. The catch? The weddings would be around 2-3 hours each, with enough time for the ceremony, photos, food and drinks and a little boogie.
This idea turned into the Elopement Extravaganza! Both couples enjoyed their time at Rupert on Rupert and continued on, taking the party to a local bar afterwards.
The vendors
We were blessed to be chosen alongside some very talented wedding creatives to bring this day together.
Planning and coordination: Toko Events
Judith from Toko Events does not do boring events. Every wedding we've worked on with Judith has been memorable and styled to perfection. Her vision for the day got all of us vendors super excited to meet the brief!
The venue: Rupert on Rupert
Rupert on Rupert in inner city Collingwood provided the perfect backdrop for the day. Its dreamy indoor garden and moody vintage decor was enhanced with contrasting neon orange and pink styling. Throw in some French champagne and delicious nosh and you've got yourself a stunning wedding (or two)!



Styling: Bangin Hangins and Stevie Winter Creates
Oh, Bangin Hangins. We literally BANG on about them all the time, but wow – these streamer installations really do add big party energy to an event.
Sarah and team went all out on this one. The ceremony backdrop featured an installation of epic proportions. The entrance to Rupert was adorned in Bangin Hangins too, as was our DJ set up.
Stevie Winter designed fun, modern signage that enhanced the Bangin Hangins and warmly welcomed guests. The colour palette of oranges, pinks and reds really popped against the blues and greens of the venue.
Celebrant: Precious Celebrations
Precious is a modern, inclusive celebrant that can command any room and tell your love story in a fresh and authentic way.
She welcomed guests at both weddings, started the party vibe early and got the couples legally married – a very important role!
Florals: Raven and the Rose
There are no muted florals when you have Ame from Raven and the Rose looking after you. The floral arrangements for the day were bold and brought the bright colour palette to life with bright red and orange roses featuring prominently.
Music, lights and MC duties: Us!
We looked after the tunes from very first guest arrival through to final song for each wedding. We also provided our colourful lights and MCed both weddings.
Both couples had the opportunity to provide a music brief as per our usual process. We consulted really closely with Amy and Phil and Blair and Stu on music choices and their run sheets.
Amy and Phil had Eddy as their DJ. Their music brief was very classic, full of fun pop favourites.
Blair and Stu, on the other hand, gave Aleks a brief that was very "poolside disco", including lots of Indie electronic requests.


Photos: Briars Atlas
Oli from Briars Atlas is one of those photographers you feel extremely lucky to pin down for your wedding. His style is very artistic, dramatic and at times, offbeat (as you can see in the pics featured in this blog). He picks up on moments most of us would miss and captures them in a way that can only be described as magical.
Film: Mama Wedding Films
Murray and Adrien from Mama Wedding Films shoot weddings that are "high end, punch and full of energy". These two firecrackers injected a huge dose of fun into the day, capturing the intimate vibe of both wedding in a really unique way.
They even interviewed guests in the back bar and got down on the d-floor to get those epic moments on film!
Cake: Torte by Mirjana
Yes, the couples even got a cake! And not just any cake, but a cake by the very talented Mirjana. Aleks insisted on trying a piece and can confirm: it was delicious and bursting with flavour. We'd expect no less!

Planning an intimate wedding that's high on impact and vibes? We'd love to be a part of it! Get in touch to check our availability by enquiring via our Book a DJ page.
View all posts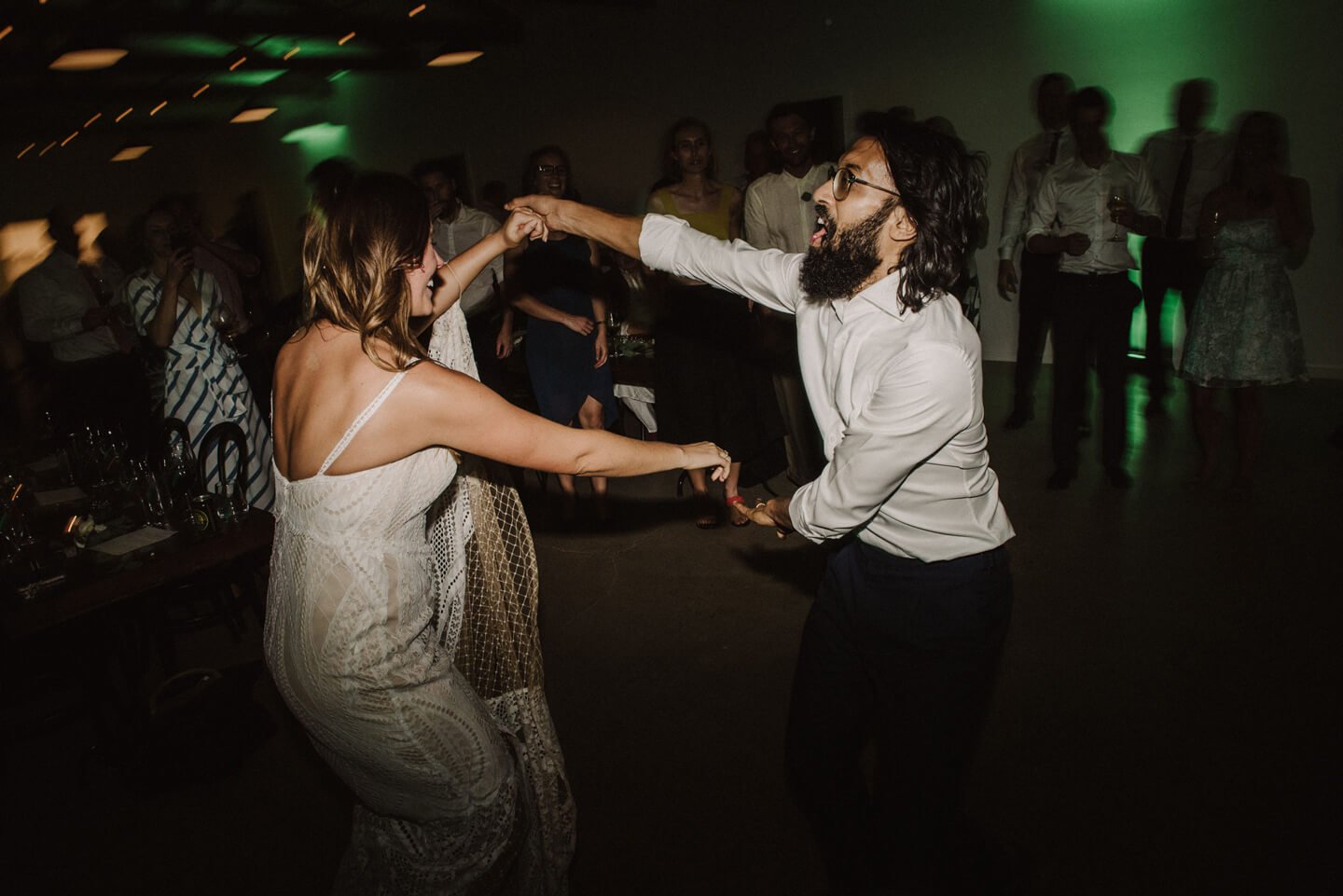 Book
a DJ
Like what you see? Get in touch to book DJ Eddy or Aleks for a banging dance floor!