OMG – DJ Eddy Mac can spin real vinyl records at my wedding?!
Categories
About us.
Talent spotlight.
20 Sep, 2021
Put the needle on the record! No, seriously! These days just about every wedding DJ will "spin" digitally. What does this mean? Put simply, (most) wedding DJs today will play music via their laptop/digital controller. This means that they have access to virtually every song ever recorded (some DJs can even stream songs that they don't have on their hard drive, assuming they have an internet connection!).
This has been a game changer for wedding DJs as they likely have everything they need at their fingertips. But sometimes it's nice to have that old school set up you see in cool boho bars.
We're excited to introduce that DJ Eddy Mac can now play vinyl at your wedding or special event!
Vinyl is back in a big way!
Vinyl records have made a resurgence in the past few years. You can chalk it up to nostalgia mainly. But there's something about spinning wax that is pretty darn cool. The older guests absolutely love it too (perhaps it takes them back to their boogie nights?!).
While we see it here and there at weddings, we think that the vinyl wedding DJ craze is yet to really lift off, making it a unique addition to your wedding reception.
How would vinyl records work at my wedding?
Instead of bringing one of his digital controllers (you know, the "Pioneer DJ" ones you see at clubs or festivals), Eddy would bring along two turntables and a mixer (yep, old school style). He'd also bring along a curated crate of classics that work well at weddings. Eddy recently did a wedding livestream where DJed with one of his vinyl set ups (you can check it out by clicking on the video). You can also read more about how our audio set ups work.
"[T]here's something about spinning wax that is pretty darn cool. The older guests absolutely love it too (perhaps it takes them back to their boogie nights?!)."
What if I request something that Eddy doesn't have on vinyl?
Glad you asked! 😉  Thanks to modern technology, Eddy is able to load a track digitally onto a record called "control vinyl", which is a fancy way of saying that it emulates the look and feel of playing on a real spinning record. Your wedding guests will be none the wiser (it practically looks and sounds identical to a real record).
In fact, he'll focus on real vinyl records during background tunes/dinner and move to control vinyl to drop those more modern bangers when it's dancing time!
Read more about how we handle song requests.

My wedding is outside. Will vinyl still work?
It can be tricky to navigate spinning vinyl outside, as dust and wind are not a vinyl DJ's friend. There are ways around this, however, which involve fancy technology that allows you to spin vinyl without the needles (see above), but we can chat about outdoor events on a case-by-case basis!
How can we get DJ Eddy Mac to play with vinyl records at my wedding?
If you've already made your booking with Eddy, get in touch with him about upgrading to vinyl for a small fee. If you're still shopping for your wedding DJ, check out our pricing on our Book a DJ page and get in touch via the enquiry form for his availability on your date!
Get to know Eddy on our About page.
Main photo credit: Katie Harmsworth
View all posts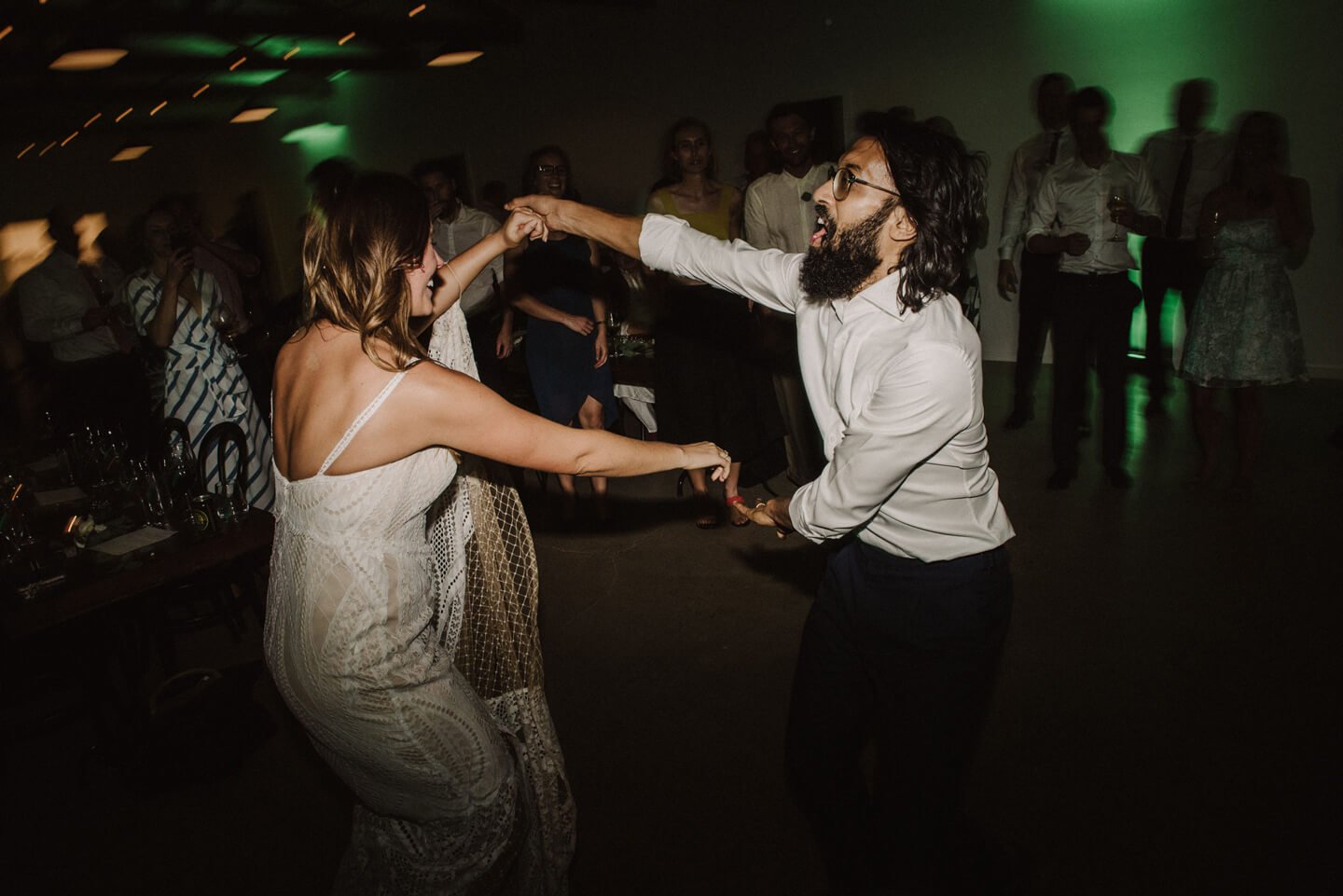 Book
a DJ
Like what you see? Get in touch to book DJ Eddy or Aleks for a banging dance floor!