Real wedding: Classic romance at Churchill in Victoria
Categories
Music tips.
Real weddings.
02 Nov, 2021
Down-to-earth couple Megan and Luke got married in January 2021 at Churchill Events in Taradale, Victoria. DJ Aleks Mac provided the tunes at this stunning venue from post-ceremony cocktail hour through to final song.
Read more about this real wedding in our blog!
The venue
Churchill Events at Taradale in Victoria is truly unique, combining European country charm with luxurious design. And all just under an hour and a half drive from Melbourne's CBD! Best of all, for the reception, the DJ is set up on the altar against a stunning stained glass window, making for epic photos.
Megan and Luke made use of the many stunning areas at Churchill for their wedding. They got married inside the church and enjoyed post-ceremony drinks under the oak tree. Following this was a beautiful dinner in the courtyard next to the church. Then it was back inside for dancing!

DJ setups
Aleks had three distinct setups to keep tunes going for all parts of the reception.
1. Post-ceremony cocktail hour
Aleks put on a curated playlist played through an iPod plugged into a wireless Bose speaker near the oak tree. Don't forget about music for this important part of the day!
(Make sure you don't miss the music for any important parts of your big day by reading our blog What music your DJ will play at your wedding).
2. Dinner in the courtyard
Aleks played on a small set of decks set up with two Bose speakers and a microphone for the MC outdoors next to the courtyard. (Hot tip: our equipment needs cover from the elements! It was a 38 degree day so Aleks had two umbrellas providing cover for her laptop, DJ decks and speakers).
3. Dance floor
And finally, our standard DJ setup was ready inside the church (on the altar) to get the party going after dinner!
(To learn more, read about how our audio setups work).
The other vendors
Lucy from She Takes Pictures He Makes Films (one of our faves and on our Friends list!) took the beautiful photos you see in this blog! Super bubbly celebrant Liz Shaw officiated the ceremony and Prunella (Churchill owners) provided the stunning florals.

The music brief
Megan and Luke are big music fans with classic tastes in music. Aleks kept the tunes varied with a focus on classic Motown for cocktail hour, classic rock, reggae and 70s for dinner and lots of disco and singalongs for dance floor.
In keeping with their overall music brief, Megan and Luke chose key moment songs that reflected their classic tastes:
Reception entrance song: You Make Loving Fun – Fleetwood Mac
Cake cutting/first dance: Harvest Moon – Neil Young
Dance floor starter: You Make my Dreams – Hall & Oates
Final song: Love Is In The Air – John Paul Young
Encore: Africa – Toto.
"Aleks was the best DJ we could have hoped for at our wedding! She absolutely nailed the brief we provided her and was super professional and we loved chatting to her in the lead up to our big day".
Like what you see? Get in touch about availability for your big day via our Book a DJ page.
All photos by She Takes Pictures He Makes Films.
View all posts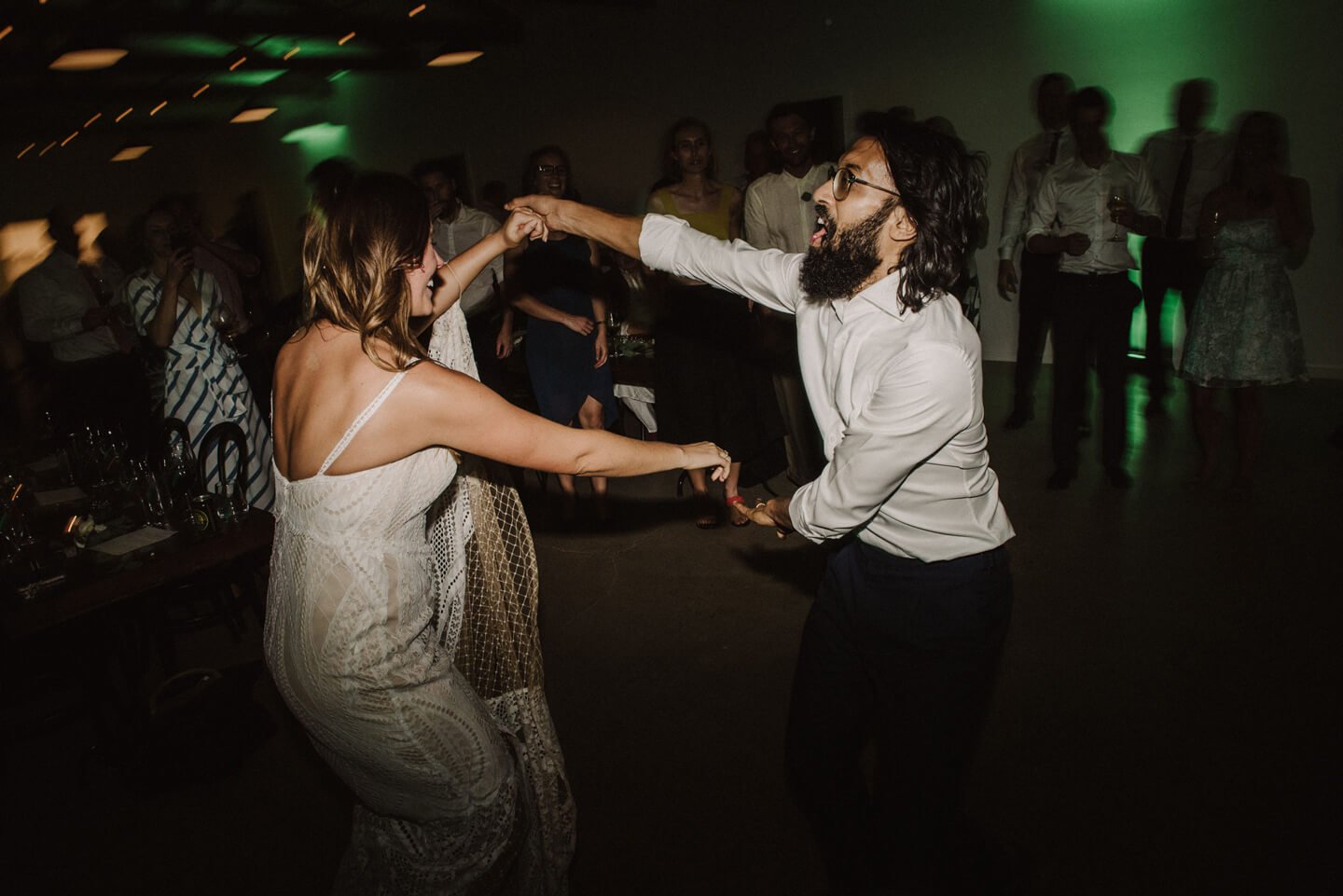 Book
a DJ
Like what you see? Get in touch to book DJ Eddy or Aleks for a banging dance floor!