Venue spotlight: Relaxed inner city vibes at Post Office Hotel!
Categories
Podcast.
Wedding suppliers.
Wedding tips.
Wedding venues.
27 Sep, 2022
If you follow us on Instagram, you'll know how much we ADORE the Post Office Hotel's Dining Hall on Sydney Road in Coburg, Melbourne. It's one of our absolute favourite wedding venues. If you're a chilled out, fun-loving couple, read on. This might just be the perfect venue for you!
About the Post Office Hotel's wedding venue
The Post Office Hotel on Sydney Road in Coburg is a popular pub with locals. It serves up delicious food, beer and live music. On top of this, it has a separate function space called the Dining Hall, where we regularly DJ at weddings!
Calling all relaxed couples getting married!
The Dining Hall is a huge hit with fun-loving couples who want their wedding to feel like a party from start to finish! It's a dedicated warehouse style venue with a large dance floor (hell yes!) and a private outdoor garden with a deck, which can be used for your ceremony.
We love the warm and relaxed feel of the Post Office Hotel. The gorgeous brick interior with exposed beams and vintage pendant lights all add to the atmosphere. The venue can even brew a personalised beer for your big day on-site! 🍻​
All-in-one wedding space in a convenient location
The Post Office Hotel is located only 9km from Melbourne's CBD, making it convenient for guests to travel to and from. The Dining Hall space can be adapted to suit receptions large and small, with the capacity to comfortably seat up to 130 guests or host up to a whopping 250 guests for a cocktail style reception.
The best thing is – you can have your entire day all in the one venue! As guests arrive, they can mingle inside the hall in front of the bar or on the deck in the private beer garden. Then you can get hitched on the deck and hang around for cocktail hour, moving back inside for your reception and dancing! Your guests don't need to go anywhere else. Winning!
Highly customisable wedding packages to suit YOUR priorities
The Post Office Hotel events team will work with you to completely customise your day, from food to floor plans. Spend money on the things that matter to you and choose fun add-ons (hello whisky bar!).

An in-house sound system
The Post Office Hotel has speakers throughout the Dining Hall, allowing you to control the sound in different areas. This means there is plenty of space for a quieter disco break towards the front of the venue.
When we DJ weddings at the Post Office Hotel, we plug into the venue's system and bring in extra speakers for the dance floor. It's always good to add some extra oomph! However, as we can control the sound in different areas, the dance floor beats can be played at a lower volume in more chilled areas.
Your DJ can also control the tunes for your ceremony. There are speakers on the deck and the DJ is set up close by inside, so can see what's happening. Sooo easy!
We were lucky enough to be part of The Post Office Hotel's last Open Day and you can check out the tunes that we spun here:
The perfect backdrop for our photo booth!
The brick walls with hanging greenery are PERFECT for our digital photo booth! This means you don't need a large backdrop taking up space on your floor plan. Check out the photos of the photo booth positioning below.


Absolute legendary events team
The events team and bar staff at the Post Office Hotel are super dedicated and lots of fun. In fact, we interviewed Event Managers Jen and Caitlin on our wedding industry podcast, Project Engaged. Listen to the full episode below!
Our hot tips for getting married at the Post Office Hotel
Reach out to the venue's recommended suppliers
The Post Office Hotel has a recommended supplier list that includes legends like photographer Nikki McCrone and ceiling installation/backdrop/arch extroardinaire Bangin Hangins.
Wedding planning can suck you into a black hole on the internet and Instagram. We always suggest reaching out to recommended suppliers first for availability as they know the space well and are trusted by the venue.
Hire your DJ for the full day to take the pressure off
If you don't have any acoustic musicians booked for your ceremony, add two hours onto your DJ booking with us. This means we can look after the tunes from very first guest arrival through to final song for the night. The DJ positioning in the venue means we can easily play your key moment songs for ceremony too, taking the pressure off your loved ones or celebrant!
Add our signature lights
Our signature lights look great in the venue as the colours add lots of warmth and energy to the brick interior. Read more about spicing up your dance floor with our lights.
Take advantage of the epic space by throwing in our photo booth!
The Post Office Hotel is one of those rare venues that just has the perfect wall backdrop for a photo booth. Read more about how our digital photo booth works.

Get in touch with the venue!
You can check out more information and book a tour on the Post Office Hotel Weddings website!
Photo credits: Nikki McCrone  (main photo and DJ Eddy Mac) and Miranda Stokkel (kissing couple on the dance floor).
Looking for a DJ who can rock your Post Office Hotel wedding? Get in touch about our availability on our Book a DJ page!
View all posts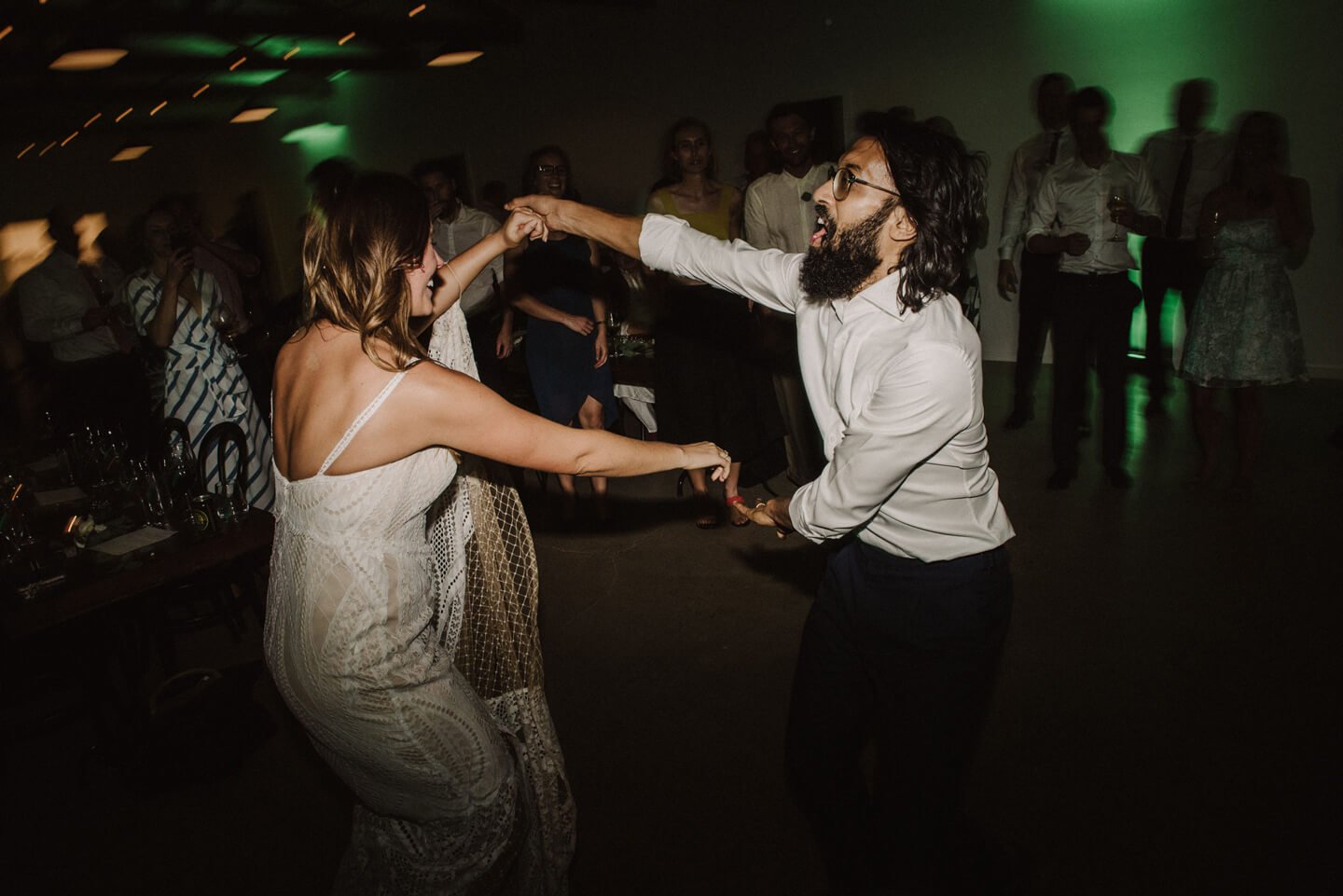 Book
a DJ
Like what you see? Get in touch to book DJ Eddy or Aleks for a banging dance floor!