We are not a wedding DJ "agency" … what does this mean?
Categories
About us.
15 Nov, 2021
There are two types of wedding DJ suppliers out there – entertainment agencies and those who are DJs but run their own business! We fall into the second category!
One More Song actually started as a DJ agency. In fact, Eddy used to work for a couple of large ones in Melbourne too (you can hear all about his experiences in this podcast episode).
The reason we intially ran an agency is because we could fulfill more bookings by using other DJs as well as playing at events ourselves. The problem with this was that not all of our clients were able to work with the DJ who would play at their wedding or special event in the lead up. We felt that although we provided exceptional service during the booking process and a detailed brief to our contractor DJs, the experience wasn't the same as if we (Eddy or Aleks) were behind the decks on the night. This is why we decided just to focus on the two of us!
What is a DJ or entertainment agency anyway?
Simply put, a DJ or entertainment agency has multiple DJs on offer for a wedding or event. These DJs are usually contracted on a gig-per-gig basis (as opposed to being employees). The DJs often also work for other agencies so you may see them pop up on multiple agency websites. They may also only DJ as a side hustle; it's rare to find a full time professional event DJ working for an agency.
Agencies often have office staff managing all aspects of bookings from enquiry through to briefing the DJ. Typically these staff members (often known as "entertainment managers") are desk-based and may not fully understand the ins and outs of DJing, sound requirements, etc. There's also no guarantee that you will have access to the business owner at any given time.
Although you may have a brief phone call with your booked DJ close to your event, you may not get to meet them or form a relationship in the lead up. For some clients, this is totally fine, but for those who see music as one of their priorities and want to get to know the person behind the decks beforehand, it's less than ideal.
You'll also find that sound equipment is not standardised when contractor DJs are used as they supply their own equipment for weddings and events. An agency can't expect a contractor to purchase high-end equipment or have ample backup options (like we do!).
We only use top notch equipment!
"This business is our baby! We are passionate about delivering a highly personal service and really getting to know our clients in the lead up."
How we are different to an agency
Well, first of all – we are not a DJ agency! We (Eddy and Aleks) do everything ourselves in the business. This includes fielding initial enquiries all the way through to rocking the decks at a wedding or special event. This means you're always dealing with one of us (whoever is playing at your event). Read more about how we work with our clients.
This business is our baby! We are passionate about delivering a highly personal service and really getting to know our clients in the lead up. In fact, we're only a text away (literally – Aleks can be reached on 0403 813 358 and Eddy on 0412 077 076). We don't really have office hours. We're always available to chat to our clients.
Agencies also have a high volume of events. We can only take on so much! This means we can provide a more tailored service with all of our clients.
Think of us of operating more like your photographer or celebrant. You're dealing with one person who runs the business and will personally deliver a big-ticket item on your wedding day. If the music is important to you and you want to get to know your DJ before your big day, booking an agency may not be right for you.
Read more about how we're different.
Ed with groom Xen at Mural Hall
What does this mean for our clients?
We really look after our clients and provide full access to their DJ in the planning stages. By the time your wedding or special event rolls around, it will feel like you have a good friend behind the decks! 🤗
Because there are only two of us, our availability is limited, so if you're keen to chat, get in touch! You can enquire about our availability via our Book a DJ page.
View all posts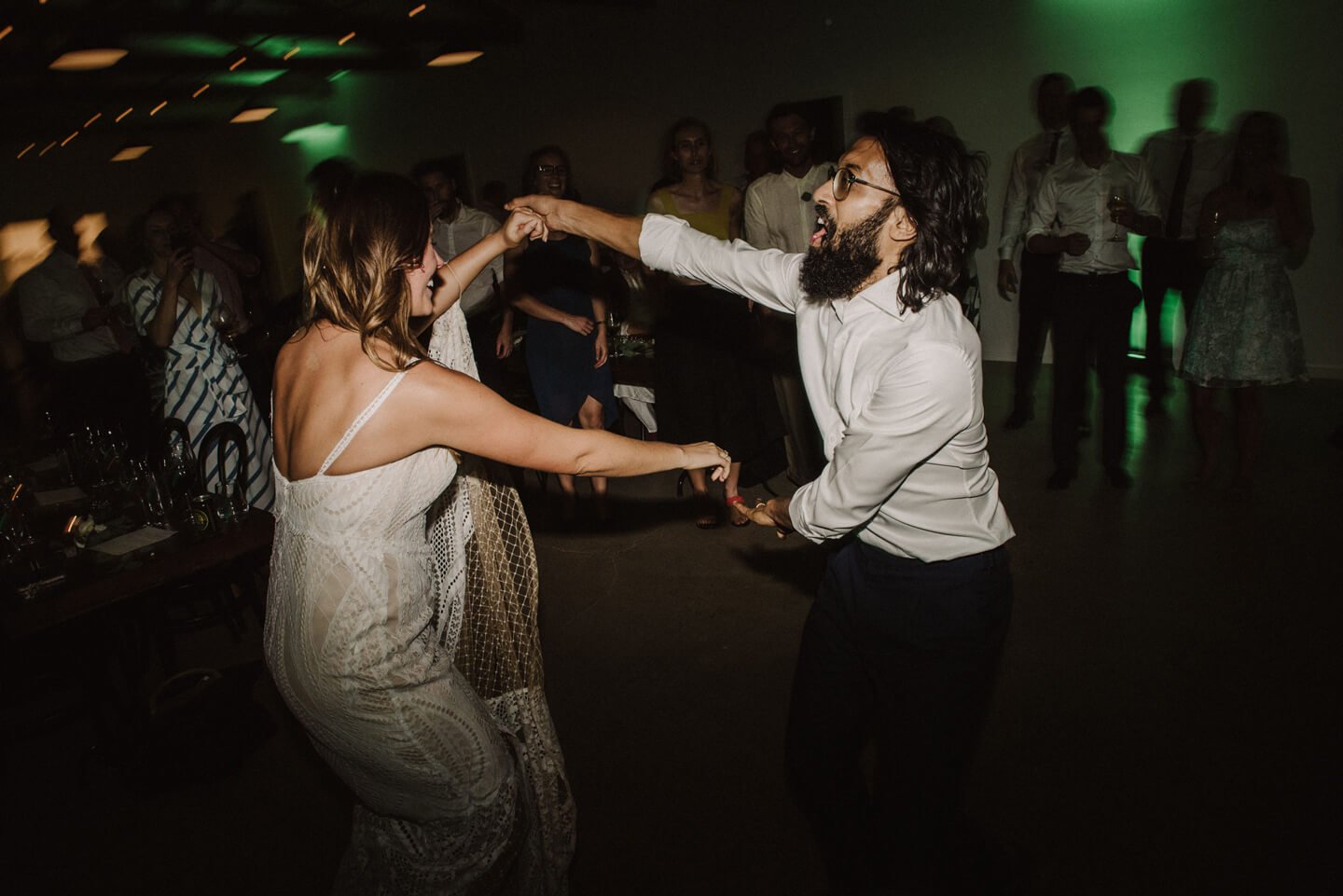 Book
a DJ
Like what you see? Get in touch to book DJ Eddy or Aleks for a banging dance floor!