The ultimate guide to your Glasshaus Inside wedding!
Categories
Wedding venues.
28 Oct, 2021
Most couples fall instantly in love with Glasshaus Inside the moment they walk in.  As a nursery by day, this modern Gardens of Babylon venue needs very little dressing up as you're surrounded by lush greenery. It really is one of Melbourne's most picture perfect wedding venues.
We've been lucky enough to have played there many times – you can check out some real Glasshaus weddings we've played. This blog is the ultimate guide to planning your Glasshaus Inside wedding from our perspective!
Quick tips for getting married at Glasshaus Inside
You can get married at either Glasshaus Outside or Inside, with your reception to follow at Inside.
Glasshaus Inside has its own sound system which your DJ and celebrant can plug into.
The venue can accommodate both cocktail and seated wedding receptions.
We recommend having the dance floor in the usual spot – next to the bar.
When structuring your timeline (or run sheet), work backwards for maximum dance floor time!
DUUET
Our top tips for a wedding at Glasshaus Inside
As we're regulars at Glasshaus Inside, we have a great idea of what works in terms of timings, format and importantly, the dance floor! Read on for our top tips for planning a wedding at Glasshaus Inside.
Your wedding ceremony at Glasshaus Inside
Some couples choose to have their wedding ceremony at Glasshaus Outside, which is just a short walk from the nursery itself. If you're getting married at Glasshaus Outside, we recommend having your DJ start as soon as guests are due to arrive at the venue. This means the right mood will be set from the very beginning.
Wedding ceremonies at Glasshaus Inside normally take place at the far end of the venue. Sometimes they are positioned near the entrance, depending on whether you're having a seated or cocktail reception.
Your celebrant may wish to bring in their own speaker and microphone. However, they can also make full use of Glasshaus' speaker system, which runs throughout the venue so that speeches are heard clearly.
In terms of music, hiring a DJ for the ceremony as well as reception means you'll have tunes playing from the moment guests arrive through to final song. This means you won't have to find someone to play your ceremony music if your celebrant would rather focus on officiating.
"The dance floor naturally occurs in front of where the DJ is set up, adjacent to the bar. This is the perfect position and one of the reasons why we always have epic dance floors at Glasshaus Inside."
Choosing a format: Cocktail or sit down?
We've been involved in more cocktail weddings than sit down weddings at Glasshaus Inside. However, the venue is fully capable of catering to both! Glasshaus Inside can accommodate up to 125 guests for a cocktail wedding and up to 85 for a seated reception.
If you opt for a cocktail style reception, make sure you consider having some furniture to sit on. Place seating at the far end of the venue to keep the dance floor clear yet still cater for those who may want a dancing break. We've also seen cocktail tables with stools, placed around the perimeter, keeping the dance floor clear, yet letting the guests enjoy the action!
The dance floor at Glasshaus Inside!
The dance floor naturally occurs in front of where the DJ is set up, adjacent to the bar. This is the perfect position and one of the reasons why we always have epic dance floors at Glasshaus Inside. Even if you're not dancing the whole night, you are still a big part of the party!
We highly recommend booking our lights. They add warmth and energy to the dance floor and can be used as up lights before dancing kicks off. We normally choose a colour that complements the lovely greenery.
You can see our lights in action at Glasshaus Inside in this Instagram reel.
Quint Photography
How to structure your timeline
Glasshaus owner Nada will be able to give you a great idea as to how weddings are typically run at Glasshaus Inside. For a sit down reception, your run sheet will mostly be based around food service timings. However, you can also lean on us! We often work closely with couples on structuring their wedding timelines for maximum dancing time.
As there are some noise restrictions at Glasshaus, loud music needs to be turned down at 11pm. We recommend working backwards from this time to ensure you're getting plenty of time to boogie! We also suggest keeping your DJ playing until the end, so if you have the venue until 11:30pm, that's when your DJ should finish. After 11pm, although the volume is turned down, we still keep things fun and upbeat! We often find that this is a great time for guests to mingle and plan the after party!
Vendors for Glasshaus Inside
We've put together a list of vendors that we've worked alongside at Glasshaus Inside. If you're after some more recommendations of Melbourne wedding vendors we love, check out our Friends page.
Celebrants
Photographers & videographers
Caterers
Getting married at Glasshaus Inside and need a wedding DJ? Get in touch with us via our Book a DJ page!
Main photo credit: Katie Harmsworth.
View all posts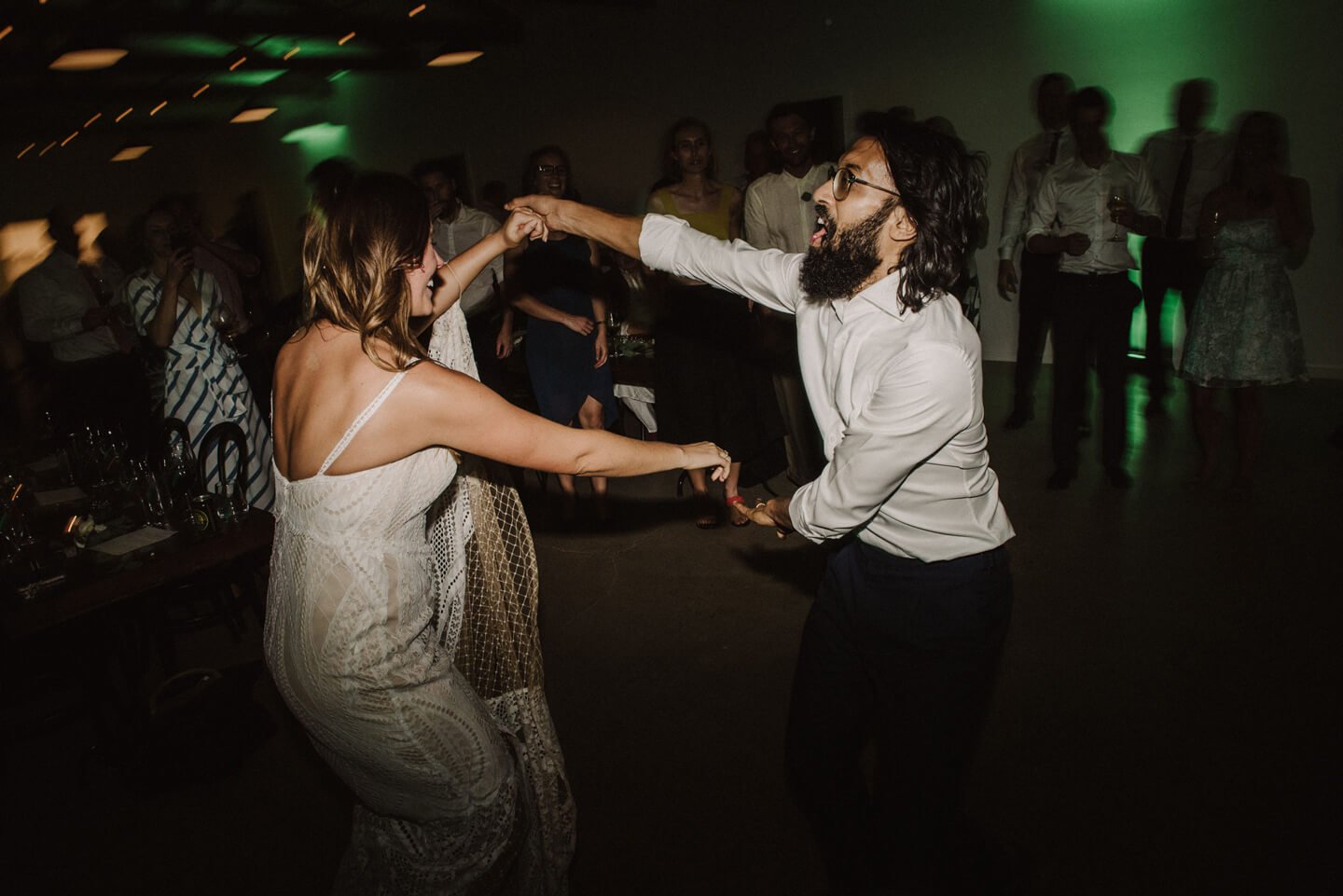 Book
a DJ
Like what you see? Get in touch to book DJ Eddy or Aleks for a banging dance floor!