10 things to ask your wedding DJ
Categories
Wedding tips.
25 Nov, 2020
If music is a big ticket item for your wedding, you'll want to ensure that you choose a DJ who will bring the party and also be a breeze to deal with in the lead up! Booking a DJ is not something that you do every day after all!
We've listed our top 10 questions to ask the DJs who are on the shortlist for your wedding!
1. Are you available for my wedding?
Pretty obvious question to start with! If you're speaking to a DJ company that has a few options, ask to see their profiles and request the DJ(s) that you like the look/sound of directly!
2. Do you have any mixes or playlists we can have a listen to?
Try before you buy! All great wedding DJs will be able to provide sample mixes and playlists of the types of tunes they'll spin at weddings. Check out our music page for some inspiration of our own.
3. Do you have any client testimonials?
Ask to see your DJ's client feedback – which may include how easy they were to deal with in the lead up as well as how well they performed on the night! Check out what our clients have said about us in our Google Reviews.
4. What is your booking and payment process?
Ask up front what type of payment you need to make in order to lock in your DJ. And, of course, what the remaining payment schedule looks like.
5. Is sound equipment and set up included in the service cost?
Most DJs will provide their own sound equipment (speakers, decks and a mic) but some won't include this in their service cost. Make sure you ask for a quote inclusive of equipment.
6. How do you work with your couples in the lead up?
Will your DJ be available for calls and meetings in the lead up to your wedding? There's plenty to discuss in the months prior to your big day so ensure that you choose a DJ who will work with you on your music vision.
7. Can we provide our music requests to you in advance?
You'll want to find a DJ who's open to your music requests and is confident to discuss what they think will work well on the night.
8. Do you take song requests from guests?
Unless you simply don't want your guests to make requests, a good wedding DJ should be open to guest requests! Our DJs often play guest requests so long as they fall within the clients' brief.
9. Do you take any breaks on the night?
There may be occasions where your DJ needs to step away from the decks (e.g. bathroom break or a quick bite to eat!). Having said this, a good DJ will ensure that the music doesn't stop even when they're away for a short period of time.
10. What happens if you fall ill prior to our wedding?
This is a BIG one to ask! Although very uncommon, emergencies do arise. Ensure that you have this chat and your DJ is able to transfer your brief to someone else on short notice. The benefit of working with a DJ company (like us!) is that they're able to draw upon their network of DJs to ensure that you'll have a replacement!
If you have some burning questions for us before choosing your wedding DJ, get in touch to chat more!
Photo credit: Katie Harmsworth
View all posts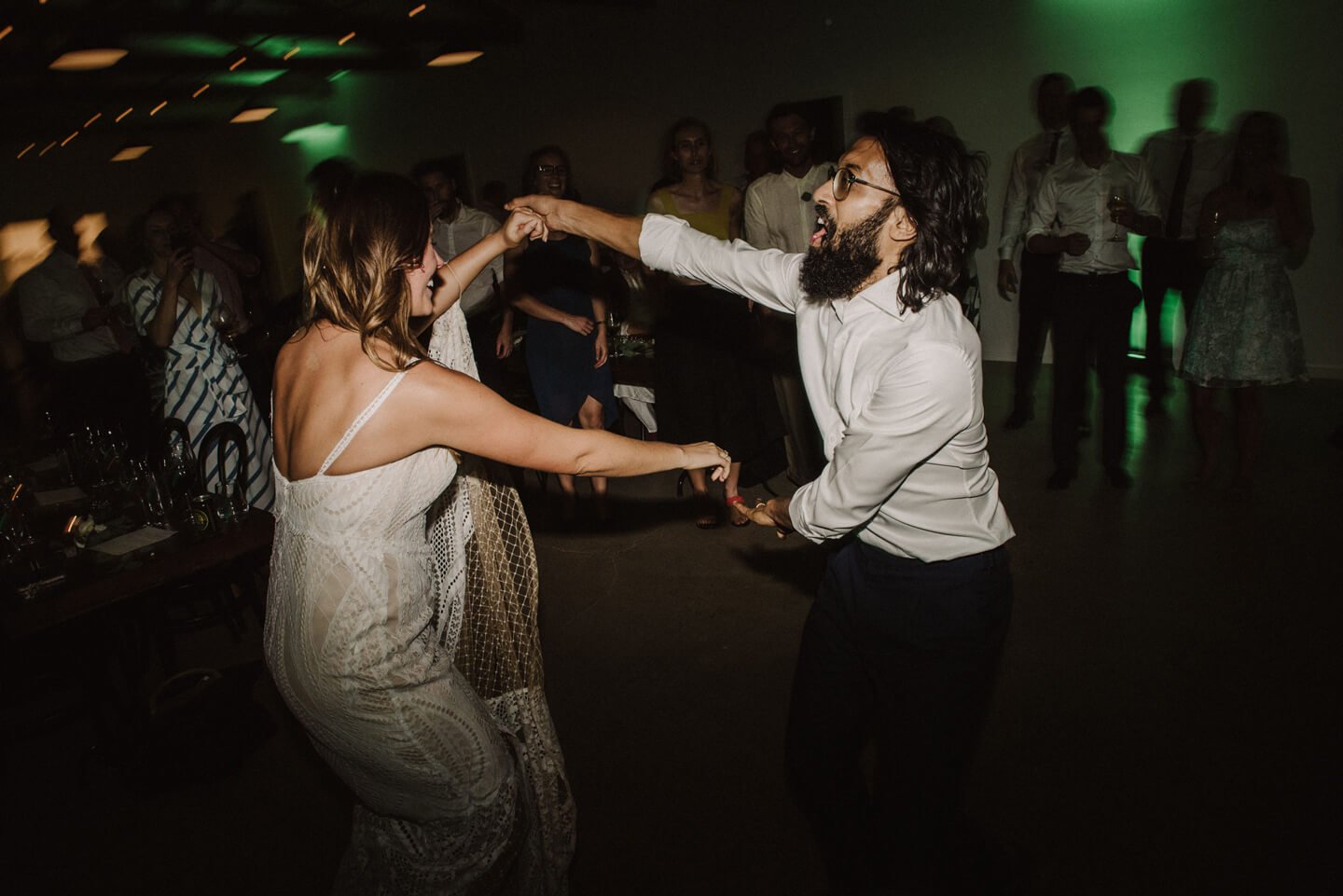 Book
a DJ
Like what you see? Get in touch to book one of our DJs for a banging dance floor.