Need ceremony music too? We've got you covered!
Categories
About us.
Music tips.
Wedding tips.
30 Jun, 2022
Did you want us to look after music for your whole day, including your ceremony? Easy done! In this blog we outline what's involved in your DJ (Aleks or Eddy) providing tunes for more than just the reception!
Our ceremony set up
Usually, your ceremony will take place in a different spot to your reception, which requires extra equipment (read more about how our audio setups work). We like to keep it nice and simple and use a small but powerful Bose speaker (no power required – it's charged ahead of time). Normally one is more than enough!
Your DJ will play music through an iPad (plugged into the speaker) using special DJ software. So you can let your celebrant do their thang and leave the tunes to us!
DJ Aleks Mac ready for a wedding ceremony in Daylesford.
What tunes do you actually play at the ceremony?
Great question! We always recommend that tunes start half an hour before ceremony as this is when guests start arriving. You don't want awkward silence as they wait around for things to kick off! We put together a pre-ceremony playlist tailored to our couples' music tastes and play it through our special software so the transitions sound slick.
During the ceremony itself – depending on how it's structured – we play all the key songs. These may include aisle songs (you may have more than one), certificate signing songs and ceremony finish tune. We can even put in certain cue points for the tracks if you want specific timings – this is the benefit of having a pro look after your ceremony music!
(PS – for some music tips, read our blogs What music your DJ will play at your wedding and What music do I need for my wedding ceremony?).
DJ Eddy Mac during a wedding ceremony at Fitzroy Gardens.
What about post-ceremony drinks before the reception starts?
Another great question (you're on fire)! The beauty of our compact little set up is we can literally pick up the speaker and move it to your cocktail hour location. Just like pre-ceremony, we play a curated playlist based on our couples' music brief. We recommend fun and upbeat tunes for cocktail hour – it's party time!
Check out our blog on setting the musical vibe for cocktail hour.
Can you provide a microphone for our celebrant?
We sure can, but you'll find that most celebrants provide their own speaker and microphone, so check with your celebrant first! We play music through our own speaker and position ourselves out of the way. So, if your celebrant does need a microphone and speaker, we recommend hiring an additional speaker just for them. We can also provide a wireless mic that plugs directly into the speaker (it's called a digital mic). This means you don't need a mixer or other complicated equipment to run the mic through.
How much does all this cost?
We charge $220 for each additional speaker (with mic thrown in if you need it!) and $280 an hour extra for our time. So usually we're there for an additional two hours (30 minutes for pre-ceremony, 30 minutes for ceremony and an hour for post-ceremony drinks). With one speaker and our time, that's $780 on top of your reception.
Can we think about it and add ceremony music on later?
Absolutely! You may be on the hunt for an acoustic act for your ceremony when you lock us in for your reception. If you do decide that you want your DJ to take care of ceremony tunes later, we'll just add the cost onto your final invoice. We're locked in for your date anyway, so it's no drama for us to be there for longer!
Photo credits from top:
Luci and Andrew's wedding ceremony at Pietro Gallus Estate: Anchor & Hope Photography.
DJ Aleks Mac's own photo
Kimberley and Lizzie's wedding ceremony at Fitzroy Gardens: Stewart Leishman.
Looking for a DJ who can play music throughout your entire wedding? Get in touch about your date via our Book a DJ page.
View all posts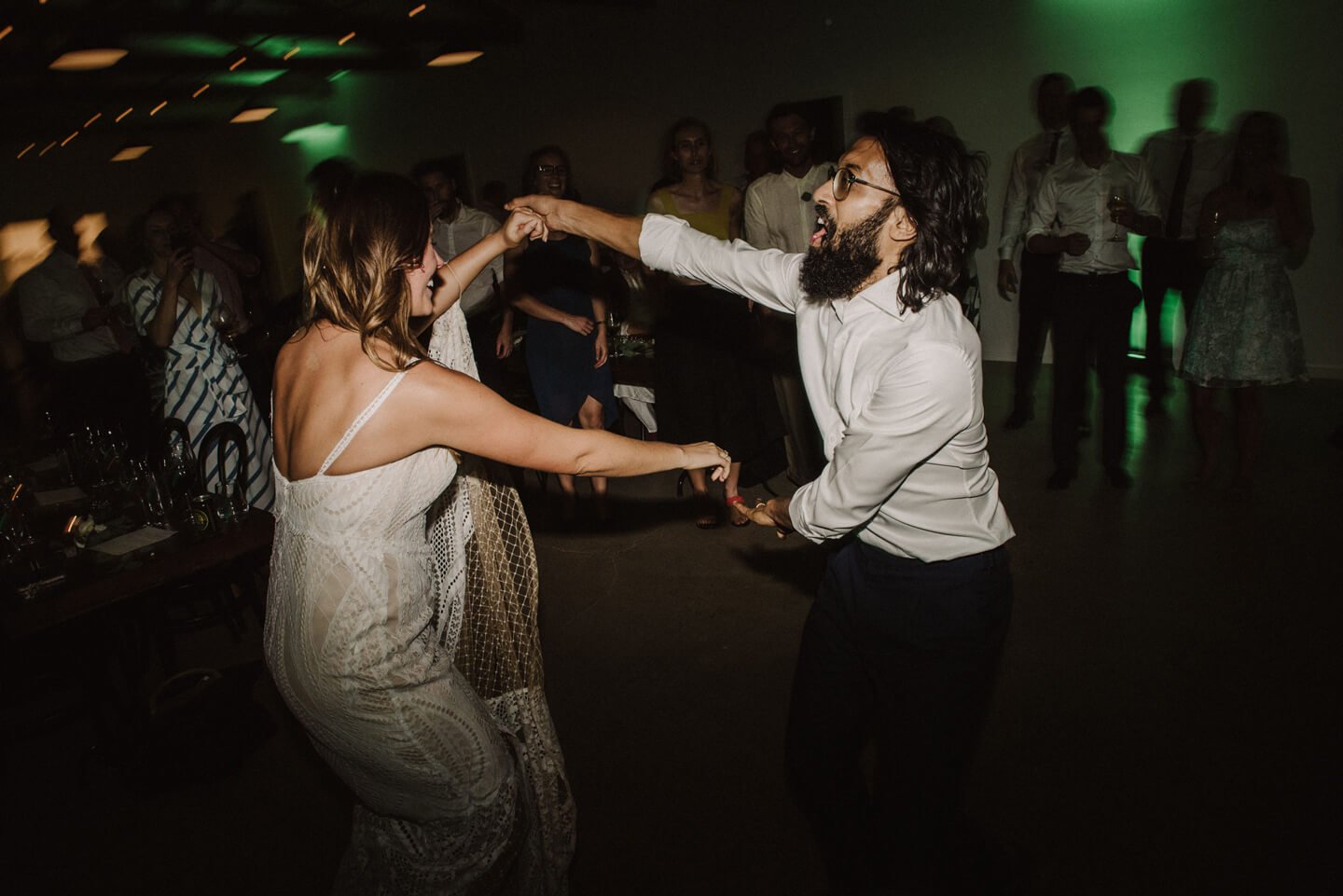 Book
a DJ
Like what you see? Get in touch to book DJ Eddy or Aleks for a banging dance floor!