What do we mean by "read the crowd"?
Categories
About us.
Music tips.
23 Dec, 2021
You may have heard about the concept of a DJ "reading the crowd". What does this mean? Put simply, it's your DJ actively watching people throughout your event to ensure that they're best positioned to choose the "right" song next. The best DJs out there are finely tuned to sudden changes on the dance floor. For instance, a group may leave to grab a drink, or some of the oldies might hit the d-floor after a sugar hit from dessert. These subtle changes speak to a great DJ and they will respond accordingly with their music choices.
Reading the crowd starts at the very beginning of your wedding
Much to the surprise of a lot of our couples, we start reading their crowd from the very first song we play for background! Whether it's a sit down or cocktail affair, the first couple of hours of a wedding are all about setting a foundation which we are then able to build from when the d-floor starts. We are watching for head nods and toe taps, and know we're onto a winner when people look over and give us that little smile of approval. We make little mental notes during these moments and think to ourselves "if they like this stuff, chances are they're going to like x, y and z later on!". Read more about what music a DJ will play at your wedding.
How does this translate to our work flow? Well, we have a live preparation list on our DJ software so we can tag songs for later on. It works super well as it prepares us for the demands of a busy dance floor. We also add comments besides some tracks based on what couples have highlighted during the consultation process (e.g. "play this tune when my uncle is on the d-floor" or "when the wedding party is drunk, they're gong to belt out this song, so play it later on!". We're there to create those epic moments on the dance-floor – we love when they play out in front of us! It's why we do what we do! Read more on how we work with our clients in the lead up!
"We're there to create those epic moments on the dance-floor … It's why we do what we do!"
One tune at a time
When we get asked by a guest at the DJ booth: "What's on your playlist?" or "What song are you playing next?", they're generally pretty surprised (or some look kinda horrified) when we respond with "I'm not sure at the minute – we roll with one song at a time!". This is because there are no pre-prepared playlists and every wedding is different. Of course, we spend time with our couples in the lead up to get an overall vibe of what they're after and a few of their must-play tunes. And we organise ourselves based on the brief, usually preparing double the amount of music we need. But overall, we are watching the crowd song by song to see what they're reacting to and going from there.
There should not be such a thing as an "auto-pilot DJ" in our books. You might as well save your money and use a Spotify playlist…! Our couples are hiring us as they trust us to get people dancing. And a machine can't read the crowd as well as a human can. Not yet, at least… While we're on Spotify playlists, read about what we do with our couples' Spotify playlists.
Quint Photography
The concept of "feel" and "flow"
A great wedding DJ can tell if the crowd starts to fatigue from (for example) a few house tunes (soft "doof doof", let's call it!). This is when we need to "reset the dance floor" with something that changes things up without polarising guests. This is the concept of "feel". It's almost as if it's a sixth sense that allows us to kinda just know the right time to change things up. Of course, this comes with years of experience, but an awesome wedding DJ does have to be sensitive to what's going on at the time, and definitely in the moment, always.
Flow is even more interesting! It's a very special point in time for a DJ where they are completely in sync with their crowd (almost telepathically!) and drop song after song that is just perfect! Honestly this takes years to master, but it's totally worth the hard work! No joke, but we have had instances of guests coming up and requesting a song that's literally loaded into our deck to play next. When we show this guest, it's pretty magical! This is flow! And it's one of the greatest feeling you can have as a DJ. By the way, we also follow this process when it comes to how we work with requests on the night.
Quint Photography
Anything can happen!
Again, we can't stress this enough: no two weddings are ever the same. I think we'd stop being wedding DJs if that were the case! Your guests are from all ages, from all walks of life. The venue, the lighting, the amount of booze consumed, the level of energy generally all have an impact. A great wedding DJ will respond to ALL of these factors simultaneously whilst still sticking to your musical tastes and preferences (#nomorenutbush for the win!).
If you're looking for a DJ that will read the crowd at your wedding, get in touch with us on our Book a DJ page!
Main photo credit: Maegan Brown Moments.
View all posts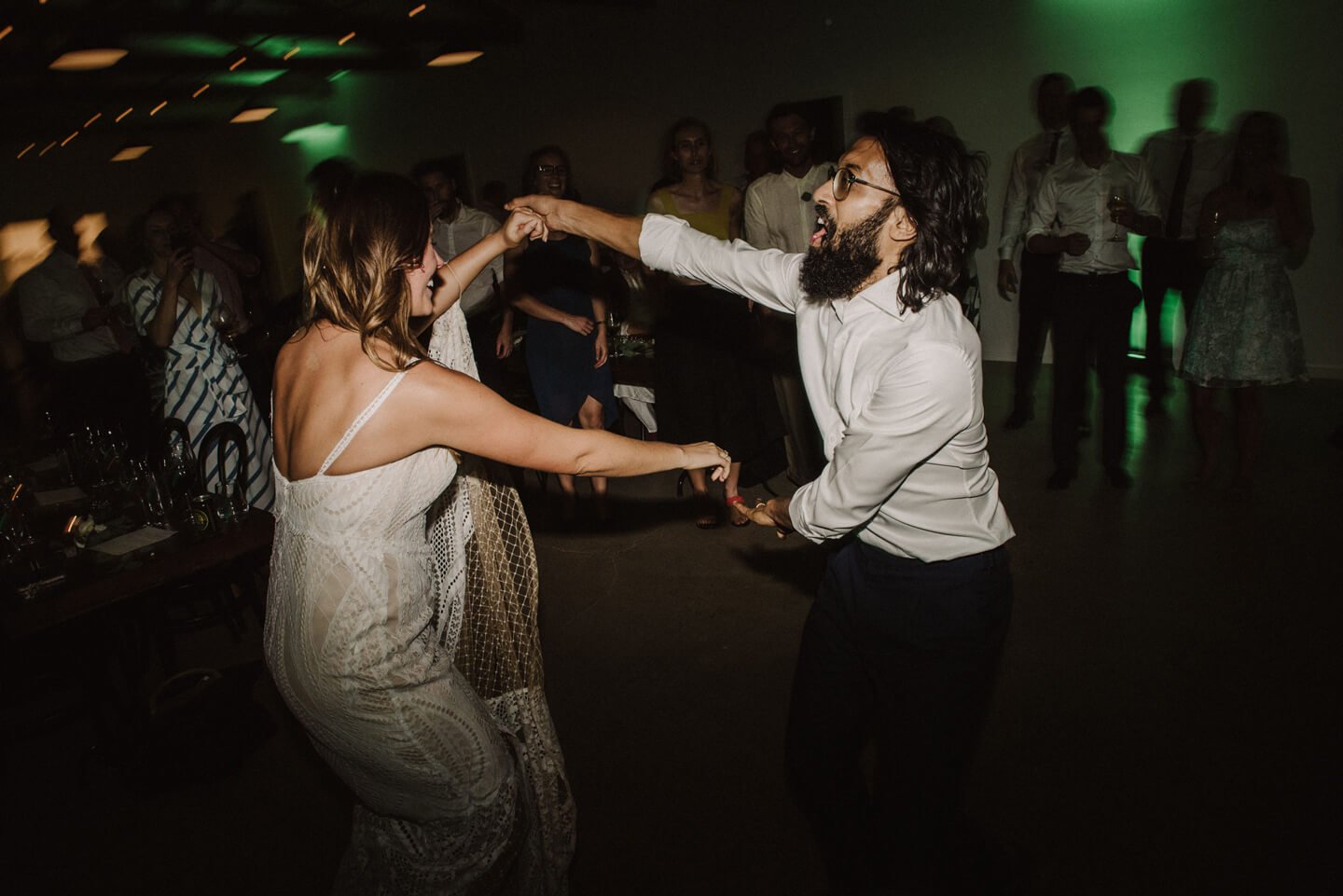 Book
a DJ
Like what you see? Get in touch to book DJ Eddy or Aleks for a banging dance floor!