Wedding DJ prices explained!
Categories
About us.
Wedding tips.
26 Aug, 2021
What does a wedding DJ cost in Melbourne? Great question! This blog will answer that question and explain why some are more pricey than others. If you've just started your wedding DJ search, or are struggling to find one, here's how to find a great wedding DJ.
According to Easy Weddings, the average price paid for wedding music by couples in Victoria is $1,738 (in 2020). Now, that's the average. You can pay $500 for a wedding DJ or $3,000!
So why the huge discrepancy?
Backpacker hostel vs 5 star hotel
Let's use a travel analogy. What's the difference between a backpacker hostel and a 5 star hotel? Well, there are a few things. Obviously, one costs a lot less than the other. Your expectations are a lot lower when you're paying less. If you're booking a hostel, you can probably expect some corners to be cut to save money. The service and overall experience won't be ah-mazing. If you book a 5 star hotel, you can bet on a certain level of quality and service with a smile.
Well, the same goes with DJs – you get what you pay for!
What goes into the cost of a Melbourne wedding DJ?
There are many factors that determine how much a wedding DJ costs. Here are just a few:
Personality and presentation
If you want someone who suits your vibe, is well presented (including what your DJ will wear to your wedding!) and will interact well with you, your suppliers and your guests, you need to pay more!
Quint Photography
Experience with weddings specifically
Sorry, but decades of experience in a bar does not count! Weddings are a whole other kettle of fish. You pay for a DJ's experience of dealing with weddings, which are high stress and high pressure events. They should be able to advise you on not just the music, but importantly, the timings and how your day should run. Read more about how wedding DJs work their magic to make people dance.
Availability
This is that basic economic principle of supply and demand. The less availability a DJ has, the more expensive they will be, because they are in high demand!
Access to your DJ
Do you get to meet and chat to your DJ before your big day? A lot of entertainment agencies will allocate your DJ last minute depending on their schedules. This means you don't know who your DJ will be and you don't get chat with them in the lead up. If music is important to you, you'll want to hire a DJ who works with you one-on-one the whole way through (eg like us! Read more how we work with clients).
"The less availability a DJ has, the more expensive they will be, because they are in high demand!"
Peace of mind
A more costly wedding DJ will have all the proof you need that they are worth every cent. This includes amazing Google reviews from real clients, plenty of videos and pics of epic dance floors, mixes to showcase their DJ skills and music choices, plus resources to show their wedding knowledge (eg blogs).
High quality equipment
Not only will more expensive DJs have reliable equipment (decks, speakers, microphones, etc), they'll also have high quality back up options should anything happen on the day. Read more about our how our audio set ups work.
Where to from here?
Now you know what goes into the cost of a wedding DJ, the biggest questions to ask yourselves as a couple is "How important is music to us?". If it's one of the most important aspects of your day, allocate your budget accordingly and use the above guide to help with your search.
If you want to check out our prices and have a chat to us, visit our Book a DJ page.
Main photo credit: DJ Aleks Mac snapped by It's Beautiful Here.
Second photo credit: DJ Eddy Mac snapped by Quint Photography.
View all posts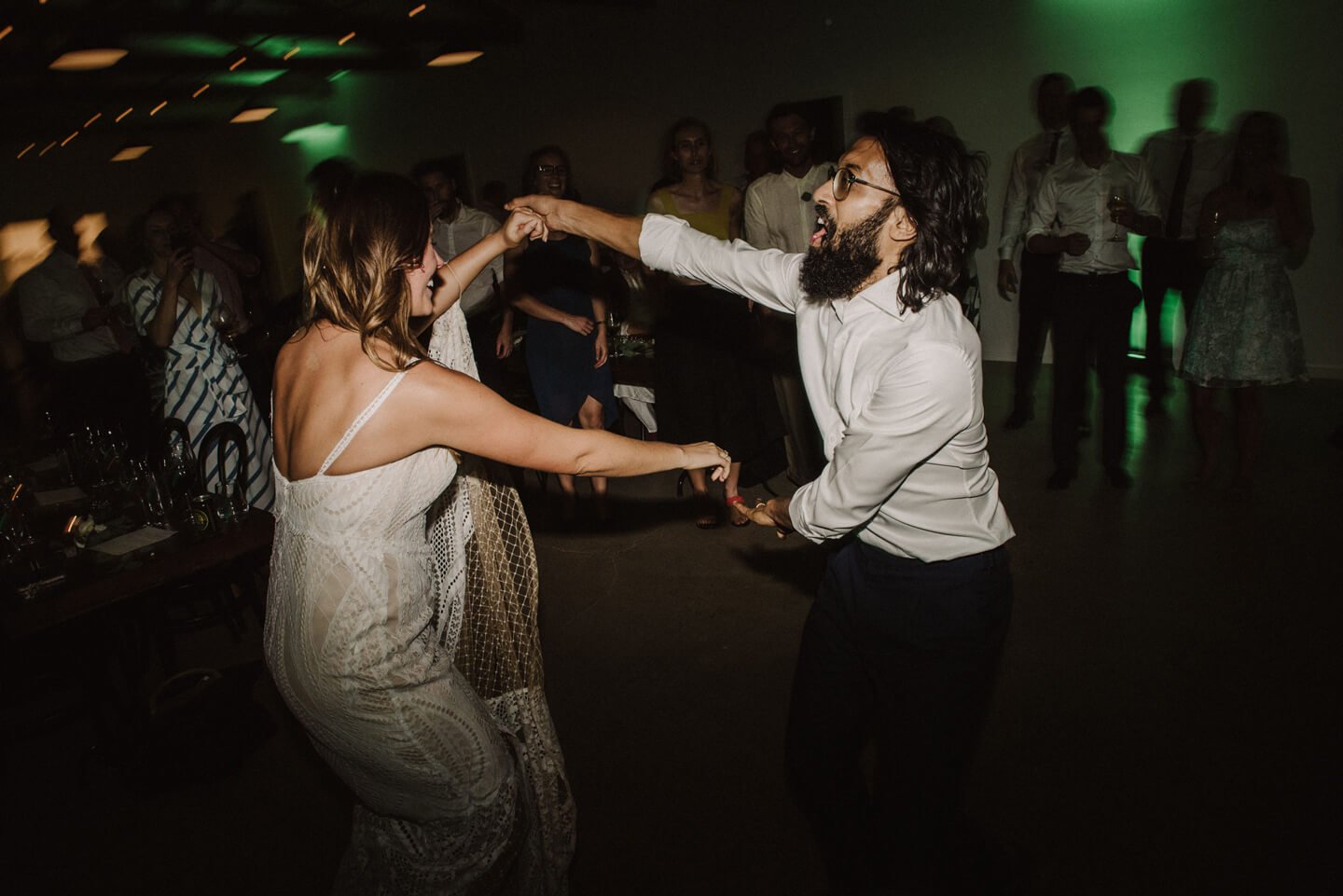 Book
a DJ
Like what you see? Get in touch to book DJ Eddy or Aleks for a banging dance floor!