What will my DJ wear at my wedding?
Categories
About us.
Wedding tips.
14 Sep, 2021
If your worst nightmare is a cheesy, tired wedding DJ wearing a black shirt and red tie, fear not! We take great pride in what we wear to weddings and treat our attire at each one as if we are guests ourselves.
In this blog, we cover six different modern wedding dress codes, and show you how we rock them!
Brown Paper Parcel
The cocktail code
Modelling the cocktail wedding dress code is DJ Aleks Mac at Rupert on Rupert. Being a cool inner city Melbourne venue, Rupert normally attracts couples and vendors with style! You can check out more on this wedding in our blog Real wedding: Jess and Al's Rupert affair planned in under 3 weeks!
Katie Harmsworth
A black tie affair
The classy winery venue Coombe Estate in Yarra Valley calls for a classy affair! Here's DJ Eddy Mac rocking a classic black tie dress code with a burgundy, velvety twist! Want to see more of this wedding? Read our blog Real wedding: Lucy + Anthony's perfect day at Coombe Estate.
Nikki McCrone
The in-between
Some dress codes are a semi-formal type of vibe! Here's Aleks at Little Henri in Thornbury wearing a silky jumpsuit, perfect for a cocktail, but also suiting more formal weddings. You can read about this real wedding for Georgia and George.
Duuet
The open shirt + chino combo
Botanical wonderland Glasshaus Inside in Richmond is full of lush greenery. We'll often play cocktail style weddings at this venue (read more in our blog real Glasshaus weddings we've played). See Eddy rocking a more casual open shirt, jacket ad chino combo below – the choice of light blue was deliberately made to complement the dark green surrounds.
She Takes Pictures He Makes Films
The "come as you are"
Some couples just want their guests to arrive in comfortable style, feeling their best! Knowing that there would be a fabulous Bangin Hangins installation behind her decks, Aleks opted for a fun, bohemian outfit matching her clients' Andy and Cait's indie styles.

Dress "fabulous"
When Eddy hears the word "fabulous" mentioned in relation to a dress code, he excitedly runs to his sparkly side of the wardrobe (no, really… he has more glittery clothing than Aleks!). Here he is wearing one of his absolutely favourite glitzy leopard print jackets at Richmond Rowing Club in Melbourne's CBD. (If you're looking for a central wedding venue like this, check out our our favourite Melbourne city venues).
Whatever the style of wedding you're planning, rest assured – we will show up in style! Get in touch to talk about music and wedding fashion (oh, and our availability) via our Book a DJ page.
Featured image by She Takes Pictures He Makes Films.
View all posts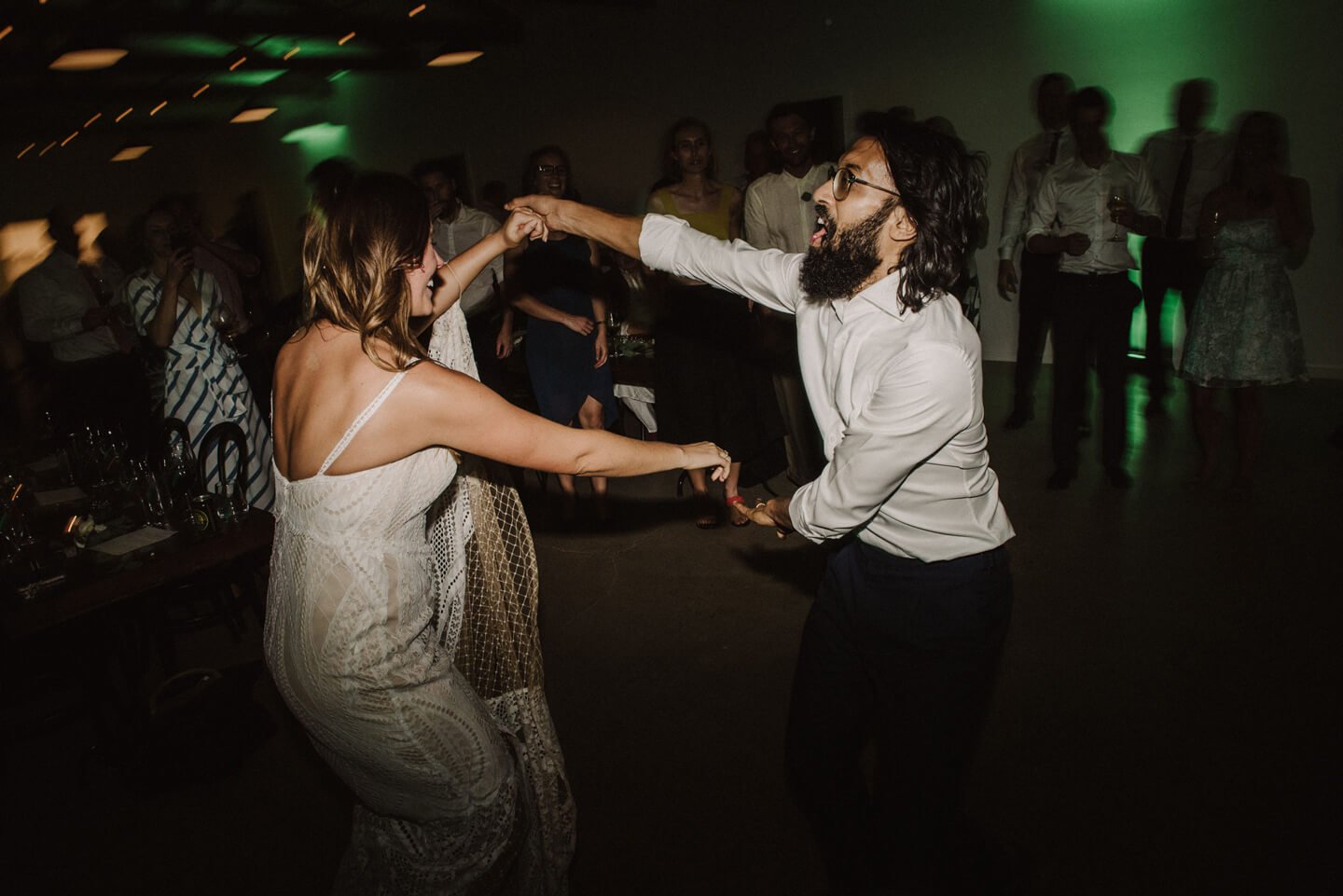 Book
a DJ
Like what you see? Get in touch to book DJ Eddy or Aleks for a banging dance floor!