Our favourite inner city wedding venues!
Categories
Wedding tips.
Wedding venues.
10 Mar, 2023
Melbourne is blessed with incredible wedding venues that provide everything you need for your full celebration. This includes pre-ceremony drinks through to cocktail hour and canapes and of course, your reception. Many of these venues are conveniently located in the inner city. This makes it easy for your guests to travel to and from these venues and find accommodation nearby (if needed).
In this blog we talk about our favourite venues where you can get married AND have your party. The venues we've chosen are all unique and offer something different so it's easy to forget you're amongst the hustle and bustle of Melbourne!
Listen to us discuss these venues on our podcast, Project Engaged
Noisy Ritual, Brunswick
Noisy Ritual is an urban winery in the inner north Melbourne suburb of Brunswick East. Need we say more? Located on the popular Lygon Street, this gorgeous space is perfectly set up for a ceremony, cocktail hour (often with grazing table), seated dinner and dancing. The bar conveniently runs along most of the venue, making it easy to grab one of the incredible boutique wines on offer.
With wine barrels and greenery throughout the venue, you'll be forgiven for thinking you're in one of the wine regions of Victoria!

Post Office Hotel, Coburg
The Post Office Hotel on Sydney Road in Coburg is a huge hit with fun-loving couples who want their wedding to feel like a party from start to finish. The pub's Dining Hall is a dedicated warehouse style venue with a large dance floor (hell yes!) and a private outdoor garden, which can be used for your ceremony.
As well as the wonderful staff and delicious food, we love the warm and relaxed feel of the POH. The gorgeous brick interior with exposed beams and vintage pendant lights all add to the atmosphere. The venue can even brew a personalised beer for your big day on-site!
Want to learn more? Check out our Project Engaged venue spotlight episode where we chat to the lovely team at POH!

Half Acre, South Melbourne
We've played at Half Acre many times and can confidently say it's got loads of features that make it a great choice for a wedding! Located in South Melbourne, this industrial venue boasts a timber feature wall, high ceilings, and an open floor plan with plenty of natural light coming in. It can cater to an impressive number of guests – 210 for a seated wedding and 400 for a cocktail format! It's one of our favourite venues for larger weddings.
Notably, Half Acre has a large, dedicated dance floor and plenty of in-house speakers, which ensures the music and sound is at the right levels and can be heard all throughout the venue.
Read more in our Wedding venue spotlight: Half Acre blog!

Panama Dining Room, Fitzroy
Panama Dining Room is one of the most sought after inner city venues in Melbourne, situated in trendy Fitzroy on Smith Street. The space is versatile enough to hold your entire wedding – ceremony, cocktail hour, dinner and dance floor. A gorgeous arched window provides the perfect backdrop for getting hitched.
Read more about the venue in our blog Real wedding: Billie + Nick's Panama Dining Room party!.

Studley Grounds, Kew
Studley Grounds is a cafe and event venue located in the leafy Melbourne suburb of Kew. As mentioned on their website, the venue is close to the city, yet feels miles away! It has ample free parking, city skyline views, and 8 hectares of green space.
Hold your ceremony on the beautiful lawn and then enjoy cocktail hour and canapes on the open deck next to the event space. Moving inside, you can opt for a cocktail style party or a sit down. And the best thing is there are no sound restrictions!

Brunswick Mess Hall, Brunswick
The stunning heritage-listed Brunswick Mess Hall is one unique wedding venue. It also happens to be around a 30 second walk from our house. But that aside, it's just epic.
With high curved ceilings and wooden beams plus hanging greenery throughout, the main hall is a sight to behold. The venue also has a number of cool spaces both indoors and outdoors, including two gorgeous rooms at the front (with exposed brick and greenery) that are perfect for a little disco break or a photo booth!
The Asian cuisine is also absolutely mouth-watering (don't look up the menu on the Brunswick Mess Hall website if you're hungry!).
Oh, and the venue has an in-house sound system with speakers and a wireless microphone! Read more about the venue and a recent Indie wedding we played there in the blog Real wedding: High energy Indie vibes at Brunswick Mess Hall!

Glasshaus Inside, Outside and Brücke, Richmond
The owners behind nurseries/event venues Glasshaus Inside and Outside, Nada and Paul, have added a third venue to their portfolio – Glasshaus Brücke on Bridge Road in Richmond.
Glasshaus Brücke is the largest of the three venues and similarly benefits from the amazing combination of bringing together a florist and venue in one. The result is a green paradise in the inner city! Boasting art deco architecture, Brücke has two floors available. This means you can hold your ceremony and cocktail hour downstairs and move upstairs for your reception/party.
With full catering facilities, lift access and an in-house sound system, it's perfectly set up for your suppliers to come in and do what they do best!
Not forgetting about the OG Glass venues – we love these as well, of course. Read our blog about Real Glasshaus weddings we've played! and The ultimate guide to your Glasshaus Inside wedding!

Rupert on Rupert, Collingwood
Contemporary, industrial and undeniably Collingwood, Rupert on Rupert is truly unique. This beautiful wedding venue offers several unique spaces to accommodate your wedding, with flexible and creative dining options.
The atrium provides an exceptional backdrop for your ceremony and pre-reception cocktail hour. The main dining hall can seat up to 80 guests for dinner or up to 200 guests for a standing cocktail wedding. Finally, the cocktail lounge (or "back bar" as we refer to it on the podcast) offers guests a lavish refuge amongst the comforts of leather chesterfields, vintage lamps, candlelight and perhaps a whiskey or two! It also has the most epic floral wallpaper that is the perfect backdrop for our photo booth – just sayin'!
Hear more about what it's like to get hitched at Rupert by checking out Simon and Tom's wedding in the blog Real couple: Big party vibes at Rupert on Rupert!

Photo credits in order of appearance:
View all posts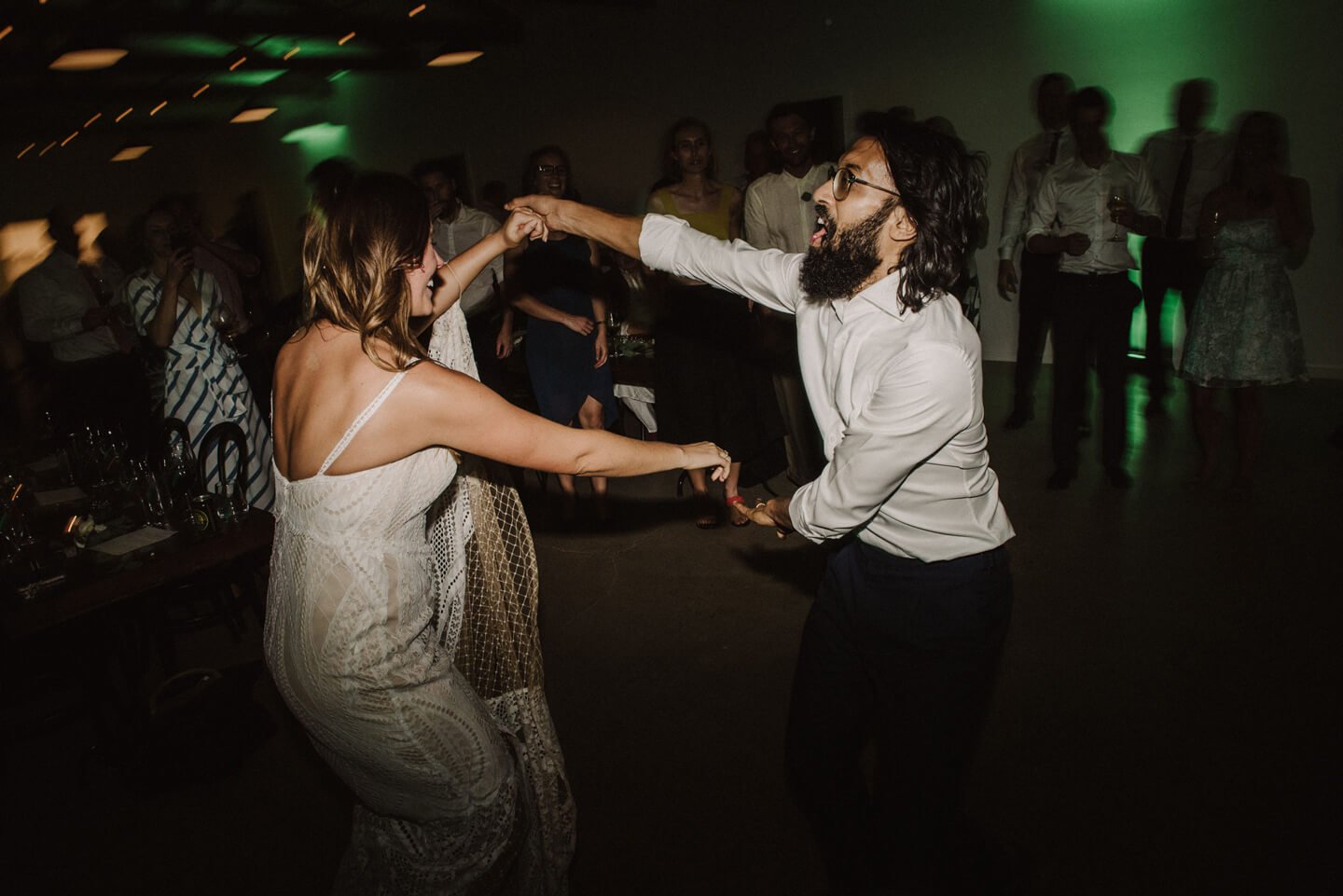 Book
a DJ
Like what you see? Get in touch to book DJ Eddy or Aleks for a banging dance floor!